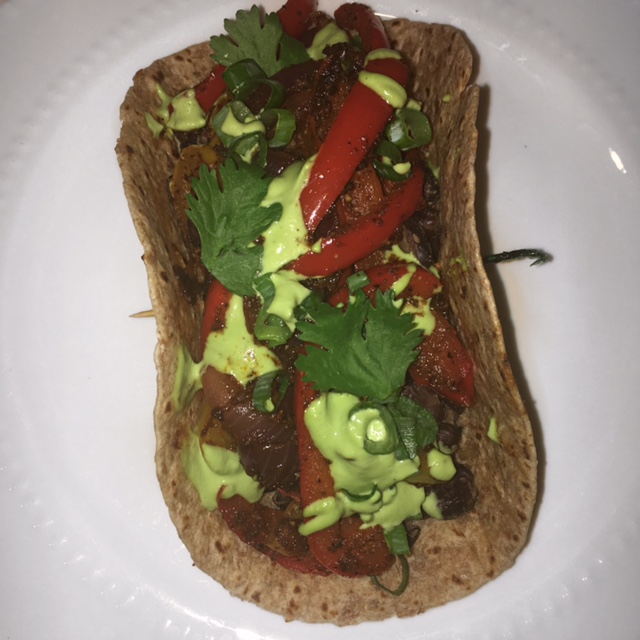 *Vegan Fajita*
Fajitas are so filling, delicious, and very simple to make.This vegan fajita recipe is finger licking good and a MUST try. It's great to have tasty vegan alternatives. I hope you guys love this recipe too!
*Vegan Fajita* 
Yields: 2-3 Fajitas
Fajita Main Ingredients:
1/2 Organic Red Bell Pepper (Rough Chop into strips)
1/2 Organic Yellow Bell Pepper (Rough Chop into strips)
1/2 Organic Red Onion (Rough Chop into strips)
1 + 1/2 Cup Black Beans ( I used the brand 365 from Wholefoods)
2-3 Scallions Stems (Rough Chopped)
Sprouted Wheat Tortillas (I found a pack of six from sprouts)
Fajita Seasoning Ingredients:
1/2 Tbs Chili Powder
1/2 Tsp Onion Powder
1/2 Tsp Garlic Powder
1/2 Tsp Himalayan Pink Sea Salt
1/4 Tsp Cumin
Dash of Cayenne + Paprika + Black Pepper ( Season to taste)
1 Tsp Lime Juice
Cilantro Lime Crema Ingredients:
1 Cup Fresh (Rough Chopped) Cilantro
1/2 Cup Raw Cashews (Soak overnight in water inside the refrigerator)
1 Small Garlic Clove
1/2 Tsp Garlic Powder
Dash of Salt
1/2 Cup Spring Water (add more if needed to get the liquid texture you prefer)
1/2 Juice From Fresh Lime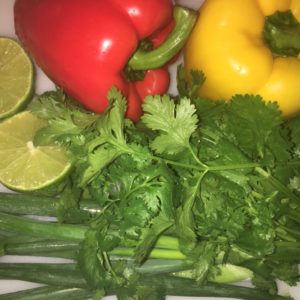 Directions:
1. Put 1 + 1/2 Tbs Olive Oil (or grape seed oil) inside pan + allow to pre-heat 
2. Add your onions to pre-heated oil + allow to sauté on med heat for 2-3 mins + add peppers
3. While peppers and onions are sautéing combine all seasonings to a bowl + stir
4. When onions and peppers are almost finished  (after 10-12 mins) add your seasonings
5. Add your seasonings + 1 tsp of lime juice + stir + allow to cook another 5 mins
6. Next add your black beans to a pan + allow to warm for 5 mins on med-high heat
7. While your ingredients are cooking ( the last few minutes) add all cilantro lime creama
8. Add all lime creama ingredients to a high speed blender + blend on high until smooth 
9. Next warm your tortillas on each side on med heat for 1 min in a pan without oil 
10. Once all ingredients are finished cooking lay your tortillas flat + add your beans 
11. Top your beans with your seasoned sautéed onions + peppers + drizzle lime cream on top
12. Add fresh cilantro + fresh scallions + pico de gallo (optional) + Indulge! It's SO good!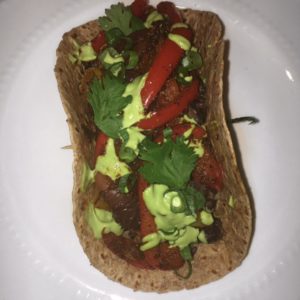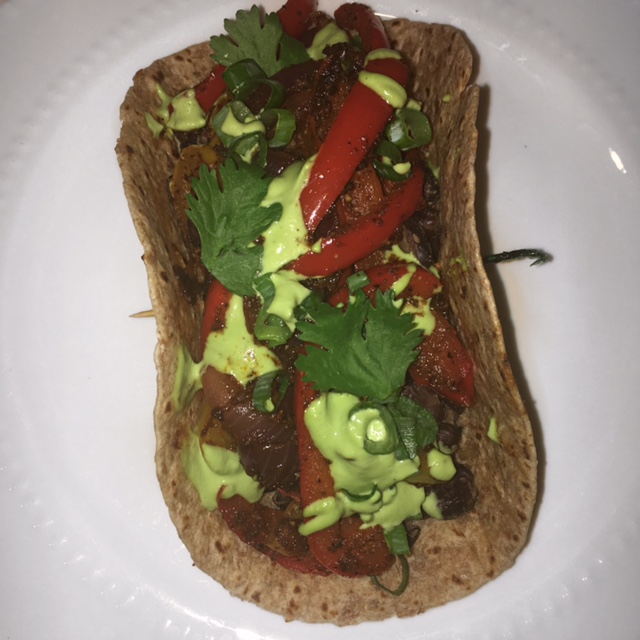 Thanks so much for checking out this fajita recipe. I hope you all love it. Comment below and let me know your thoughts! Don't forget to share the website with your friends and family♡
ANNOUNCEMENTS📢📢:
**HAPPY 2020. I'm thrilled to announce that my very first book "Punch Your Fear In The Face" just launched ☆ How exciting!! You can snag a signed copy here>>> Hard Copy Book

** The Be A Health Nut Too Hair Growth Oil is receiving amazing feedback and we're almost sold out again! Love it! If you're dealing with damaged hair, balding, or looking to restore the health of your hair. SNAG some now>> HAIR OIL
** Our Beauty Soaps and Deodorants are BACK IN STOCK!

** You can also now watch inspirational videos + raw food tutorials on my Youtube channel. The Youtube page link is at the top of the website!
** THANK YOU so much lovelies for your love and continued support! I adore each and every one of you and pray you all have a very blessed new year!

HUGS & HAPPY Fajita Eating,
LASHANA NICOLE❤