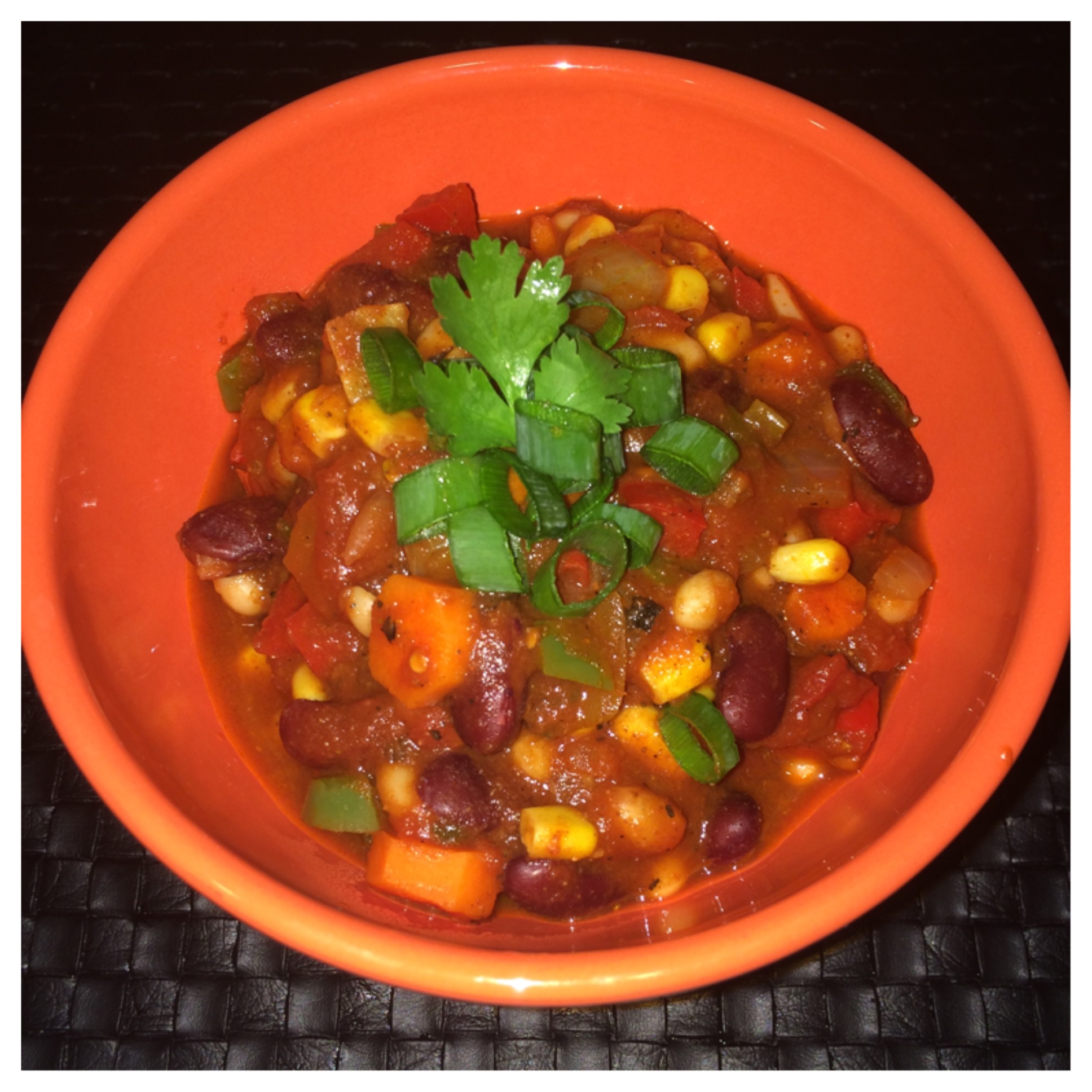 *Vegan Chili*
Chili is one of my go to meals and this vegan version is sooo darn delish. It's very filling, easy to make, and full of flavor!
*Vegan Chili*




Ingredients (all organic)
1 + 1/2 Cup Chopped Yellow Onion
1/2 Cup Green Scallions (green onions)
3-4 Grated Garlic
2 Tbs Extra Virgin Olive Oil
1 Chopped Jelepeno Pepper
1 Chopped Red Bell Pepper
1 Can 14oz Fire Roasted Diced Tomatoes
1 Can 15 oz Kidney Beans (BPA free from Eden Organics) rinse & drain for recipe
1 Can 15 oz Navy Beans (BPA free from Eden Organics) rinse & drain for recipe
1 Can 6 oz Tomatoe Paste
1 Cup Vegetable Broth
1/2 Cup Corn
Optional: 1 Carrot
2 + 1/2 Tbs Chili Powder (adjust all seasonings to taste)
1 Tsp Dried Oregano
1 Tsp Garlic Powder
1 Tsp Cumin
1 Tsp Onion Powder
1/2 Tsp Himalayan Pink SeaSalt
1/2 Tsp Black Pepper
Optional: 1 Tbs Hotsauce ( I recommend adding if you like spice its yums)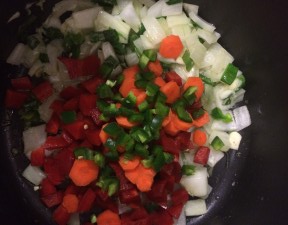 Directions:
1. Chop up your onions + grate your garlic and add to a large pan with olive oil + saute for 5 mins on medium heat
2. Chop up your bell pepper + jelepeno + carrot + add to the pan + allow to saute for another 5-7 mins (until soft)
3. Next add your vegetable broth + diced tomatoes (with the juice included) + tomatoe paste + stir
4. Allow that to cook on med-high heat for 3mins + add your drained beans + corn+ all seasonings
5. Allow all ingredients to cook for 12-15 mins until mixture turns slightly thick similar to picture
6. Pour your chili into a serving dish + Add fresh scallions + cilantro + pinch of himalayan seasalt on top +hotsauce
Bon Appetit♥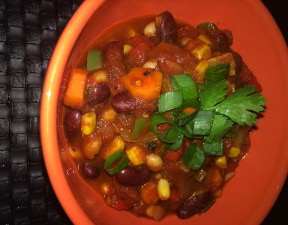 Thanks so much for checking out this vegan chili recipe. Let me know your thoughts below and be sure to share the website with friends and family♡
ANNOUNCEMENTS📢📢:
** Our VEGAN Vanilla Bean lotion and Lilac Body spray are both BACK IN STOCK, and our Deodorants are SOLD-OUT and will be back in stock REALLY soon. Make sure you grab your goodies and pre-order your deodorant now>> Health Store
** Our Vegan Beauty Soaps are also SOLD-OUT! Your support is amazing!! I'll announce when all blends are back in stock soon! 
** You can also now watch inspirational videos + raw food tutorials on my You tube channel. Youtube page link is at the top of the website. Enjoy!
** Thanks SO much everyone for all your love and sweet support! I appreciate each of you!
Hugs & Happy Vegan Chili Eating
LaShana Nicole ❤