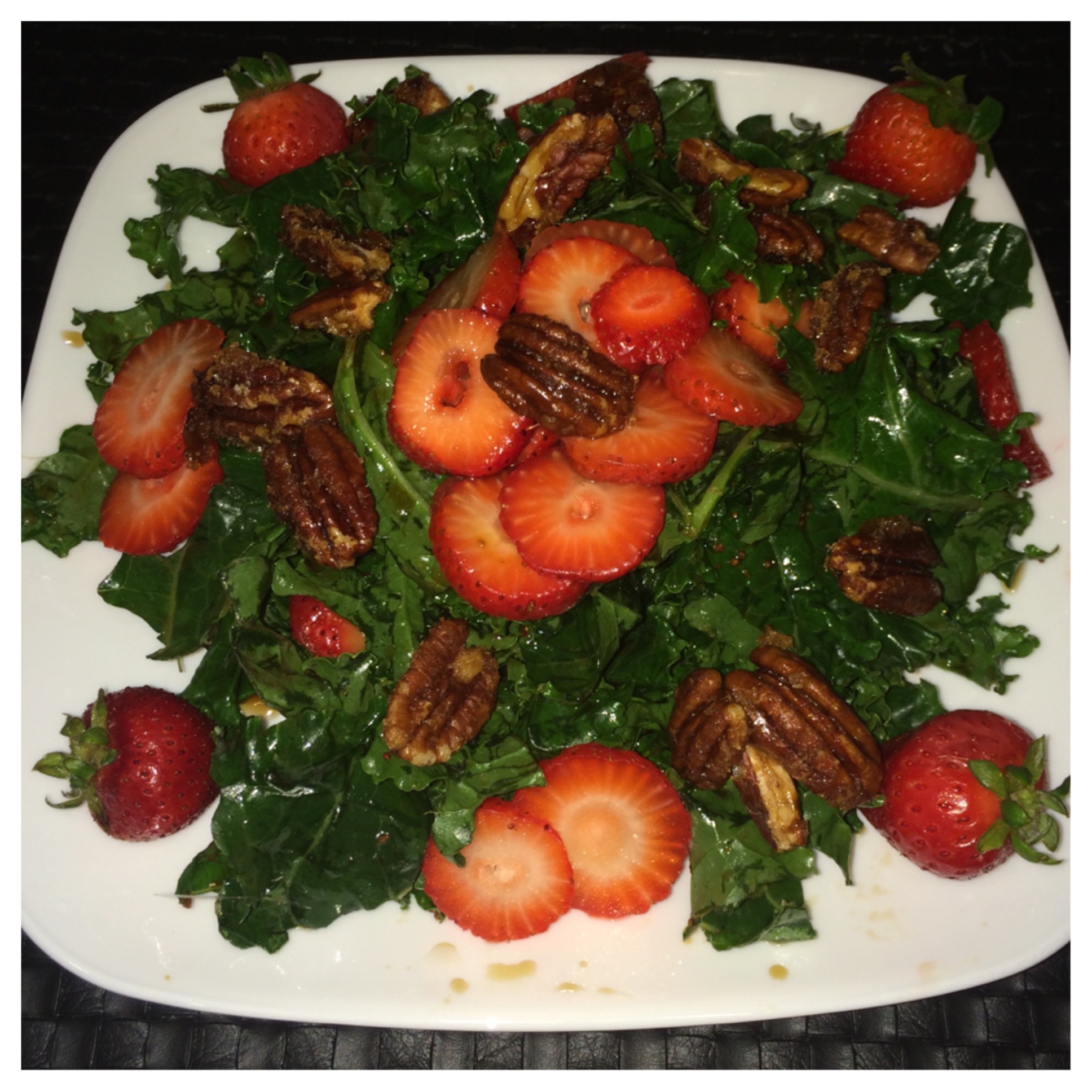 *Maple Glazed Crunch Salad*
Looking for a sweet salad that has a hint of crunchy goodness and you have the Maple Glazed Crunch Salad.
*Maple Glazed Salad Ingredients*
(all organic)
1 Batch of Kale
15-20 Fresh Strawberries
Balsamic Maple Dressing Ingredients:
1/2 Tbs of Coconut Oil
3 Tbs Balsamic Vinegar
5 Tbs of Organic Grade B Maple Syrup
Maple Crunch Glaze Pecans Ingredients:
20 Activated Raw Pecans (to activate soak overnight) & allow to sit out + dry
3 Tablespoons of Organic Grade B Maple Syrup
Directions:
1. Rinse and clean + chop up fruits & veggies + massage kale in both hands until it turns a deep green color
2. I made the dressing ingredients first then the maple glaze with the same pan for the pecans
3. In a medium size pan place your coconut oil + vinegar + maple syrup + allow to warm on low heat for 5-7mins
4. The vinegar + oil will naturally seperate so you will want to stir ingredients together with the syrup to combine
5. Allow ingredients to warm/ light simmer + pour on top of your kale + strawberries + shake inside of a mixture bowl
6. While dressing is marinating with salad add your maple syrup + pecans to same pan
7. Allow mix to simmer/ bubble on med heat for 3-5 mins until the maple mix turns into a sticky coating around the pecans
8. Allow maple pecans to cool for 3-5 mins until they have a crisp maple texture  & are sticky + add them to  the salad
Enjoy its very yummy!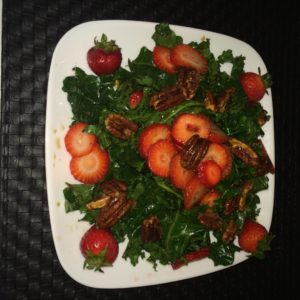 Thanks so much for checking out this recipe. If you found this blog helpful be sure to share it with friends and family♡

Announcements:
 ** New items are up on the store page. Use code "Health" for 15% off https://www.beahealthnuttoo.com/store/products/
 ** Im working on the first Raw Food Live class. Yay can't wait to finish the course.
 ** You can now watch weekly inspirational videos + raw food tutorials on my youtube channel. Link is about at the top of website.
Hugs & Happy Maple Crunch Salad Eating,
LaShana Nicole ❤