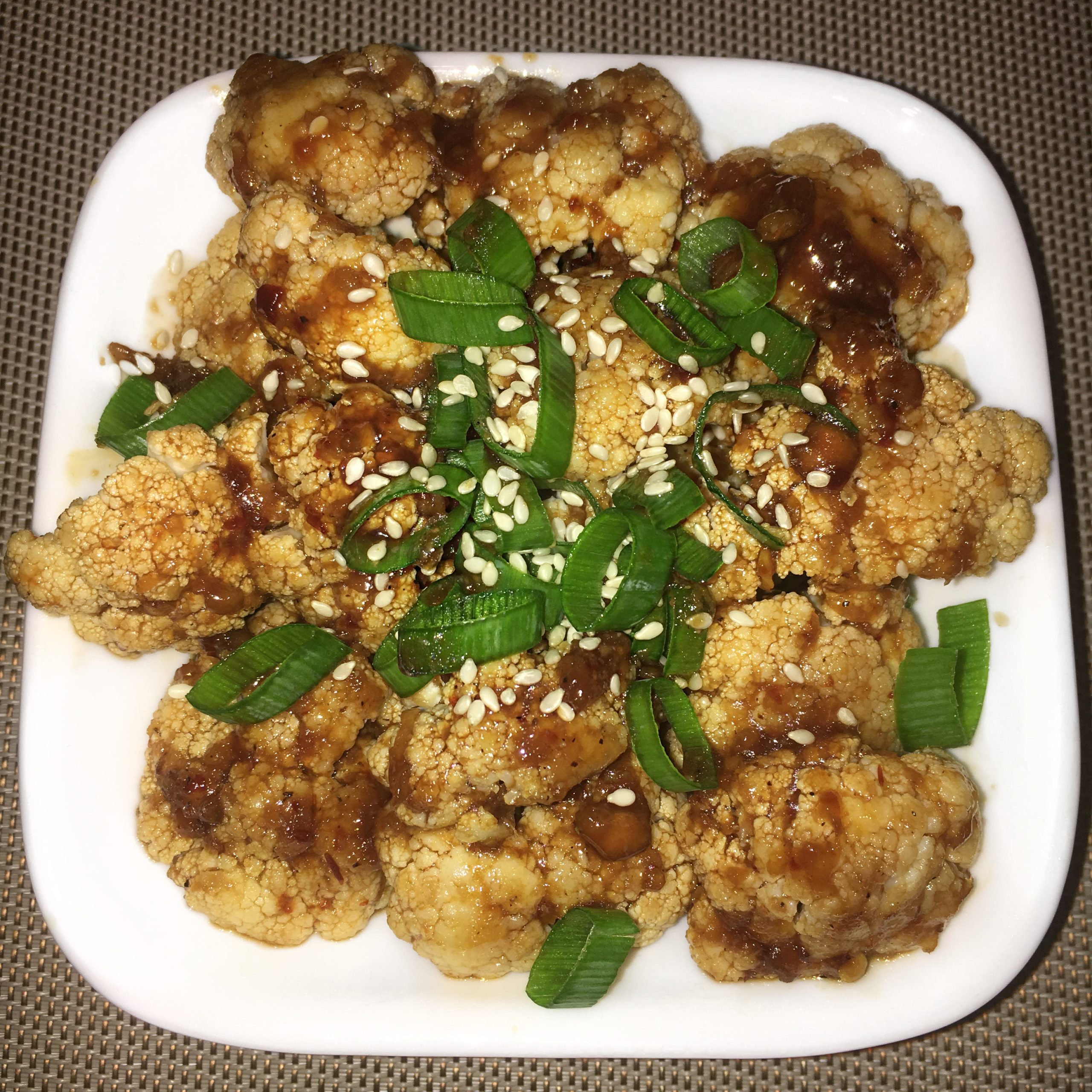 *Teriyaki Sesame Cauliflower Wings*
If you like teriyaki flavored dishes, you'll love this recipe. It's so great to be able to make tasty alternatives and not feel like you're missing out. Here's a great "mock" wing recipe. I hope you guys love it ♥
*Teriyaki Sesame Cauliflower Wings* Serving Size: 18 mock wings
Ingredients: 
1 Med-Small Head Organic Cauliflower
1/4 Cup Maple Syrup
1/4 Cup Tamari Soy Sauce
1/4 Cup Rice Vinegar
1 Grated Garlic
1 Thumb Size Piece of Fresh Ginger
2 Tsp Roasted Sesame Oil
1/4 Cup Water
1 Tsp Chili Paste
 Dash of Himalayan Pink Sea-salt
Dash of Pepper
Garlic Powder
Optional: 1 Tbs of Arrowroot (use if your prefer a thicker sauce)
Toppings: Green Scallions + Sesame Seeds
Directions:
1. Rinse + clean your cauliflower + separate into mock wings (just tear them into small pieces)
2. Pre-heat oven at 425 + oil pan with 1/2 tsp sesame oil + 1/2 tbs olive oil + spread evenly
3. Place your cauliflower on the greased pan + mix to coat in oil+ allow to bake for 10-12 mins
4. Flip cauliflower half way through baking
5. While cauliflower is baking place all your teriyaki ingredients inside pan
6. Allow your teriyaki mix to boil on med high heat for 5-7 mins until it has a sticky thicker texture
7. Once cauliflower is finished baking pour your sesame sauce on top + add toppings + eat right away.
8. Enjoy my friends, it tasty!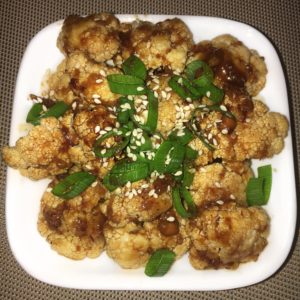 Thanks so much for checking out this recipe. I hope you all love it. Comment below and let me know your thoughts! Don't forget to share the website with your friends and family♡
ANNOUNCEMENTS📢📢:
** We ONLY have 9 of our BEST-SELLING VEGAN Beauty Soaps left. 1 Lemongrass Sensation + 1 Peppermint Love + 2 Grapefruit Bliss + 5 Sage Me. If you've been wanting to try our soaps, grab them now. >> HEALTH STORE

** Our Unisex Vegan Deodorants are BACK IN STOCK and selling SO fast! Grab yours now before we sell out again>> HEALTH STORE
** VEGAN BATH BOMBS JUST LAUNCHED INSIDE OUR ONLINE STORE! HOW EXCITING! Get ready to take your bathing experience to a new level. Check them out inside the store!
** You can also now watch inspirational videos + raw food tutorials on my Youtube channel. The Youtube page link is at the top of the website!
** THANK YOU so much lovelies for your love and continued support! I'm working on some amazing NEW products for you guys and can't wait to share soon. I adore each and every one of you! Stay tuned!
Hugs & Happy Teriyaki Sesame Wing Eating,
LaShana Nicole❤