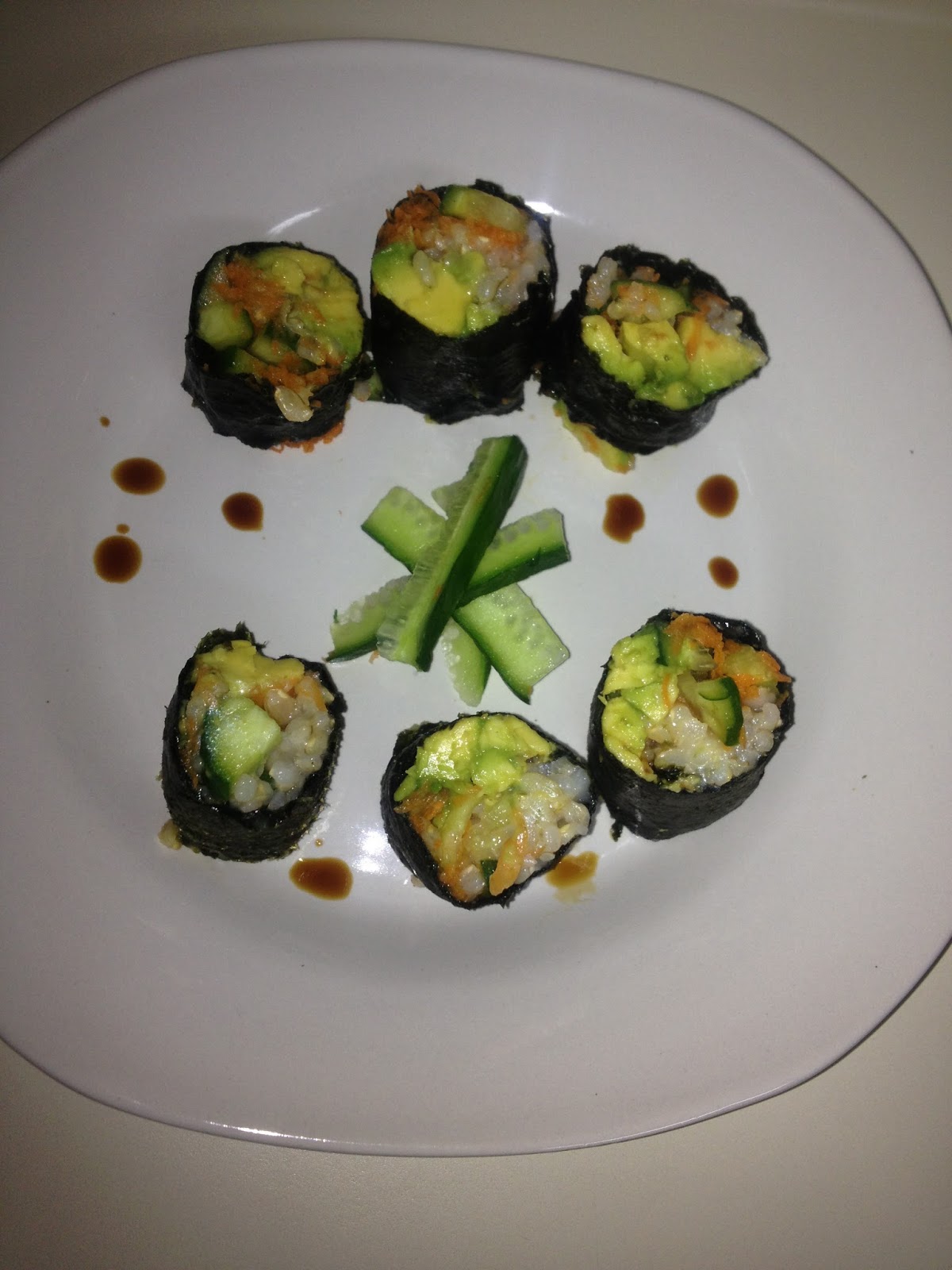 **Raw Sushi**
 I am going to show two ways to make meatless sushi. One way for all raw vegans and the other way for vegans/vegetarians. These sushi rolls turned out tasty and I made them 2 days in a row!
*Raw Vegan Sushi Ingredients* per 1 serving of 6 rolls
1Nori Seaweed sheet Purchase Here
1-2 chopped up organic cucumbers
1-2 shredded or chopped organic carrots
1 chopped avocado
Tamari or Shoyu sauce Purchase Here
Sharp Knife
Optional: Sprouts
Optional: But recommend Sushi Mat to roll Purchase Here
Optional: Organic brown rice for vegans/vegetarians
Directions:
1.Chop your veggies up if making raw sushi
Note:(If making vegan/vegetarian sushi then you would boil your organic brown rice first then chop your veggies when rice is almost complete)
2. After veggies are ready lay out 1 Nori Sheet on sushi mat if you have one
Note: 1 Nori Sheet makes about 6 rolls
3. Place your chopped veggies + avocado on edge of nori sheet
If adding rice add at same time as veggies
4. Sprinkle Himalayan Salt, Black Pepper, Onion, Garlic Powder + Cayenne pepper or any seasonings you prefer
5. Now its time to roll. If you have a mat it easier but I dont have my mat yet so I used my hands which worked perfect. You want to roll as tight as possible.
6. Once you get to the end  of roll spinkle water on the edge to seal wrap in place.
7. Next step is to cut them. You need a sharp knife for this step. I actually pointed my knife down to slice. It may feel a little difficult to slice through at first just rub roll with a tiny bit of water which will help guide your knife.
8. Slice and place your rolls on plate. You place the veggies back inside roll when it comes out as you cut them.
9. Enjoy Your Raw Vegan Sushi
Note: Add a tiny bit fresh ginger to your tamari or shoyu sauce for a nice extra boost of flavor
Raw Vegan Sushi
LaShana Nicole,