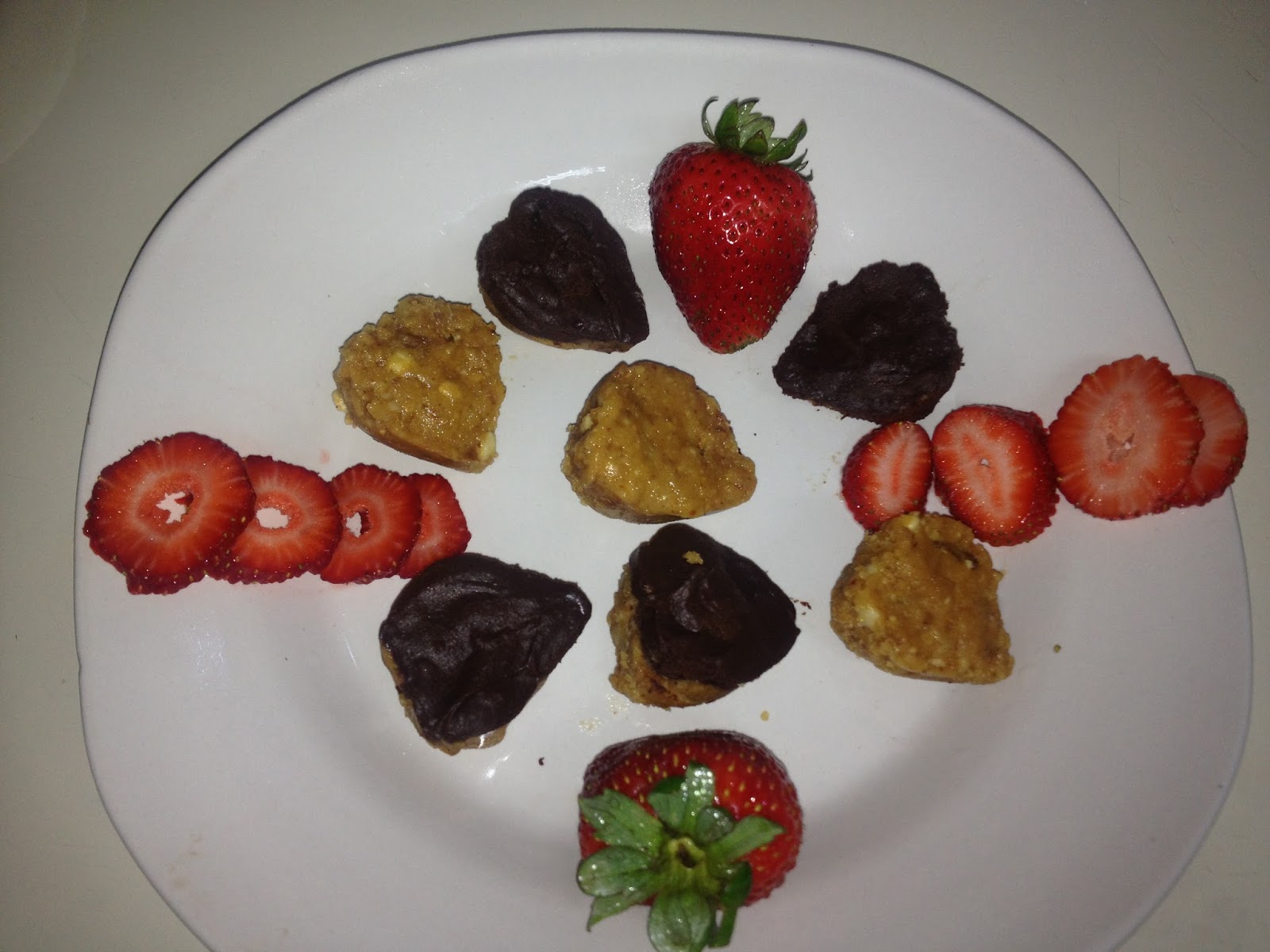 *Raw Chocolate Peanut Butter Cups*
Talk about little bites of pure joy in the mouth lol these chocolate peanut butters treats are simply divine! I literally had to make myself not eat them all in one setting. Hahah! I use to love Reese peanut putter cups and I had to find a way to eat a much healthier version of them. Well here it is RAW, HEALTHY & FINGER LICKING GOOD. Hahaha!
Raw Chocolate Peanut Butter Treats
*Ingredients*(Makes about 10)
Peanut Butter Bottom Layer Mixture:
1/4 + tablespoon of organic peanut butter (or homemade peanut butter) Purchase Here
2-3 teaspoons of 100% maple syrup or (raw agave nectar)
5-6 or hand full of pecans (or sub what ever you like walnuts, peanuts etc)
Optional: 2-3 Medjool dates (I didn't use any)
Optional: Pinch of Himalayan salt
Chocolate Top Layer Mixture:
3-4 tablespoons of organic cocoa powder Purchase Here
2-3 teaspoons of organic coconut oil Purchase here
3-4 tablespoons of raw agave nectar  Buy here
Optional: 1-2 tablespoons of almond milk
Note: If you make all 10 with chocolate coating on top you will need 5-6 tbs of organic cocoa powder and 3-4 tbs of coconut oil (I made half with chocolate half with out)
Directions:
1. Place your peanut butter + pecans +sweetener inside food processor
2. Allow to process until you have a creamy crunch texture. You want to the mix to stick together.
Note: Taste a sample add more sweetener if needed
3. Once you are satisfied with taste. Take a spoon and scoop mixture a little over 1/2 way full into your strawberry shape maker or peanut balls. I purchased my strawberry shapes maker from amazon Purchase here
4. I would take one peanut butter mold out to make sure the mixture sticks well before adding chocolate topping on top.
5. After you finish your peanut butter pecan molds make your chocolate topping mix. Add Your Cocoa powder to bowl.
6. Next mix your coconut oil + sweetener + almond milk
7. Next mix all your ingredients together until you have a nice smooth chocolate texture.
Note: Feel free to taste and add more sweetener or cocoa powder to taste
8. Once you have desired texture spoon chocolate mixture on top of peanut butter pecan crunch layer. I decided to leave some plain with just the peanut butter. This is completely up to you. The ingredient amounts are included above if you decide to cover all of them with the chocolate coating 🙂
9. I allowed mine to freeze over night and I covered it with aluminum foil. You can let freeze for a hour or two and they would be ready to eat :-). Feel free to add fruit I cut up some strawberries and added to dish.
ENJOY your Chocolate Peanut Butter Treats
Hugs& Happy Health
LaShana Nicole