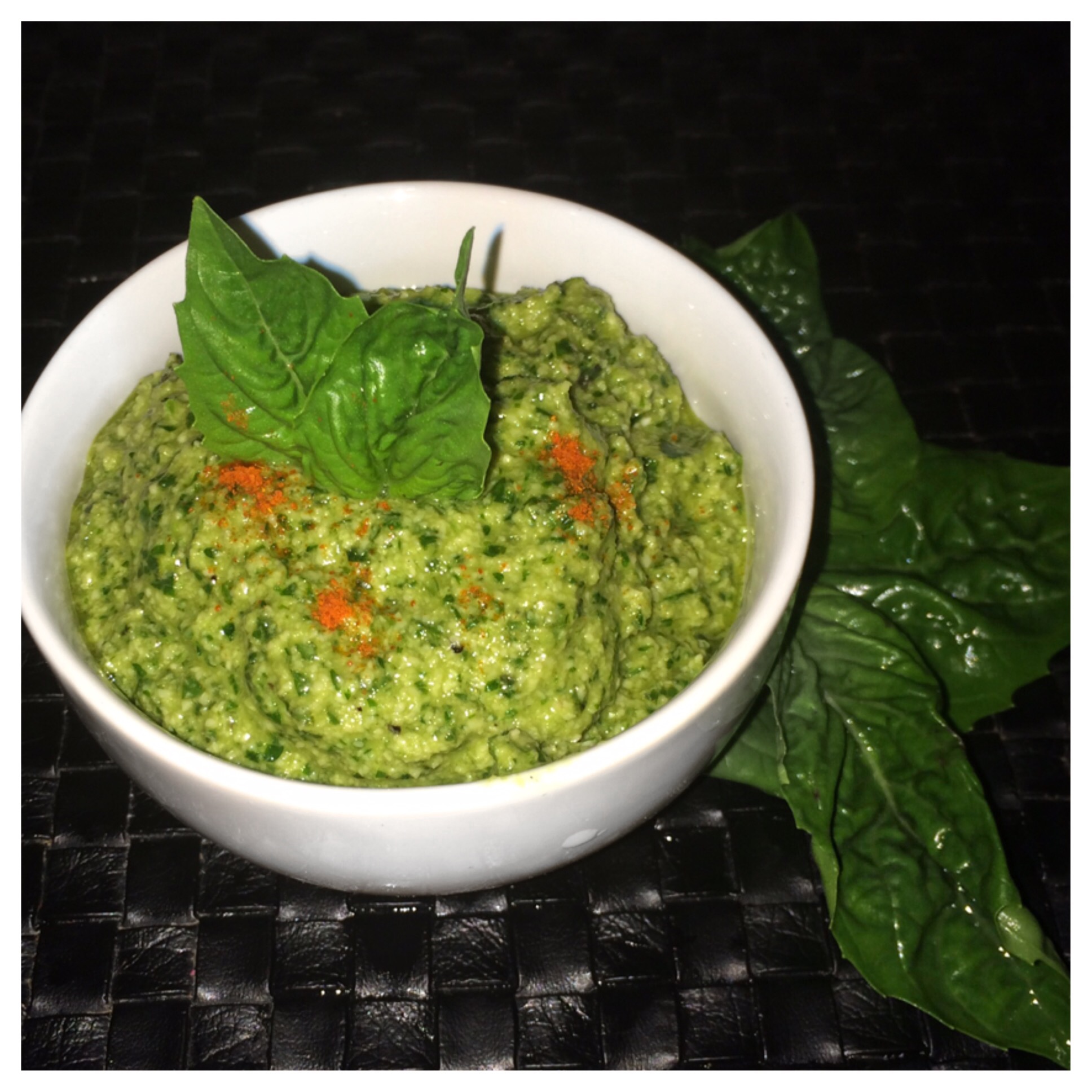 *Raw Basil Pesto*
HAPPY 2016 Everyone🎉🎉 I pray your new year is off to a great start. Of course we have to start the new year off right bringing you some tasty new recipes. Pestos are great on crackers, bread, salads, baked potatoes and more. This basil pesto sauce is rich in nutrition, will boost your immune system, easy to make, and super tasty. Basil is a great source of Vitamin K (vital for blood clotting), Vitamin A (helps prevent heart attacks/strokes), Vitamin C (immunity boost), iron, calcium, potassium, and omega 3 fatty acids. Consuming parsley will help heal your nervous system and keep your immune system strong. Parsley contains many essential vitamins including Vitamin A, B12, C, K, and it is anti-bacterial, anti-fungal, and helps to cleanse your blood with its chlorophyll content. I hope you all enjoy this recipe as much as I do. 
*Basil Pesto*
Ingredients:
1 +1/2 Cup Rough Chopped  Fresh Basil
1 + 1/2 Cup Fresh Parsley (Remove Stems)
3-4 Medium Grated Garlic Cloves ( I used 4)
1 Cup Extra Virgin Olive Oil ( Use 1/2 cup for thicker pesto)
1 Cup Activated Raw Cashews (Soak overnight to activate)
1/2 Tsp Garlic Powder
1/2 Tsp Onion Powder
1/2 Tsp Himalayan Pink Sea salt
Dash of Cayenne Pepper Powder (Omit if you don't like spicy)
Dash of Black Pepper
Directions:
1. Soak your cashews overnight + rinse + strain + grate garlic + add to food processor
2. Place all ingredients inside food processor + pulse until you achieve a smooth pesto texture
3. Allow to set inside refrigerator for 1 hour
4. Enjoy with gluten free crackers, inside a potato, or on a wrap. Consume within 3-4 days!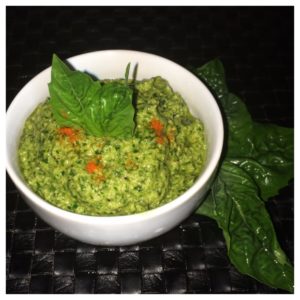 Thanks so much for checking out this recipe. If you try it be sure to leave a comment and don't forget to share the website with your friends and family♡
Announcements:
** GOOD NEWS the BeAHealthNutToo Beauty Soaps are back in stock! Don't miss your opportunity to order NOW before they SELL OUT again. The beauty bars are completely ☆Vegan☆All Natural☆Organic☆ and Toxin-free☆. No more using chemicals on your skin. Snag yourself or someone you love a gift today click here>> Order MINE now
** We are so excited to announce that BeAHealthNutToo is expanding into a health and wellness store. We will still feature new recipes and all the things you already love, with the addition of products. We are currently finishing up some vegan herbal supplements and I can't wait to share them with all of you.
** Don't miss the monthly encouragement newsletters, health tips, freebies and more. Subscribe today!
** You can also now watch inspirational videos + raw food tutorials on my youtube channel. A new video just went up called (De-Stress Your Life), youtube page link is at the top of the website. Enjoy!
Hugs & Happy New Year Lovelies❤
LaShana Nicole