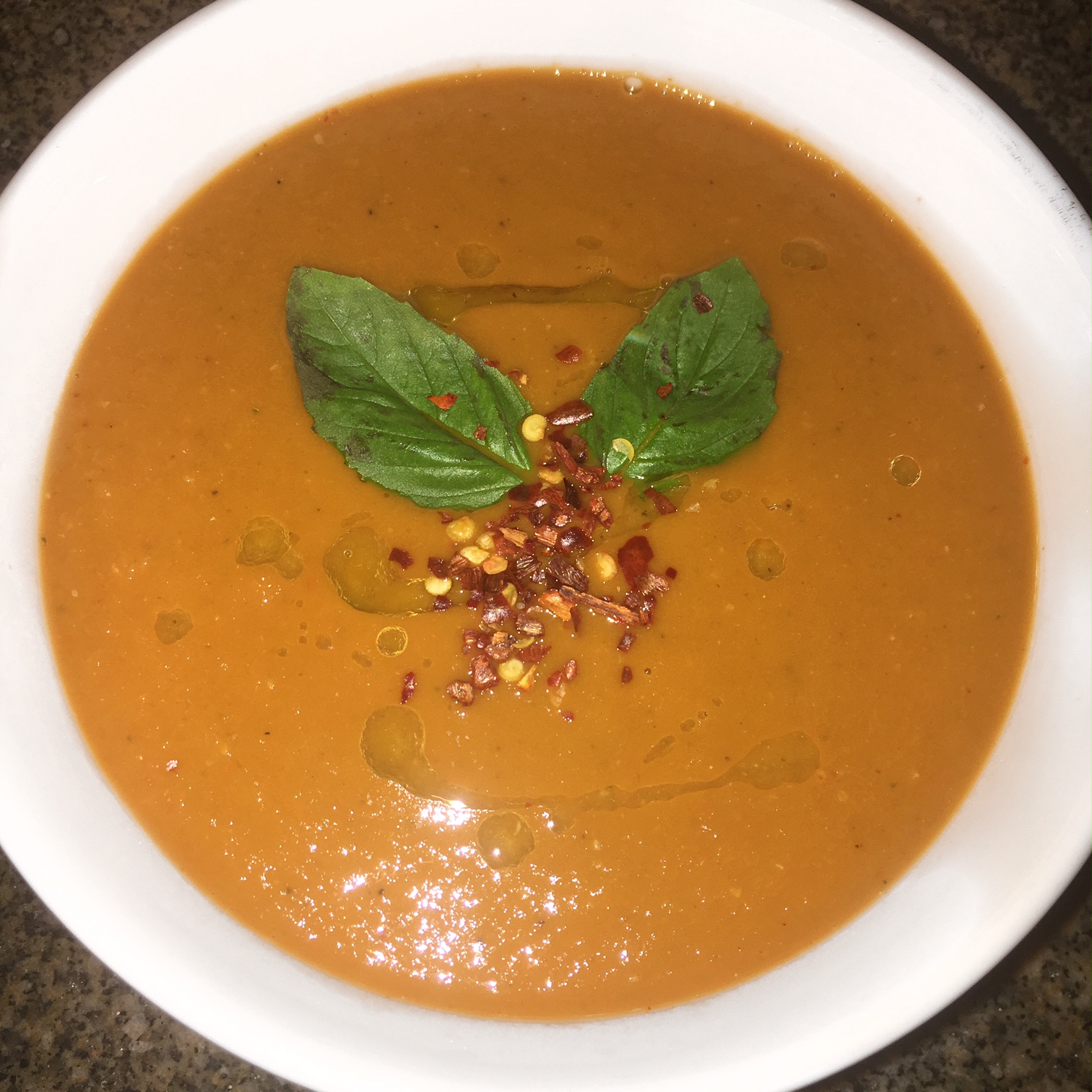 *Red Pepper Tomato Soup*
It's time for cozy warm soup vibes! This red pepper tomato soup is delicious and I'm adding it to my list of favorites! I hope you guys love it too!
*Red Pepper Tomato Soup*
Ingredients: Serving Size: 2 Bowls
1/3 Cup of Organic Red Peppers (Rough Chopped)
1/4 Cup of Organic  Yellow Onions (Rough Chopped)
3 Organic Garlic Cloves
1/3 Cup of Organic Basil (Rough Chopped)
5 Medium Size Organic Tomatoes
1 Tbs Balsamic Vinegar
1 Tsp Tabasco Sauce (Omit if you don't like spice)
1/2 Tbs Garlic Powder
1/2 Tbs Onion Powder
1/2 Tbs Smoked Paprika
Dash Himalayan Pink Sea Salt & Black Pepper (to taste)
1 Cup of Spring Water (Or sub for veggie broth if you prefer)
1 Tbs of Grape seed Oil
Directions:
1. Rinse and clean all your ingredients + chop all your ingredients + chop tomatoes in half
2. Preheat your oven to 300 degrees + place parchment paper on a pan to roast ingredients
3. Place your tomatoes + onions + peppers + garlic on paper (exclude basil + water+ vinegar)
4. Dash some of your seasonings on top of the onions + tomatoes +  red pepper
5. Drizzle your grape seed oil on top of the ingredients + allow to bake for 15 minutes
6. Take your roasted ingredients out the oven and add them to a pan (pictured below)
7. Now add your water, balsamic vinegar, rest of seasonings, and basil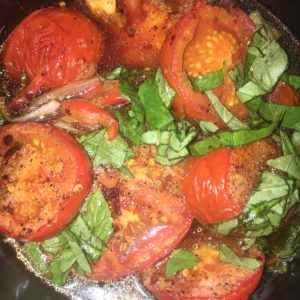 8. Allow all your ingredients to cook for 7-10 additional minutes
9. Next allow to cool for about 1-2 minutes + add all ingredients to a high speed blender
10. Blend all ingredients together until you have a smooth texture + serve in bowl
11. Sprinkle red pepper flakes + add fresh basil on top! Eat with your favorite crackers! Enjoy!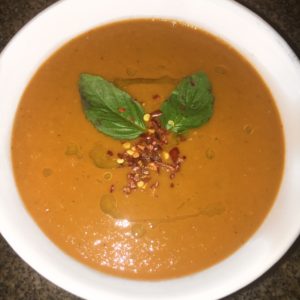 Thanks so much for checking out this recipe. I hope you all love it. Comment and let me know your thoughts below. Don't forget to share the website with your friends and family♡
ANNOUNCEMENTS📢📢:
**You asked, we listened! Our✨LIQUID CASTILE SOAPS✨are NOW available! Grab some here> HEALTH STORE
** The Be A Health Nut Too Hair Growth Oil is almost Sold-Out again! If you're dealing with damaged hair, balding, or looking to restore the health of your hair, SNAG some now>> HAIR OIL
** The Deodorants and Beauty Soaps are also back in stock! YAY! The Shampoo & Conditioner are both SOLD-OUT! I'll announce when they're back in stock!
** You can also now watch inspirational videos + raw food tutorials on my Youtube channel. The Youtube page link is at the top of the website!
** THANK YOU so much lovelies for your love and continued support! I adore each and every one of you!
Hugs & Happy Red Pepper Soup Eating,
LaShana Nicole❤