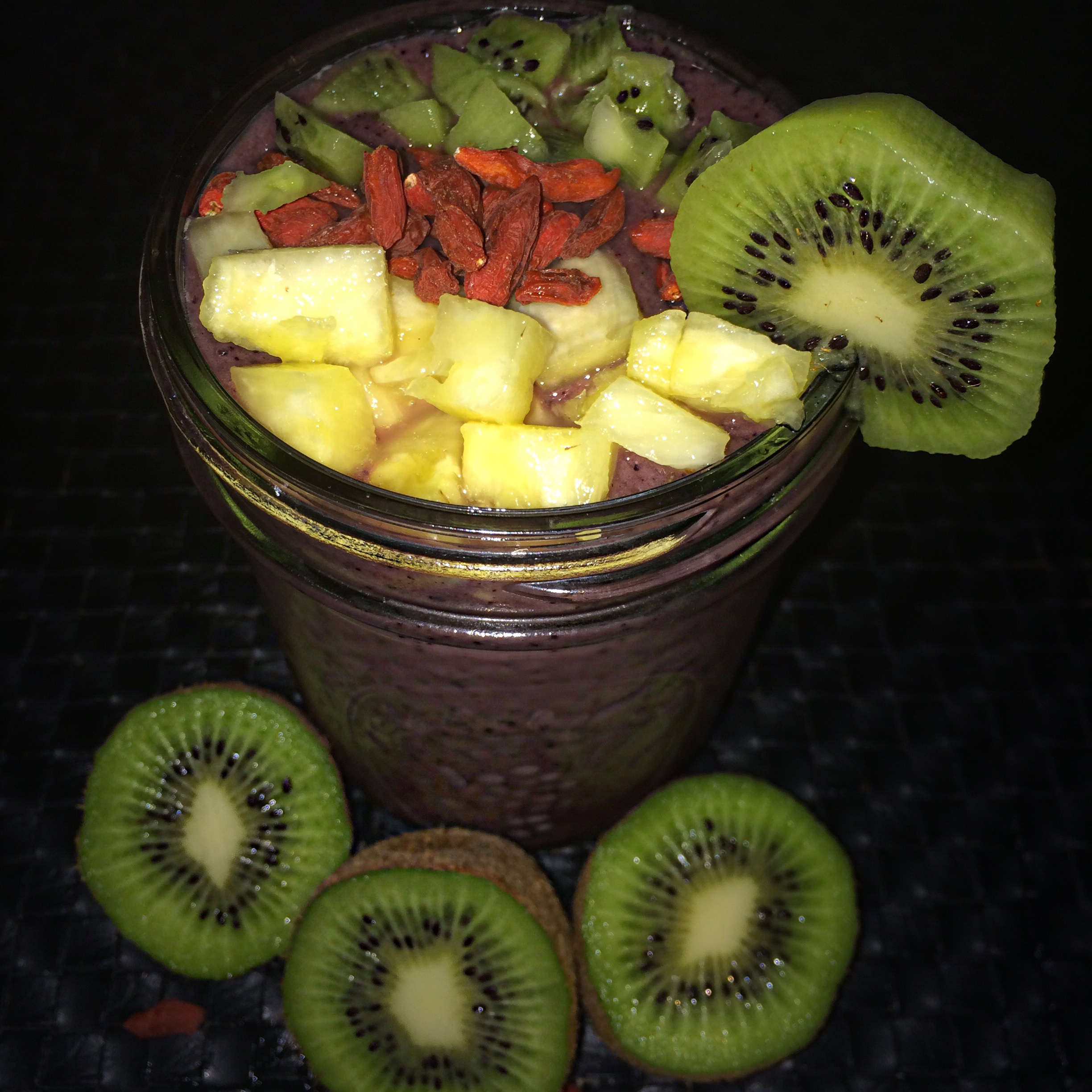 *Date Berry Smoothie*
Dates are rich in vital nutrients. They contain dietary fiber which cleanses your colon naturally, and helps to prevent bad cholesterol. Dates contain potassium which helps lower your risk of stroke, controls your blood pressure, and they help to regulate your nervous system. Dates are also loaded with vitamins A B1,B2,B3,B5,C & K for healthy bones, skin, immunity, and vision. If you are anemic "I was for years" dates are a very rich source of iron, magnesium, cooper, and manganese. You can use them as a natural sweetener in all of your sweet treats and smoothies. 
*Date Berry Smoothie* Makes 1 Serving
2 Frozen Bananas (Freeze Fruit Overnight)
1 Cup Frozen Blueberries
4 Dates (Soak in water for 3 mins to soften and remove pits)
1/2 Fresh Orange (Remove Skin)
1/2 Cup Fresh Pineapples
1 Tbs Lucama Powder
1/2 Tbs Camu Camu Powder
1 Tbs Hemp Protein Powder (Optional)
1 +1/2 Cup Alkaline Water (Add more if needed)
Toppings: Fresh Kiwi + Pineapples + Goji berries
Directions:
1. Place all ingredients inside high speed blender + blend until smooth
2. Pour into glass + add fruit toppings of choice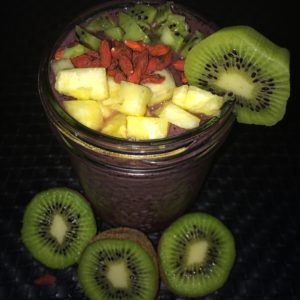 Thanks so much for checking out this recipe. If you try it be sure to leave a comment and don't forget to share the website with your friends and family♡
Announcements:
** GOOD NEWS the BeAHealthNutToo Beauty Soaps are back in stock! Don't miss your opportunity to order NOW before they SELL OUT again. The beauty bars are completely ☆Vegan☆All Natural☆Organic☆ and Toxin-free☆. No more using chemicals on your skin. They are the perfect stocking stuffers. Snag yourself or someone a gift today click here>> Order MINE now
** We are so excited to announce that BeAHealthNutToo is expanding into a health and wellness store. We will still feature new recipes and all the things you already love, with the addition of products. We are currently finishing up some vegan herbal supplements and I can't wait to share them with all of you.
** Don't miss the monthly encouragement newsletters, health tips, freebies and more. Subscribe today!
** You can also now watch inspirational videos + raw food tutorials on my youtube channel. A new video just went up called (De-Stress Your Life), youtube page link is at the top of the website. Enjoy!
I pray that each of you has a very MERRY CHRISTMAS and a HAPPY BLESSED NEW YEAR.
Hugs & Happy Date Smoothie Drinking,
LaShana Nicole ❤