* Vegan Mash & Mushroom Gravy*
When I was young you couldn't pay me to eat mash potatoes, it was something about the mushy texture that freaked me out haha. Now I love making this mash potato gravy combo because it is super delicious. I hope y'all love it as much as I do. Enjoy!
*Vegan Mash & Gravy*
Vegan Mash Ingredients:
6 Medium Sized Potatoes ( BRAND: Cinacia Organics french fingerling potatoes)
1/4 Cup Soy-Milk (or almond milk)
1 Tsp Garlic Powder
1/2 Tsp Himalayan Pink Sea-salt
1/2 Tsp Black Pepper
1 Tbs Vegan Butter (I use the brand earth balance)
1/2 Tsp Dried Chives
Toppings: Roughed Chopped Fresh Chives
Equipment: You will need a potato masher
Vegan Mushroom Gravy Ingredients:
4-5 Rough Chopped Crimini Mushrooms
1 +1/2 Tbs Vegan Butter
2 Tbs Organic Unbleached All Purpose Flour ( Brand: Bob Mills Gluten Free or Arrowhead Mills)
1+1/2 Cup Miso Broth (Brand: 365 from WholeFoods)
1/2 Tsp Himalayan Pink Sea-Salt
1/2 Tsp Black Pepper
1 Tbs Gluten Free Tamari
1/2 Tsp Dried Chives or Fresh Chives ( I actually mixed both)
 Pinch of Cayenne Pepper Powder
Directions:
1. Boil your potatoes in water on med high heat and cook until a knife inserts with ease
2. Once potatoes are soft remove from water + rinse under cool water for 30 seconds
3. Remove skin I used a knife to peel skin once the potatoes weren't super hot to touch
4. Once skin is removed place your potatoes inside a separate pan + add your other ingredients
5. Mash your potatoes + soy milk+ seasonings + vegan butter + allow to warm on stove on low
6. Allow potatoes to warm for an additional 5 mins while making your gravy
7. For gravy add vegan butter to a separate pan + mushrooms + allow to cook on med heat
8. Stir for 8-10 mins until mushrooms have a brown  appearance
9. Next add flour + stir + add miso broth +seasonings+ stir + allow to cook on low 10-12 mins
10.  Once you achieve your desired gravy texture serve on top of your mash potatoes + add chives
Note: To make your gravy thicker (add more flour) or add more broth if its to thick
Note: Store leftover gravy inside airtight container + use within 2-3 days.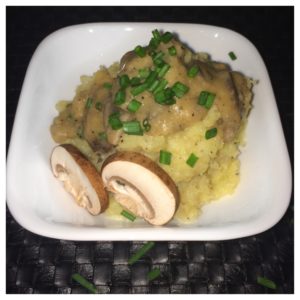 Thanks so much for checking out this recipe. If you try it be sure to leave a comment and don't forget to share the website with your friends and family♡
Announcements:
** GOOD NEWS the BeAHealthNutToo Beauty Soaps are back in stock and they are selling fast! Don't miss your opportunity to order NOW before we SELL OUT again. We only have 2 Lavender delight, 2 Lemongrass sensation, 2 Sage me and a few of the other blends left in stock. The beauty bars are completely ☆Vegan☆All Natural☆Organic☆ and Toxin-free☆ and LESS than 5$. You can't beat that price. No more using chemicals on your skin. If you haven't order yet, what are you waiting for?? Snag yourself or someone you love a gift today click here>> Order MINE now
** We are so excited to announce that BeAHealthNutToo is expanding into a health and wellness store. We will still feature new recipes and all the things you already love, with the addition of products. We are currently finishing up some vegan herbal supplements and I can't wait to share them with all of you.
** Don't miss the monthly encouragement newsletters, health tips, freebies and more. Subscribe today!
** You can also now watch inspirational videos + raw food tutorials on my youtube channel. A new video just went up called (De-Stress Your Life), youtube page link is at the top of the website. Enjoy!