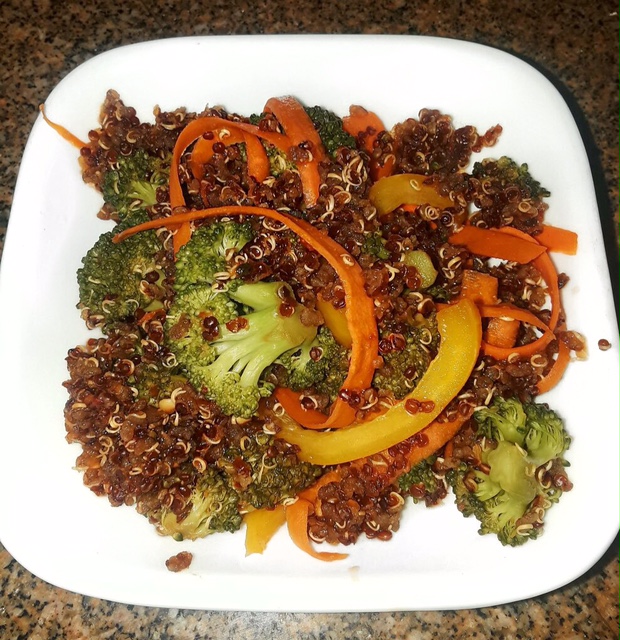 *Quinoa Stir fry*
This Quinoa Stir fry is absolutely delicious! It's a great dish for meal prepping, and simple to make. Enjoy lovelies!
*Quinoa Stir fry*
Ingredients:
1 Batch (head) of Broccoli (clean + rough chop)
1/2 Cup Quinoa (brand I used here)>> Red Quinoa
2 Carrots (Clean+ Remove skin + peel)
1/2 Yellow Bell Pepper
2 Small Garlic Cloves (Grated)
4 Tbs Tamari Sauce
4 Tables Maple Syrup
Juice from half a fresh lemon (remove seeds)
1 Tbs of Sesame Oil
1 Tbs Alkaline Water
1/2 Tbs Garlic Powder
Dash of Cayenne Powder
Dash of Himalayan Pink Sea Salt
Directions:
1. Place your quinoa inside water + boil according to directions on package
2. While quinoa is boiling, rinse, clean, and rough chop all ingredients
3. Chop your broccoli into small florets + boil in water for 10 mins + remove
4. Set veggies aside + add your olive oil + grated garlic to a pan + allow to sauté on med heat 2mins
5. Next add your tamari + syrup + lemon juice + all seasonings+ H20 to pan + allow to sauté 5 mins
6. Next add your chopped veggies  and broccoli to your marinade + stir + coat evenly
7. Allow to sauté 10 mins
8. Once your veggies are cooked and evenly coated with marinade add on top of your cooked quinoa
9. I stirred my quinoa inside the stir-fry as well. Serve in dish and bon appetite!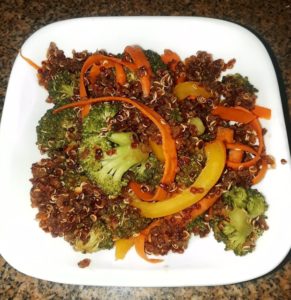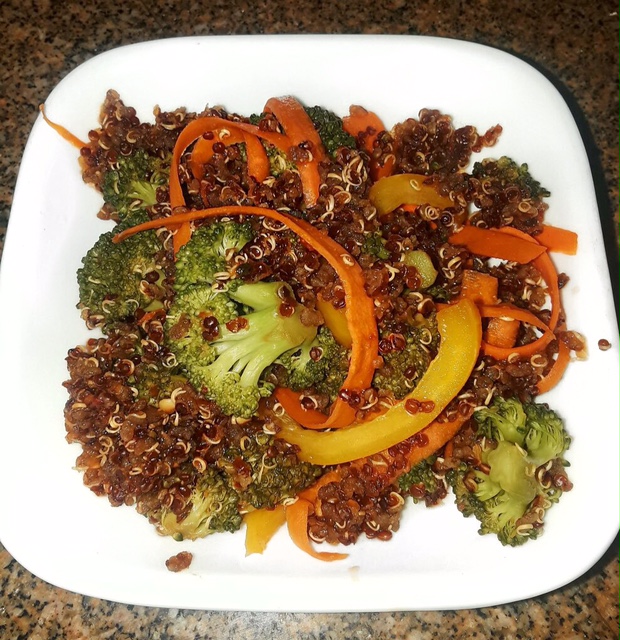 Thanks so much for checking out this recipe. I hope you all love it. Comment below and let me know your thoughts! Don't forget to share the website with your friends and family♡
ANNOUNCEMENTS📢📢:
**Our Gorgeous VEGAN✨DIP IT✨Nail Polish JUST LAUNCHED! Check them out here> HEALTH STORE
** The Be A Health Nut Too Hair Growth Oil is BACK in stock and receiving amazing feedback! If you're dealing with damaged hair, balding, or looking to restore the health of your hair, SNAG some now>> HAIR OIL
** Our Beauty Soaps and Deodorants are also back in stock!
** You can also now watch inspirational videos + raw food tutorials on my Youtube channel. The Youtube page link is at the top of the website!
** THANK YOU so much lovelies for your love and continued support! I adore each and every one of you!
Hugs & Happy Stir Fry Making,
LaShana Nicole❤