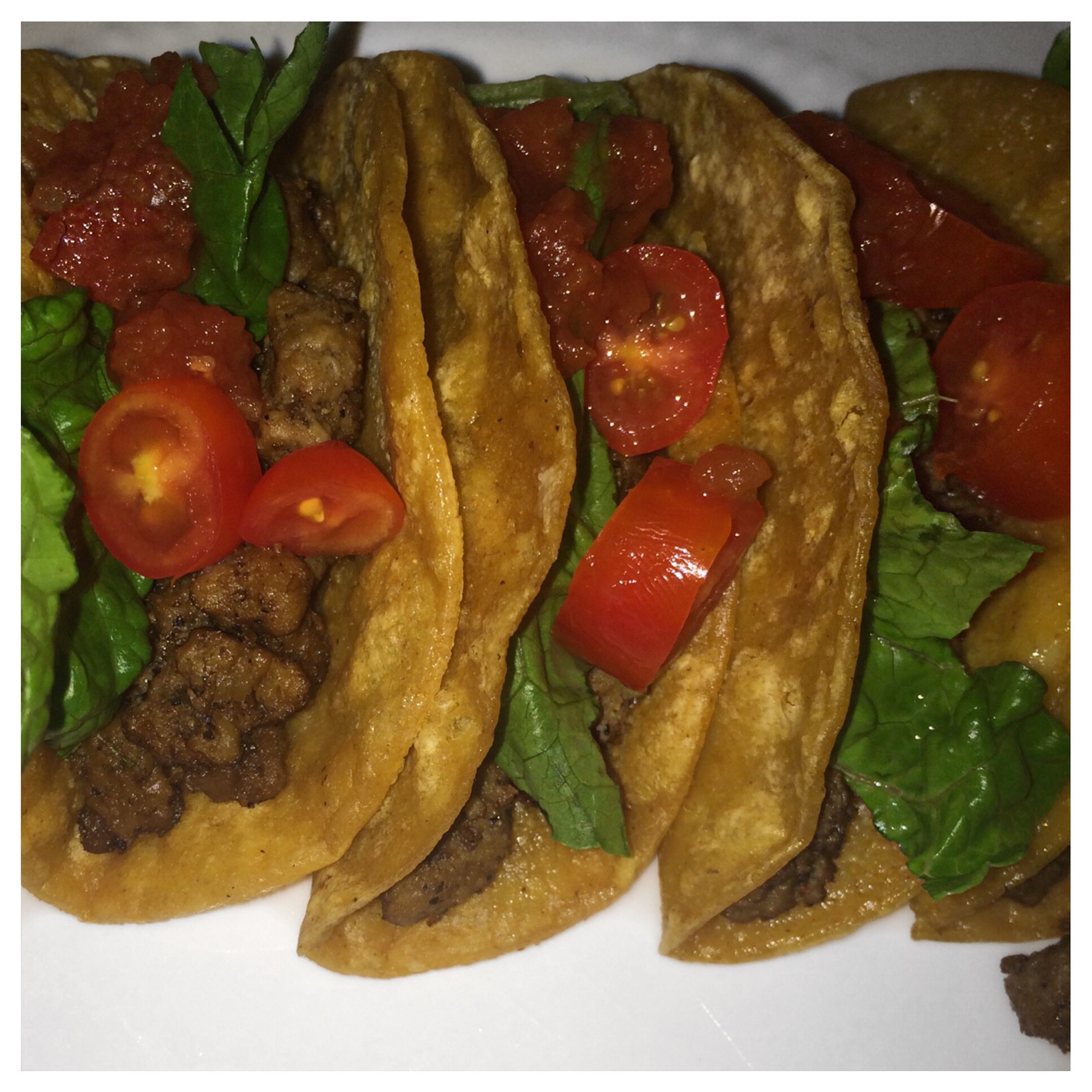 *Pea Mock Meat Tacos*
I've had such a hard time finding meat substitutes that I actually like. Most of the fake mock meats that I've tried taste like pure rubber hahaa, so I was SUPER excited to find one that I actually enjoy. The great thing about this "mock" meat is it's made from peas and doesn't contain any soy, it's gluten free, and is a plant based protein. It's a great substitute for those of you who are looking to stay away from soy but still want a meat alternative. I made these veggie tacos a few nights in a roll because they taste so yummy! 
Ingredients: Servings (5-6 small tacos)
1 Cup of Beyond Beef (Use more if you want to make lots of tacos)
1 Tbs Olive Oil (Use more if needed)
Dash of Onion Powder (Add more to taste if needed)
Dash of  Cayenne Powder (Add more to taste if needed)
Dash of  Himalayan Pink Sea Salt (Add more to taste if needed)
Dash of  Pepper (Add more to taste if needed)
5-6 Organic Gluten Free Corn Tortillas
Toppings:Salsa,Tomatoes,Lettuce, Pickled Jalapeños, Avocado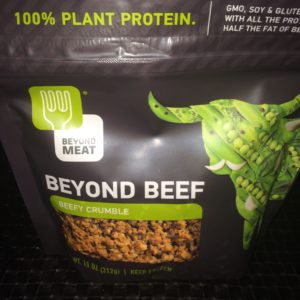 Directions:
1. Place your olive oil in the pan +add your beyond beef+allow to warm for 7mins on med/low heat
2. While warming your mock meat add 1+1/2 Tbs olive oil to another pan + preheat on med heat
3. Place your tortillas inside oil + flip on each side + fold
4. Allow to cook until you achieve your outer shell texture preference (for more crisp add less oil)
5. Once your shells are complete place your beyond beef + toppings of choice inside + ENJOY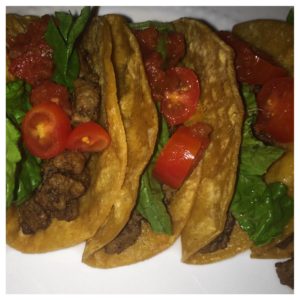 Thanks so much for checking out this recipe. I hope you love these tacos. Comment below and let me know your thoughts! Don't forget to share the website with your friends and family♡
ANNOUNCEMENTS📢📢:
** THE WAIT IS OVER! The BeAHealthNutToo store FINALLY has VEGAN Deodorants, Lotions, Body Sprays, Shampoo and Conditioner.  They're already selling so fast. In just a few days we are already almost SOLD OUT of the Deodorants and Lotions. How Exciting!! GRAB YOUR vegan goodies now before they're gone!! Click the link to order>>  Health Store
** We are currently making batch #5 in our beauty soaps. We only have 2 Bergamot Dreams +1 Grapefruit Bliss +5 Oatmeal Spicy Joys +4 Sage Me left in stock. All other blends are currently Sold-Out and will be back in stock soon! If you want to snag some beauty soaps here's the link >> Beauty Soaps.

** You can also now watch inspirational videos + raw food tutorials on my youtube channel. Youtube page link is at the top of the website. Enjoy!