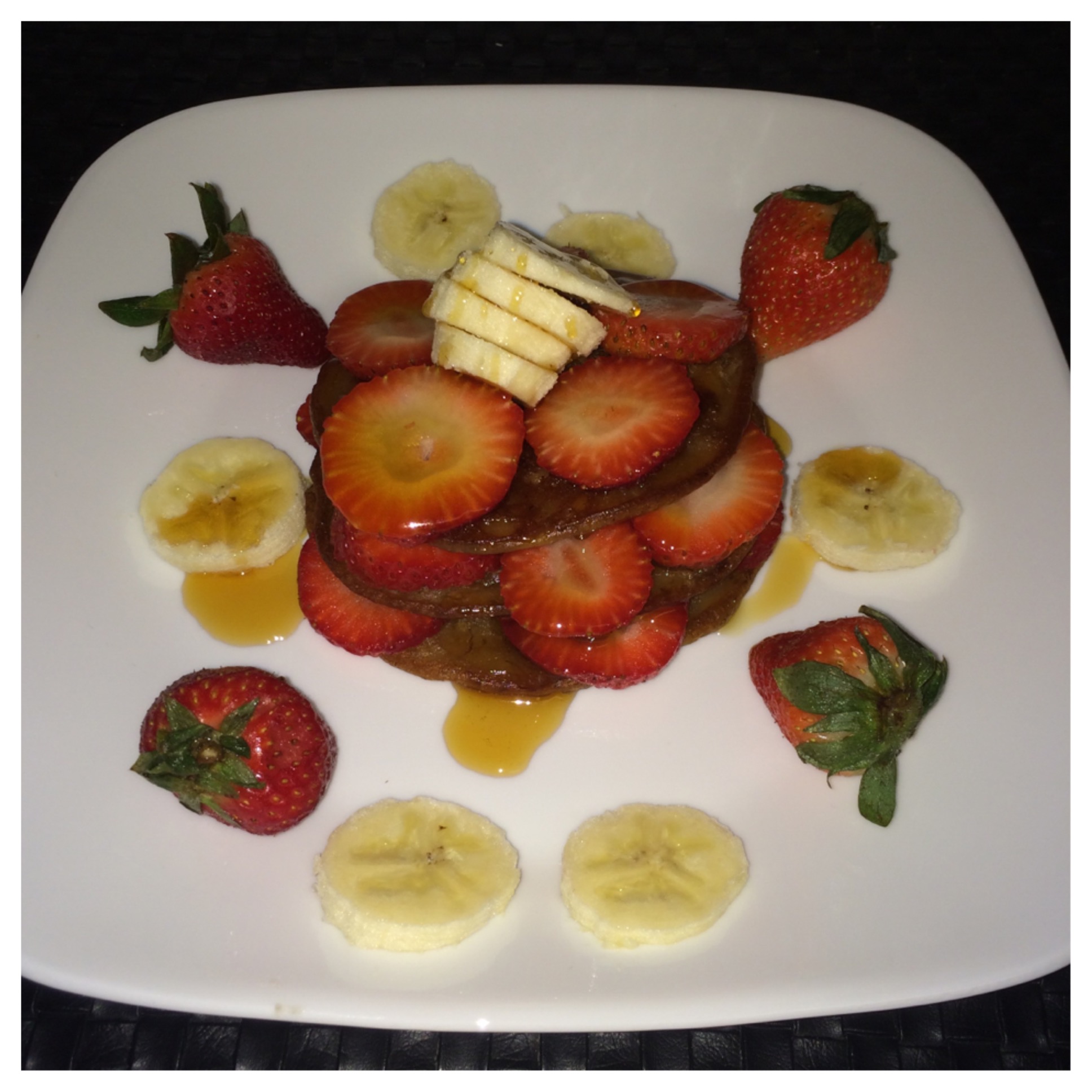 *Cinnamon Banana Vegan Pancakes*
These pancakes are just delicious, very filling, and very easy to make. 
*Cinnamon Banana Pancakes*
Ingredients
1 Cup Organic Enriched Unbleached Flour (I used the brand arrowhead mills) 
4 Tbs of Coconut Palm Sugar
2 Tsp Baking soda
1/8 Tsp Himalayan Pink Seasalt
1/2 Tsp Cinnamon
1/2 Tsp Vanilla flavoring
2 Very Ripe Banana's
1 +1/4 Cup of Almond Milk
Coconut oil or Earth Balance soy free vegan butter
Organic Grade B Maple Syrup
Toppings: Fresh Strawberries + Bananas
Directions:
1. Mix your flour + sugar + salt+cinnamon+ baking soda together
2. Mash your bananas into a seperate mixing bowl until mixed together with small chunks + add milk + vanilla flavoring
3. Stir the bananas + milk + flavoring together (NOTE: You want the mix to have some chunks so dont over mix)
4. Combine the banana mix with the dry mix + mix until all dry ingredients are blended in and you have a pancake mix consistency
5. Preheat a pan on low heat with your oil of choice list above (I used coconut oil, it makes the pancakes really soft) 
6. If you prefer a more crisp texture use the earth balance instead of the coconut oil.
7. Once the pan is heated add your pancake mix ( I used 2 Tbs full to make medium size pancakes)
8. Allow to brown on each side 3-5 mins + flip + allow to cook until lightly crisp and cooked all the way through 7-9mins
9. Note: If you use coconut oil you will have excess oil. Feel free to soak the extra oil by placing a piece of white paper towel on the pancakes and pressing lightly
10. Once your pancakes are complete slice strawberries + layer the pancakes with strawberries + top with banana's
11. Drizzle your maple syrup + indulge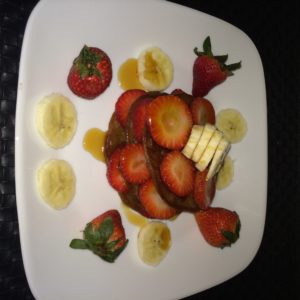 Thanks so much for checking out this recipe. If you found this blog helpful be sure to share it with friends and family♡

Announcements:
 ** BIG SPRING BLOW OUT SALE GOING ON TODAY! Up to 70% off Check it out here>  https://www.beahealthnuttoo.com/store/products/
 ** Im working on the first Raw Food Live class. Yay can't wait to finish the course.
 ** You can now watch weekly inspirational videos + raw food tutorials on my youtube channel. Link is about at the top of website.
 Hugs & Happy Cinnamon Pancake Eating
LaShana Nicole❤