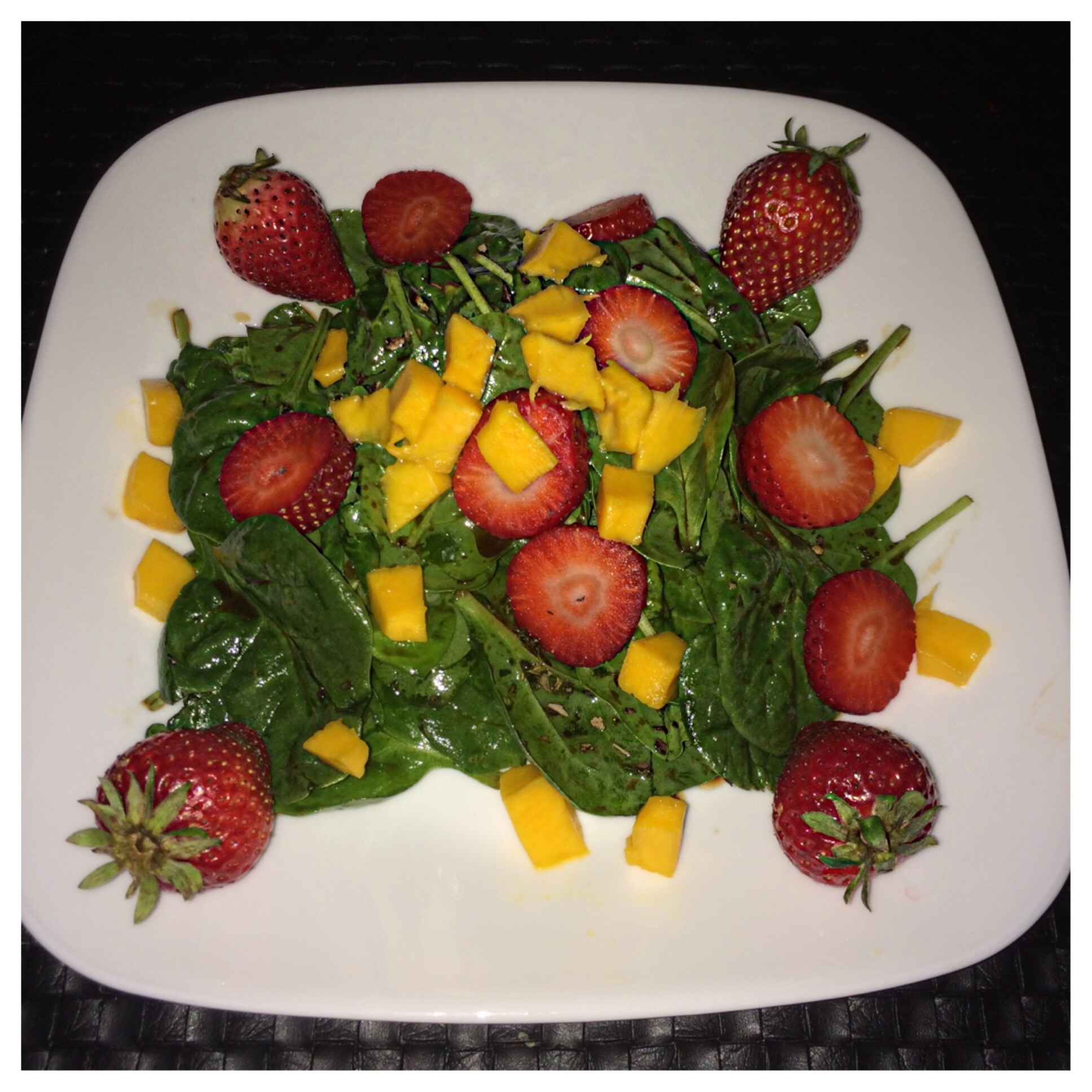 *Garlic Herb Infused Salad*
Fresh salad dressings taste better and are usually much healthier than store bought dressings. I love knowing exactly what's going inside my body, and making food from scratch allows me to do just that.
*Garlic Herb Infused Dressing*
Ingredients:
3 Tbs Balsamic Vinegar
2 Tbs Extra Virgin Olive Oil
1-2 Grated Garlic Cloves (If you are not a big garlic fan only use 1)
1 Tbs Coconut Palm Sugar (or Raw Agave Nectar)
1/8 tsp dried basil
1/8 tsp dried oregano
1/8 tsp dried parsley
1/8 tsp dried dill
1/8 tsp garlic powder
Salad Ingredients:
2 Cups Fresh Spinach
1/2 Fresh Mango (Rough Chop feel free to use 1 whole mango)
10 Fresh Strawberries (Rough Chop)
Directions:
1. Place all your dressing ingredients inside bowl + whisk until all ingredients are blended (the oil & vinegar will seperate)
2. Clean + Rinse all of your salad ingredients + add them to dressing bowl + place lid on bowl + shake all ingredients
3. When all ingredients are coated with dressing place on serving dish + eat right away + Enjoy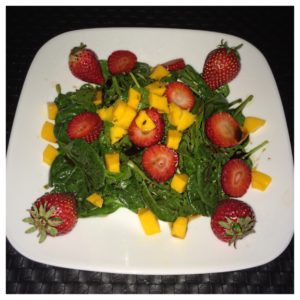 Thanks so much for checking out this recipe. If you found this blog helpful be sure to share it with friends and family♡
Announcements:
** The first online Raw Food Class was a blast! Thank you everyone who signed up and for all of your positive feedback. I can't wait for next weeks class💕 We are going live next Thursday July 30th, 2015 at 4:30pm PST, 6:30pm CST, and 7:30pm EST. Sign up now and learn how to make Raw Mock Cheese. Click the link to register >>>SIGN ME UP
** Join the BeAHealthNutToo Get Fit Challenge. Its a 2 month challenge to go the gym at least once a week from now until the last week of August. If you're on Instagram be sure to tag your weekly gym pics to hashtag #BeAHealthNutToo.  
** ☆The 5 Day Raw Food Detox☆ Recipe Ebook is now available! WOOHOO! Use code "Health" for 15% off. https://www.beahealthnuttoo.com/store/products/
** You can now watch weekly inspirational videos + raw food tutorials on my youtube channel. Link is at the top of website.
Hugs & Happy Garlic Infused Salad Eating,
LaShana Nicole ❤