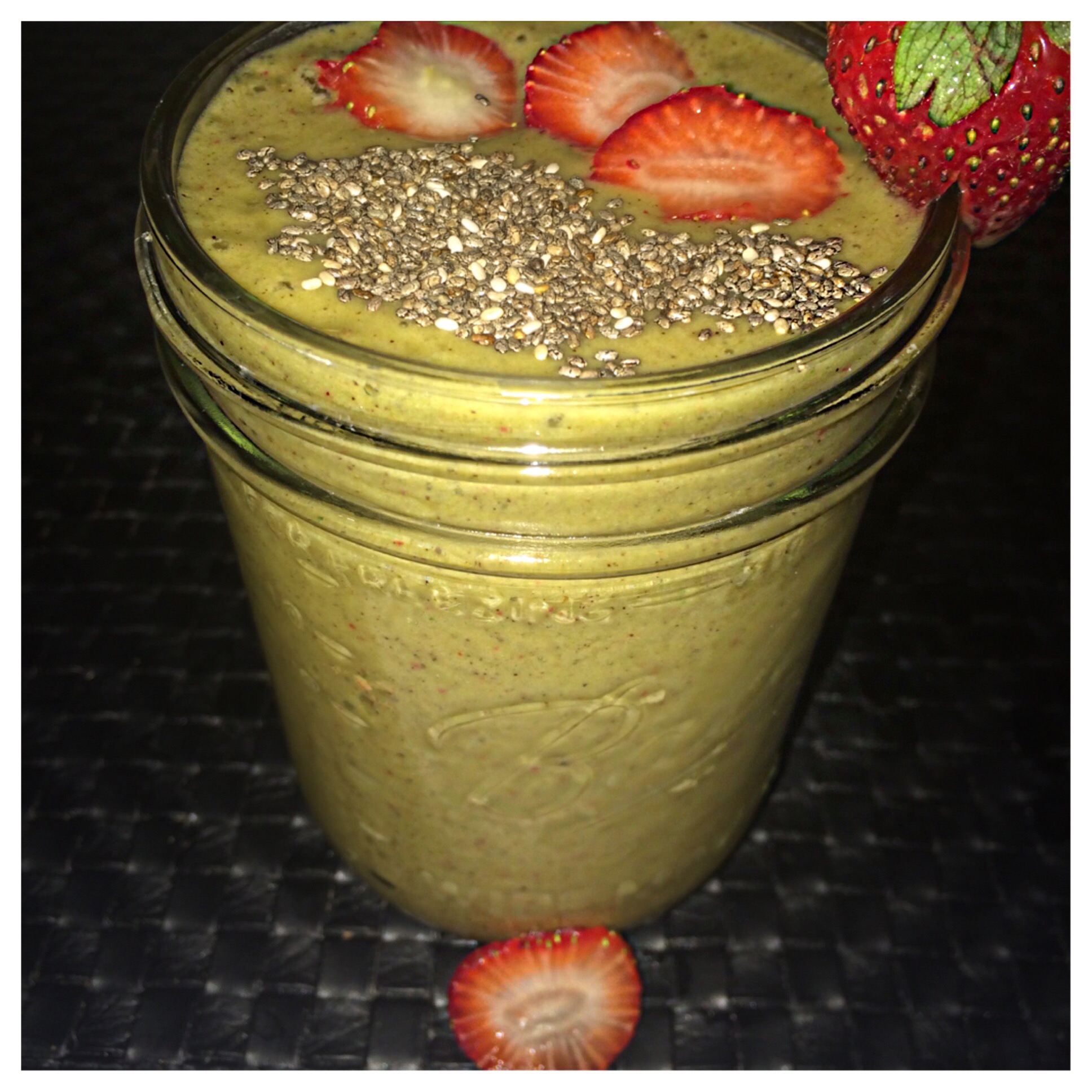 *Post WorkOut Protein Smoothie*
The BeAHealthNutToo Get Fit workout challenge is really pushing me to workout even when I don't feel like it. I love all the pictures that you all are tagging on instagram of you participating. It's awesome to hold one another accountable.  I'll leave details of how to join below.
*After WorkOut Smoothie*
Ingredients:
2 Frozen Bananas
15 Fresh Strawberries
1 Cup Fresh Spinach
1 Cup Alkaline water (add more if needed)
1-2 Tbs Hemp Protein Powder ( I order mine from www.vitacost.com)
Toppings: Fresh Strawberries + Fresh Chia Seeds
Directions:
1. Place all smoothie inside blender + blend until smooth
2. Pour inside of glass + add toppings + drink following your work out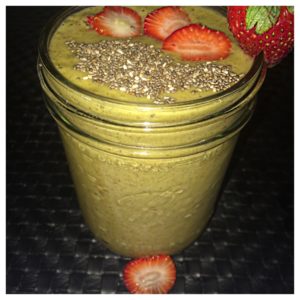 ☆BeAHealthNutToo☆ Get Fit WorkOut Challenge Rules:
1. Workout bare minimal once a week now until the last week of august
2. Tag your gym or at home work out pictures or video to hashtag #BeAHealthNutToo (If you have a IG or Twitter)
3. Simply share what you did (Ex. 50 squats using 30 lbs weight + 100 sit-ups + 40 mins cardio etc)
4. Thats it what a great way to push your self to work out at least once a week
Thanks so much for checking out this recipe. If you found this blog helpful be sure to share it with friends and family♡
Announcements:
** The first online Raw Food Class was a blast! Thank you everyone who signed up and for all of your positive feedback. I can't wait for next weeks class💕  We are going live next Thursday July 30th, 2015 at 4:30 PST, 6:30 CST, and 7:30 EST. Learn how to make Raw Mock Cheese. Click link to register>> SIGN ME UP
** Join the BeAHealthNutToo Get Fit Challenge. Its a 2 month challenge to go the gym at least once a week from now until the last week of August. If you're on Instagram be sure to tag your weekly gym pics to hashtag #BeAHealthNutToo.  
** ☆The 5 Day Raw Food Detox☆ Recipe Ebook is now available! WOOHOO! Use code "Health" for 15% off. https://www.beahealthnuttoo.com/store/products/
** You can now watch weekly inspirational videos + raw food tutorials on my youtube channel. Link is at the top of website.