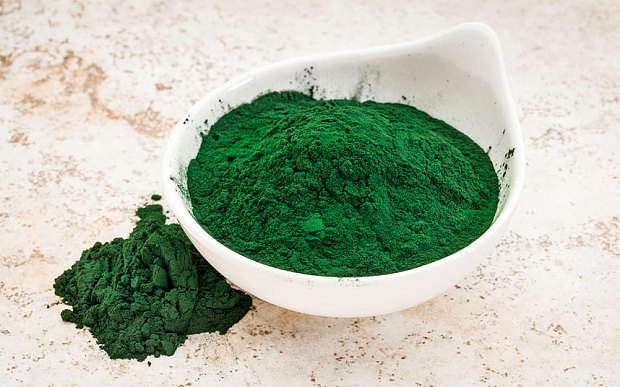 *Super Food Must-Haves*
Super foods are packed with a ton nutrition. When you consume super foods you are literally filling your body with essential vitamins, minerals, antioxidants, proteins and more. Lets discuss some of my absolute favorite super foods and why these gems are a must have!
ACAI Berries: Also known as (wolf berries) is ranked high on the ORAC scale which is a rating system that measures the oxygen absorbance capacity in food, it's antioxidant potency, and the food's ability to counteract oxidation.  Acai contains an extremely high amount antioxidants, which helps to neutralize and prevent the damaging effects of oxidation and free radicals. The antioxidants will also work wonders for your skin and help with anti-aging. Acai berry contains high amounts of Vitamin C which help's to boost your immune system, and is known to suppress the growth of cancer. The antioxidants will also help with lowering cholesterol, and improving your blood circulation. I buy the powder form from vitacost.com and mix it inside my smoothies. Find here> ACAI BERRY
Camu Camu Powder: Is known to contain more natural Vitamin C than any other food source on the planet. Camu Camu contains up to 60 times more vitamin c than an orange. This superfood with it's antiviral properties will work wonders for boosting your immune system. If you are fighting a common cold, or a virus that's more extreme (cold sores, herpes, shingles etc) try fighting it natures way. The body does not naturally manufacture vitamin c so it must be ingested. Consuming 1/2 tsp of Camu Camu powder is one of the best ways to get more than your daily intake requirement. Ascorbic acid is not a natural form of  vitamin c. Ascorbic acid is synthetic, and is usually made from GMO corn. Your vitamin c source should come from a plant and not a chemical lab. Camu Camu powder is also high in antioxidants, iron, potassium, calcium, protein, and it contains anti-inflammatory properties. I mix this powder inside my smoothies or raw pudding recipes. Find Here > Camu Camu Powder
Lucuma Powder: Is great for your skin and healthy digestion. It's known to boost your immune system, and lower blood pressure. Lucuma provides ample amounts of iron, calcium,potassium, protein, fiber, vitamin B1,B2, B3,B5, and zinc. The beta carotene found inside lucuma helps protect against certain types off cancer. Lucuma powder is great as a alternative to sugar it contains a low glycaemic value which helps to reduce fluctuations in blood sugar levels. Add this nutritious powder in your smoothies, or desserts. Find Here> Lucuma Powder
Maqui Powder: Is known to have the richest source of antioxidants which have amazing healing properties. Maqui berry helps to rejuvenate the cells inside the body. The antioxidants will help fight free radicals, and anti-aging. It's also very high on the ORAC scale, contains vitamin c, iron and dietary fiber, which will keep your immune system strong, and help with digestion. The anti-inflammatory properties found inside the Maqui berry helps to fight off degenerative disease. When you consume this superfood on a everyday basis it also help's with your cardiovascular health. I mix mine inside smoothies. You can also try drinking a 1/2 tsp inside a 8oz glass of water. Find Here> MAQUI POWDER
Carob Powder: Not only does this powder taste amazing, but it is also really good for you. Carob contains anti-viral, antioxidant, and anti-bacterial properties. It aids in digestive health and is known to treat diarrhea in both adults and children. It contains Vitamin E which is great for the skin and helps with treating the common cold, flu etc. Due to the high amounts of calcium and phosphorus found inside carob it also helps fight osteoporosis. Carob powder contains an ample amount of essential minerals including magnesium, potassium, iron, zinc, copper, and more. I mix this yummy powder inside smoothies, I make raw puddings and desserts with it, and you can make your very own chocolate milk. Recipes are post under "raw foods" and the "desserts" section on the website. Super foods like carob is not only tasty but can be used in a variety of ways. Find Here> CAROB POWDER
Spirulina:  Also known as (blue green algae) is very high nutrients that help to cleanse your body from within. It is an amazing food source especially for anyone dealing with malnutrition. Spirulina is a rich protein source, it contains all the essential amino acids. It is loaded with minerals including  iron, copper, manganese, potassium, zinc, and more. Spirulina also contains a ton of B vitamins. Consuming spirulina will help to detox and flush your colon. One of my favorite things about spirulina is it's chlorophyll content which helps to cleanse your blood. I take mine in capsule form or mix it inside of a smoothie. Find Here> SPIRULINA
Noni Fruit: Is rich in polysaccharides which works wonders for boosting the immune system. It contains anti cancer qualities and helps to fight off tumor growth. It is a great source of protein and is loaded with vitamin B1, B2, B3,B5,B6,B12, and vitamin c. It also contains amazing minerals including potassium, calcium, magnesium, iron, and more. The noni fruit helps to maintain a healthy heart, reduce arthritis pain, reduces the risk of type 2 diabetes, and is great to assist in wound healing. You can mix the powder fresh juice, or smoothies. Find Here> NONI POWDER
Goji Berries: Are known as a medicinal berry and have been used for years to treat kidney and liver ailments. They are an amazing source of protein  and contain all the essential amino acids. Goji berries contain a very high amount of antioxidants and are also packed with vitamin a, c, iron, and fiber. Consuming Goji berries will also help promote healthy skin due to the high amounts of beta- carotene found inside the tiny berries. I add goji berries as toppings on raw desserts, smoothies, puddings, and more. Find Here> GOJI BERRIES
Mulberries: Are another power packed berry. Mulberries are loaded with fiber to help cleanse your digestive system, iron for anyone struggling with anemia, Vitamin K and calcium for healthy teeth and bones. You will also get ample amounts of potassium which will help maintain your blood pressure, keep your heart healthy, reduce your risk of stroke, reduce anxiety, and potassium helps to stabilize your metabolism. Mulberries also contain vitamin c to boost your immune system and a ton of antioxidants. They taste awesome too. I add these to my raw cereal bowl (recipe under the desserts section), raw puddings and more. Find Here> MULBERRIES
 Golden Berries: Are a great source of Vitamin A which is beneficial for your eye health and skin. Golden berries also contain dietary fiber which helps to balance your cholesterol levels and promotes healthy digestion. These berries are also packed with calcium, iron, phosphorus, protein, and B-Vitamins which helps promote weight loss. If you're looking to detox natures way try munching on golden berries. I add them to raw desserts, smoothies and more. Find Here>GOLDEN BERRIES
WheatGrass: Is an extremely rich source of chlorophyll (especially from the living plant), protein and also contains vitamins A,C,E,K, and B-complex. Consuming wheatgrass can help aid with the healing of your body. Chlorophyll helps to cleanse your blood and neutralizes toxins. The high chlorophyll content will also help to purify your liver. Wheat grass also works wonders for healing the skin and helps to clear up skin conditions (eczema, acne etc). Find Here> WHEATGRASS
Some other great super foods include Moringa Leaf, Chlorella, Chia Seeds, Baobab Fruit, and Alfalfa Leaf. I didn't want to make this blog extra long but you should definitely look into the ones that I didn't list in great detail.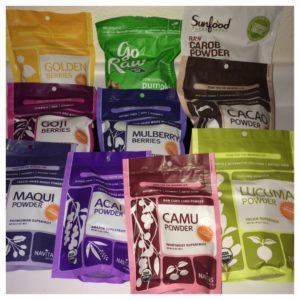 Thanks so much for checking out this super foods blog. Comment and let me know your thoughts! Don't forget to share the website with your friends and family♡
ANNOUNCEMENTS📢📢:
** THE WAIT IS OVER! All BeAHealthNutToo Beauty Soaps are Finally BACK IN STOCK. Here's your chance to grab some before they sell-out again.Click here to order >>>Beauty Soaps
** The BeAHealthNutToo store FINALLY has VEGAN Deodorants, Lotions, Body Sprays, Shampoo and Conditioner. How Exciting!! They're already selling so fast! Snag your vegan goodies today! Click the link to order>>  Health Store
** You can also now watch inspirational videos + raw food tutorials on my youtube channel. Youtube page link is at the top of the website. Enjoy!
 DISCLAIMER * The above statements have not been approved by the FDA and the product is not intended to treat, cure, prevent, or mitigate any disease.