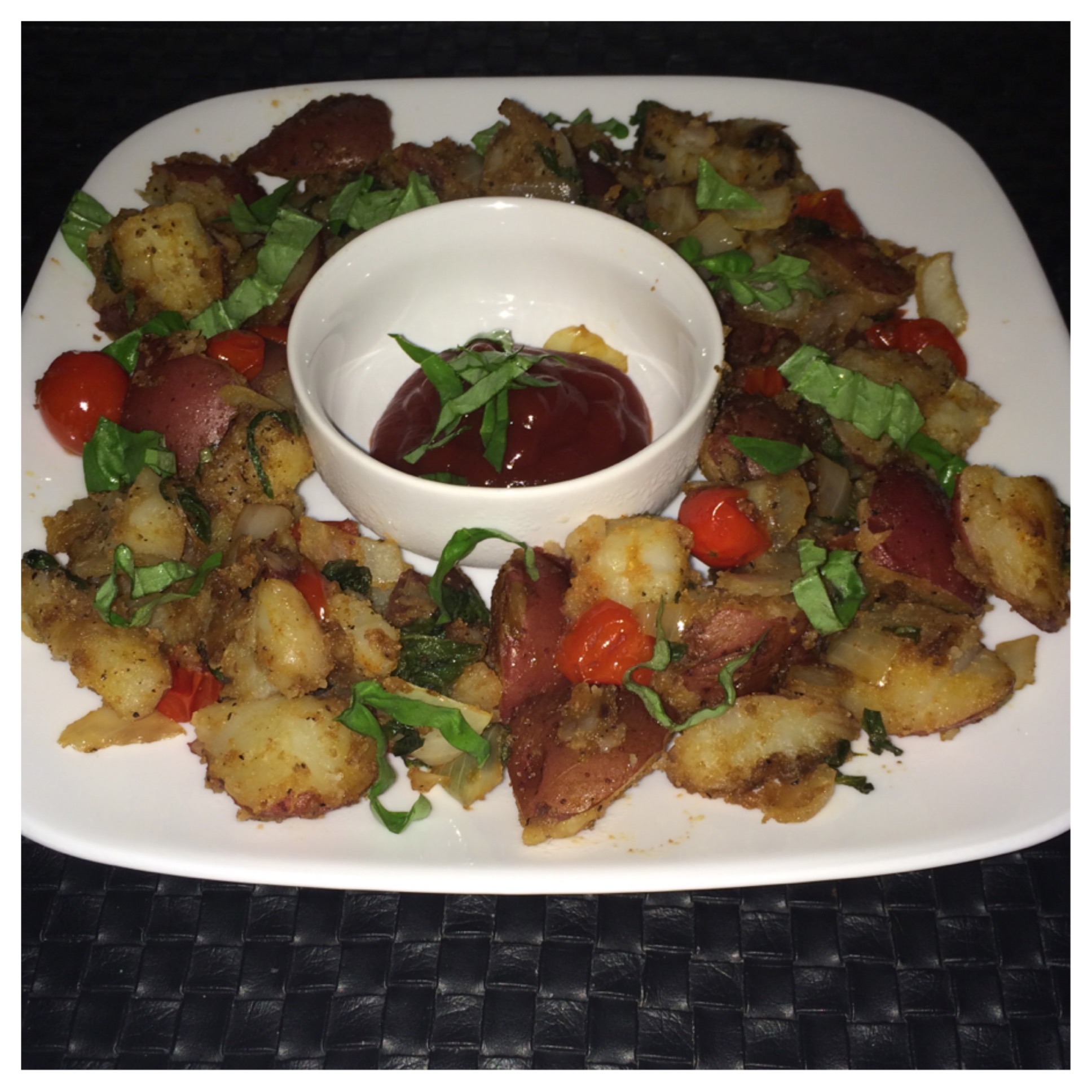 *Basil Balsamic Roasted Potatoes*
These pan roasted basil balsamic potatoes were sooo good!!! Perfect filling dish.
Ingredients (all organic)
5 Small Organic Red Potatoes ( if you have big potatoes 3 will do)
2 Fresh Basil Leaves
10 Cherry or Plum tomatoes
1/4 Cup Yellow onion
1/2 Tsp Garlic Powder
1/2 Tsp Onion Powder
1/2 Tsp Himalayan Pink Seasalt
1/2 Tsp Black Pepper
Pinch of Paprika
4-5 Tbs Extra Virgin Olive oil
4-5 Tbs of Balsamic Vinegar
Optional: Organic Vegan Ketchup ( I purchased mine from wholefoods)
Directions:
1. Place your potatoes inside of a bot of boiling water and allow to boil for about 20 minutes on medium heat (or until soft) you should be able to stick a knife through them
2. While your potatoes are boiling chop up your onion + cut your basil into really small strips + cut your tomatoes in half
3. When potatoes are soft drain the water and potatoes through a strainer + add olive oil to a frying pan + allow oil to preheat on medium to low heat
4. Once your oil is preheated add your potatoes + slice them into chunks ( Note you can slice your potatoes prior to adding them to the pan of heat after draining them)
5. Once potatoes are added to heat allow to cook for 3-5 mins before adding the other ingredients
6. Next add your basil + onions + tomatoes + seasonings + balsamic vinegar + allow to cook an additional 5-7 mins until you achieve a brown lightly crisp texture.
7. Once your potatoes are finish add them to a plate + add fresh basil on top + dip inside ketchup. Enjoy, this dish is yummy♡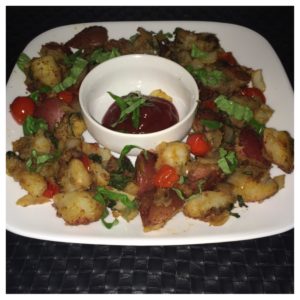 Thanks so much for checking out this recipe. If you found this blog helpful be sure to share it with friends and family♡

Announcements:
** Im sooo excited to announce the launch of the newest Stay Inspired "My Body Gods Temple" Tee & Long Sleeve Shirts. Use code "Health" for 15% off. Check them out here>  https://www.beahealthnuttoo.com/store/products/
** Im working on the first Raw Food Live class. Yay can't wait to finish the course.
** You can now watch weekly inspirational videos + raw food tutorials on my youtube channel. Link is about at the top of website.
** Im speaking in London England March 14th & 15th, 2015. All details will be post on the event page soon. If you live in London I would love to meet you.
Hugs & Happy Balsamic Roasted Potatoe Eating,
LaShana Nicole❤