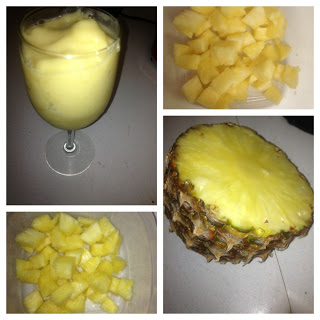 YUMMY *PINEAPPLE SORBET*
OK SO WE ALL HAVE TIMES WERE WE HAVE A SWEET TOOTH.
Yes i'm very guilty too haha. I use to be a faithful mint chocolate chip ice cream indulger. I mean I use to eat it faithfully every couple days, another favorite of mine was cotton candy, its sooooo terrible for you because its nothing but unnatural flavors and tons of sugar ekkkk. "Want some pounds of fat on your body than keep eating tons of sweets and sugars" Of course no one wants to gain weight on purpose so we MUST BE MINDFUL and make changes. I decided I needed to find ways to satisfy my sweet tooth without eating so many unnatural sources of sugar. I started researching fruit and ways to make them taste like more than just plain fruit(Dont get me wrong fruit taste great on its own, but I like to make it extra special). LOL I wanted to feel like I was still having some of my favorite treats but in a much healthier fashion. You can find ways to substitute your food but its a choice and it takes MAJOR discipline. I don't want to make it seem like changing your eating habits will happen in the blink of an eye. There is no "magic gene" to instantly slap the taste of fried chicken, macaroni with dripping cheese,and chocolate brownies out of your mouth hahah. You must make a daily sacrifice, a daily choice to change. Decide which area you want to change first and start there. You become successful in different areas by actually beginning the process. DON'T CONTINUE TO PUT IT OFF UNTIL NEXT WEEK, next week usually turns into ill do it next month, next year etc, and before you know it you are further and further from your goal.
DECIDE TODAY TO RID YOUR LIFE OF EXCUSES.START TODAY, tackle which area you plan to change. This can be as simple as I will eat fruit for breakfast every day or I will pair foods and make sure I eat my veggies first before my pasta. YOU MUST START SOMEWHERE and stick to it. If you have to make a meal plan for each day do it, what ever will help keep you on track. Meal plans are very helpful and will help you keep order in that area of life. Find a friend who wants to make the change and you guys can hold each other accountable and also encourage one another when the temptations come knocking at the door. JUST DON'T GIVE IN. OK SO WHAT ARE YOU STARTING TODAY?? (Answer the question, make a plan and STICK TO IT) REMEMBER IF YOU SLIP UP >>DON'T BEAT YOURSELF UP. We as people are not perfect so sometimes you may slip just say to yourself "Ok I had a moment and I have to get back on track" Just don't have so many moments that you are not making progress and you slowly slip back into your old habits.
REMEMBER 30DAY HABIT RULE. MAKE HEALTHY HABITS TODAY. I promise it becomes easier over time. When I first decided to give up meat the first week was sooooo hard, OMG I wanted a piece of chicken so bad. Every time I smelled meat I wanted to go grab a piece, but like i'm telling you I had to fight the urge and encourage myself that I was doing something beneficial for my body. My body soon begin to crave what I fed it. You have to take CONTROL and tell your body what its eating, then it will begin to obey and crave healthy foods. Don't be afraid to have self talks lol, my self talks helped me reject my bad food cravings so many time's. Self talks are awesome lol.
***NOTE: Become best friends with google, yahoo,and order books. I have learned so much from the internet and cook books. Again it takes discipline so you have to study along the way, then put into practice what you have learned.
ARE YOU READY TO MAKE SOME DELICIOUS **PINEAPPLE SORBET** LETS BEGIN:
***CLICK HERE FOR THE VIDEO LINK  OF THE PROCESS >> WATCH ME MAKE PINEAPPLE SORBET 
1. Fresh cut up pineapple then freeze over night
note* ( you can use pre-frozen pineapple as well your choice)
2. You want to take the frozen pineapple and place in blender
3. Add organic or plain almond milk fill up half way a half cup or cup depending on how many pineapples you use. You want the mixture to come out frozen. To much milk will make it to juice like. Start with a lil and blend first befor adding more milk
note* (our which ever milk you choose)
4.  Add 1 or 2 table spoons of organic maple syrup or your choice of sweetener ( agave nector, powered sugar etc)
note* (you dont need much because pineapples are already sweet)
5. Blend all ingredients and ENJOY YOUR YUMMY ORGANIC NATURAL PINEAPPLE TREAT
HAPPY HEALTH GUYS,
Im so happy you are starting your journey to healthy eating. Let me know if you have questions along the way. REMEMBER Before making any drastic changes check with your health care provider.
*Announcement* MY Makeup Artistry was published in EMERGE magazine
( www.emergeartsmagazine.com)
I am so very excited and thankful. Just thought I would share with all of you.
Photo below WOOHOO
Shana Nicole,