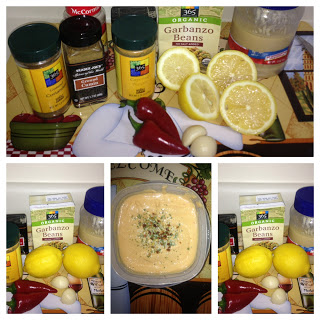 Home Made *HUMMUS*
When you decide to change your diet be prepared to become best friends with your
kitchen. As I stated before I was not the person who loved to cook, the thought of me
having to make my own food made me want to cry. LOL I wanted quick speedy meals,
Well my mindset changed when I decided to REALLY pursue eating healthy.
"REMEMBER"
This journey is trail and error sometimes it works sometimes not so much". You will learn as you try new meals, some foods you will love and some you will toss in the trash hahah. Everyone's taste buds are different as well so you will have to play around with different spices to see which ones suit you best when you start to hand make your food. Here is a quick and easy way to make tasty SPICY HUMMUS 🙂 Lets get started.

You will need the following:
1. Organic or regular unsalted chickpeas or garbanzo beans (I used entire box) They also have the dry beans that you can soak over night. I prefer the pre-boxed it takes less time and they taste better in my opinion.
2. 1 Table spoon of Organic or regular Tahini Dressing BUY TAHINI HERE
3. 1 or 2 fresh squeezed lemons or limes(you choose on your taste if you like more or less)
4. 2 red peppers(if you don't like spicy skip this)
5. 2 Fresh garlic crushed (Garlic is a super food especially to help fight off disease etc)GARLIC amazing benefits
6. A pinch of Cayenne Pepper, Black Pepper, Himalayan salt or Sea Salt  ( again if you are not a fan of spicy simply skip this step)
7. Add 1/4 cup of water, 1 teaspoon of olive oil and blend and when its complete I top mine with Red Pepper Flakes and Sesame Seeds. "Yes I Love Spicy foods haha"
ENJOY,
Feel free to let me know how yours turned out, & if you added anything to the mixture. I love to learn new ideas too 😉

SIDENOTE*** If you want to make Plain hummas just mix garbanzo beans, lemon juice, garlic, seasalt, tahini, and olive oil.
Happy Health to you all,
Shana Nicole