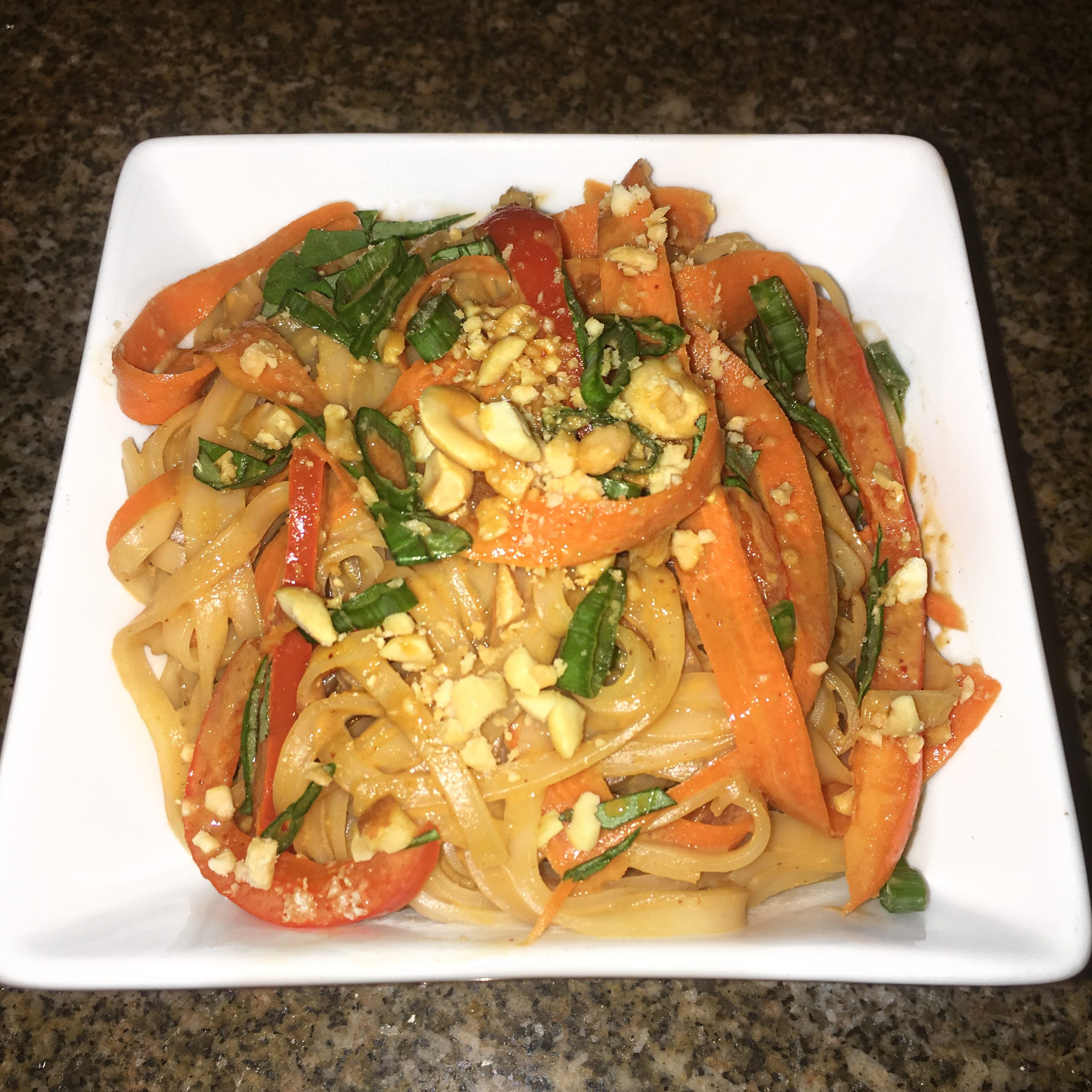 *Vegan Pad Thai (Gluten Free)*
Vegan Pad Thai is extra filling and super delicious! It's also very simple to make and is gluten free. You can store this for a few days, so it's great as a food prepped meal. I hope you guys love it. Lets kick the new year off healthy eating style. Happy 2018 my friends♥
*Vegan Pad Thai* Serving Size: 4 Medium Bowls
Ingredients:
1 Pack of Roland Gluten Free Rice Noodles (14 oz) Here's the link>> Rice Noodles
1/2 Red Pepper (Slice into thin strips)
3 Carrots ( Remove Skin + Peel)
4 Scallions (Rough Chop)
2 Tbs of Toasted Sesame Oil
Toppings: Crushed Peanuts + 2 Basil Leaves (Rough Chopped)
Optional: 1 Cup Mung Bean Sprouts
Sauce Ingredients:
1/3 Cup Veggie Broth ( I use the whole foods brand) >>Veggie broth
2 Grated Garlic Cloves
2 Tbs Peanut Butter
Juice From Half a Lime
3 Tbs Maple Syrup
1 +1/2 Tbs Garlic Chili Sauce (Add more to taste)
1  Tsp Rice Vinegar
3 Tbs Gluten Free Tamari >>Grab it here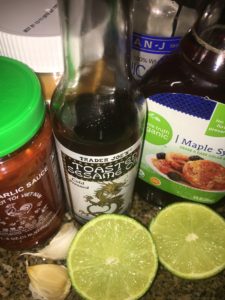 Directions:
1. Take half a pack of your rice noodles and soak them in cold water for 40 minutes
2. While your rice noodles are soaking add all of your sauce ingredients to a high speed blender
3. Blend your pad thai sauce on high until it's nice, smooth, and creamy + set aside
4. When your rice noodles has 10 minutes left add 2 tbs sesame oil to pan + pre-heat on medium
5. Add your red peppers + carrots + scallions to pan + saute for 7 mins (until wilted)
6. Next strain your rice noodles + add them to a pan of boiling water for 2-3 minutes
7.Don't over cook!
8. Next strain your cooked rice noodles + add them to your sauteed veggies
9.Pour your vegan pad thai sauce on top + stir and mix veggies and rice noodles really good
10. Allow to warm on low heat for 2 minutes 
11. Serve in dish + add chopped peanuts + fresh basil + 1 tsp of chili sauce + 1 tsp of tamari on top! Enjoy! It's really good!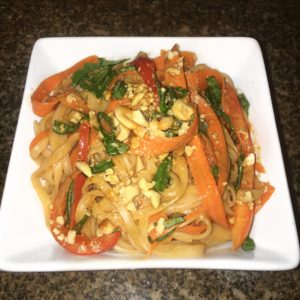 Thanks so much for checking out this recipe. I hope you all love it. Comment below and let me know your thoughts! Don't forget to share the website with your friends and family♡
ANNOUNCEMENTS📢📢:
**Gorgeous VEGAN✨DIP IT✨Nail Polishes JUST LAUNCHED! GRAB YOURS NOW> HEALTH STORE
** The Be A Health Nut Too Hair Growth Oil is FINALLY available and receiving amazing feedback! If you're dealing with damaged hair, balding, or looking to restore the health of your hair. SNAG some now> HEALTH STORE
** Our Beauty Soaps and Deodorants always sell so fast! We only have a few blends left in stock.
** You can also now watch inspirational videos + raw food tutorials on my Youtube channel. The Youtube page link is at the top of the website!
** THANK YOU so much lovelies for your love and continued support! I adore each and every one of you!
Hugs & Happy Vegan Pad Thai Eating,
LaShana Nicole❤