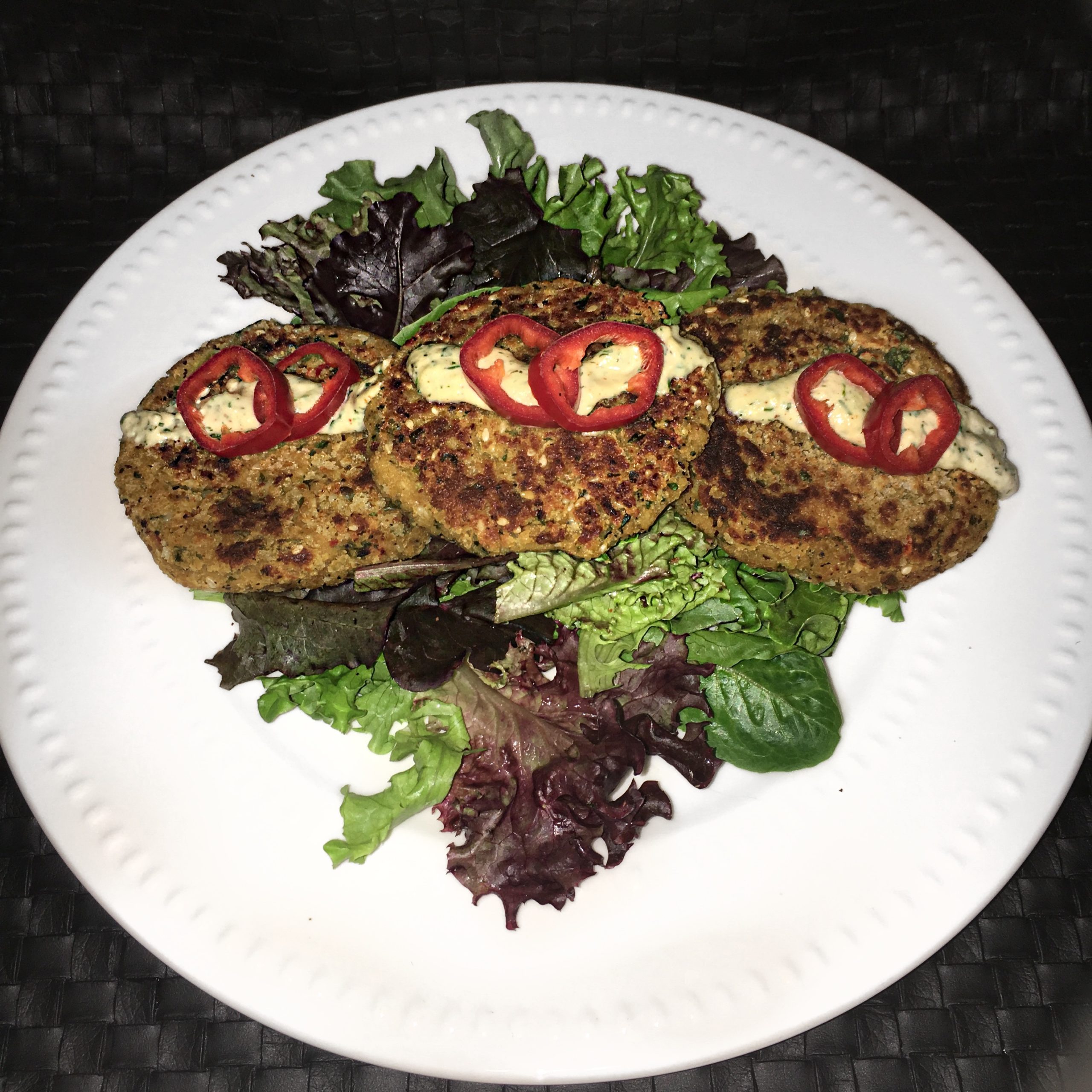 *Spicy Vegan Falafel*
Falafel recipe that you'll love. These have the perfect amount of spice and are really filling. I made a raw basil-dill dressing to go on top and it made these falafels complete! If you're looking for some alternative sandwich options, definitely give this recipe a try.
*Spicy Vegan Falafels* (Serving size 6 medium patties)
Ingredients:
1 Cup Garbanzo Beans (1 Can – rinsed and drained)
1 Cup Rough Chopped Yellow Onions (1 small onion)
1/2 Cup Parsley
1 Small Red Pepper (Rough Chopped) omit if you don't like spicy
4 Rough Chopped Garlic Cloves
2 Tbs Gluten Free Flour
1 Tsp Baking Powder
2 Tbs Gluten Free Panko Bread Crumbs (I used the brand Ians)
2 Tbs Sesame Seeds
1 Tbs Lemon Juice
1/2 Tbs Tahini
1/2 Tsp Cumin (add more to taste)
1/2 Tsp Coriander
1/4 Tsp Himalayan Pink SeaSalt
1/4 Tsp Garlic Powder
1/4 Tsp Onion Powder
1/4 Tsp Cayenne Powder (Omit if you dont like spicy)
1/4 Tsp Black Pepper
Basil Dill Dressing Ingredients:
1/2 Cup Fresh Dill + Basil (Rough Chopped)
3 Tbs Tahini
2 +1/2 Tbs Fresh Lemon Juice
2 +1/2 Tbs Alkaline Water
Dash of Paprika, Himalayan Pink Sea Salt, Garlic Powder
Directions:
1. Place all basil dip ingredients inside food processor +process until mixed evenly
2. You can add more H20 or lemon juice if you prefer an extra liquid texture
3. Set your dressing inside separate container and place inside refrigerator
4. Rinse food processor + place falafel ingredients inside food processor
5. Pulse falafel mix until evenly blended + form patties (I use 1 +1/2 Tbs for patties)
6. Pre-heat pan with olive oil or grape seed oil on med-heat
7. Place each falafel patty inside pan + allow to cook 7-10 mins
8. Flip each side until crisp and brown and you have the texture your prefer
9. Once your falafel patties are finish place on top of mixed greens or gluten free pita wraps
10. Add your basil spread + Eat right away!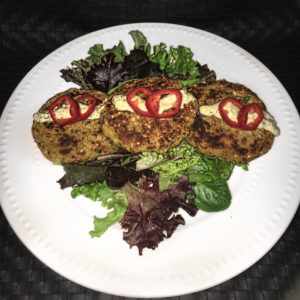 Thanks so much for checking out this spicy falafel recipe. I hope you all love them. Comment and let me know your thoughts! Don't forget to share the website with your friends and family♡
ANNOUNCEMENTS📢📢:
** Our Unisex Vegan Deodorants are Sold-Out again! YAY! We are making new batches and they will  be back in stock really soon. Be sure to pre-order now>> HEALTH STORE
** OUR BEST-SELLING VEGAN Beauty Soaps are all BACK IN STOCK, but selling SO fast! Grab your favorites NOW >> HEALTH STORE

** VEGAN BATH BOMBS JUST LAUNCHED INSIDE OUR ONLINE STORE! HOW EXCITING! Get ready to take your bathing experience to a new level. Check them out inside the store!
** You can also now watch inspirational videos + raw food tutorials on my Youtube channel. The Youtube page link is at the top of the website!
** THANK YOU so much lovelies for your love and continued support! I'm working on some amazing NEW products for you guys and can't wait to share soon. I adore each and every one of you! Stay tuned!
Hugs & Happy Falafel Eating,
LaShana Nicole❤