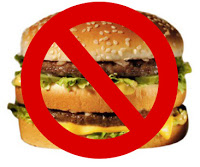 SAYING *BYEBYE* TO JUNKFOOD
I know, I know you don't want to give up your ice-cream snack nights, you loveeeee to eat those cheesy nachos,  and that 3pound Burger. Well I am going to show you how to buy healthier foods for your household and make healthy snacks that's actually good for you. Now every once in a while if you get a craving don't beat yourself up if you have your favorite donut, cookies, or a slice of red velvet cake. Just make sure its not everyday. Grapes, Pineapple, and Apples are sweet and you can make yummy snacks with them. STARTING TODAY SAY NO TO JUNK FOOD!!!
OK ITS TIME TO GO GROCERY SHOPPING WITH YOU!! FIRST THINGS FIRST YOU MUST MAKE UP YOUR MIND THAT YOU WANT TO CHANGE YOUR EATING HABITS AND YOU ARE STARTING TODAY!!!! You will consume what you have in your home. You can train your body to eat and actually like what you give it. The saying is it takes 30DAYS to start or stop a habit. So tell yourself right now that you are starting your habit of healthy eating today. LETS GET STARTED WOOHOOOO 🙂
***1. Make a grocery list (Super important so that you don't buy things you dont need)
***2. Do not go to the grocery store Hungry (LOL Im so serious you will walk out with stuff you have no clue why you purchased it but at the time your growling stomach told you to)
***3. Don't be afraid to use coupons (Hey save money where you can  my sister is a coupon queen and saves soooo much money I am learning from her)
***4. Shop online when you can Vitacost is an amazing discount vitamin and food online store click link to go to direct site>>> Vitacost. Another great online store is Shop Organic >>shoporganic  you can also shop at Vons online >>Vons. There are tons of other online stores, the ones I posted are just a few to get you started. Shopping online helps also if you are the type who prefer quick easy ways to shop with out standing in lines or waiting to find parking etc (Yup I am not a fan of driving but I love going inside the grocery store, so I make the traffic sacrifice for the "fresh produce" and the items I can't buy online hahaha)
FILL YOUR GROCERY CART WITH FOODS THAT WILL BUILD YOUR BODY NOT TEAR DOWN YOUR BODY. Below are a list of veggies and fruits to incorporate daily there are a ton, the ones listed will give you a great idea of where to start.
*KALE- Helps detoxify the body, boost your immune system and is filled with vitamin C,A,K and iron. Its a super food in itself read more here>>EAT KALE DAILY
*SPINACH- Helps clear up your skin, boost immunity, helps with cancer. Read more here>>spinach benefits
*COLLARD GREENS- Helps fight off many types of cancer some include, breast, colon, lung etc. Learn more  >>Collard Greens healing powers
*BROCCOLI- Can help with high Blood pressure, cancer, and is loaded with vitamins >>broccoli benefits
*CARROTS- Can help with vision, aging, cancer >>I love carrots
*TOMATOES- Taste amazing and are loaded with vitamins >>yummy tomatoes
*GRAPEFRUITS-Helps with kidney stones and detoxing the body >>Buy a grapefruit
*LEMONS- Not only are lemons a immune booster, can be used to eat and drink but they can help clear your acne >>experience the lemon rush
*APPLES- Long story short apples are amazing.org, bomb.com, delicious.net haha the saying goes "A apple a day keeps the doctor away " and I must agree >>apples will change your life
*BANANAS- For you athletes or energy drinkers out there try a banana. They give energy, taste yummy, and are packed with nutrients to fuel your body >>bananas are a everday must
*PINEAPPLES- Packed with vitamin B, C, Fiber and a ton of other nutrients how can you not add pineapple to your life. They are sooo good. One of my absolute favorite fruits. Read more>>YUM YUM PINEAPPLES
FOOD PAIRING:
Eat your fruits and veggies first before any rice, beans, seeds, meat(for those who eat meat etc.) Proper pairing of foods will help your body digest and break the foods down easier.
*A quick example of proper food pairing*
*Breakfast: A plate of plums, grapes, oranges, with a piece of toast after the fruit
*Lunch: Spinach and blueberry salad
*Snack: Fruit Smoothie with roasted cashews after the smoothie
*Dinner: Salmon (for those who eat meat), green beans, and rice. (Eat the green beans first always eat
the fruit & veggies first)
*Dinner: (For those who don't eat meat)Veggie pizza with a romaine lettuce salad (eat the salad first)
Happy Shopping & HAPPY HEALTH 🙂 🙂
YUMMY GREENS
YES YOU CAN GET  PROTEIN FROM PLANTS
ADD COLOR TO YOUR LIFE
"Spread LOVE, Share LOVE, Be LOVE"
Shana Nicole

Stay connected via Instagram or twitter at (loveshananicole) email galaxyqueen07@gmail.com