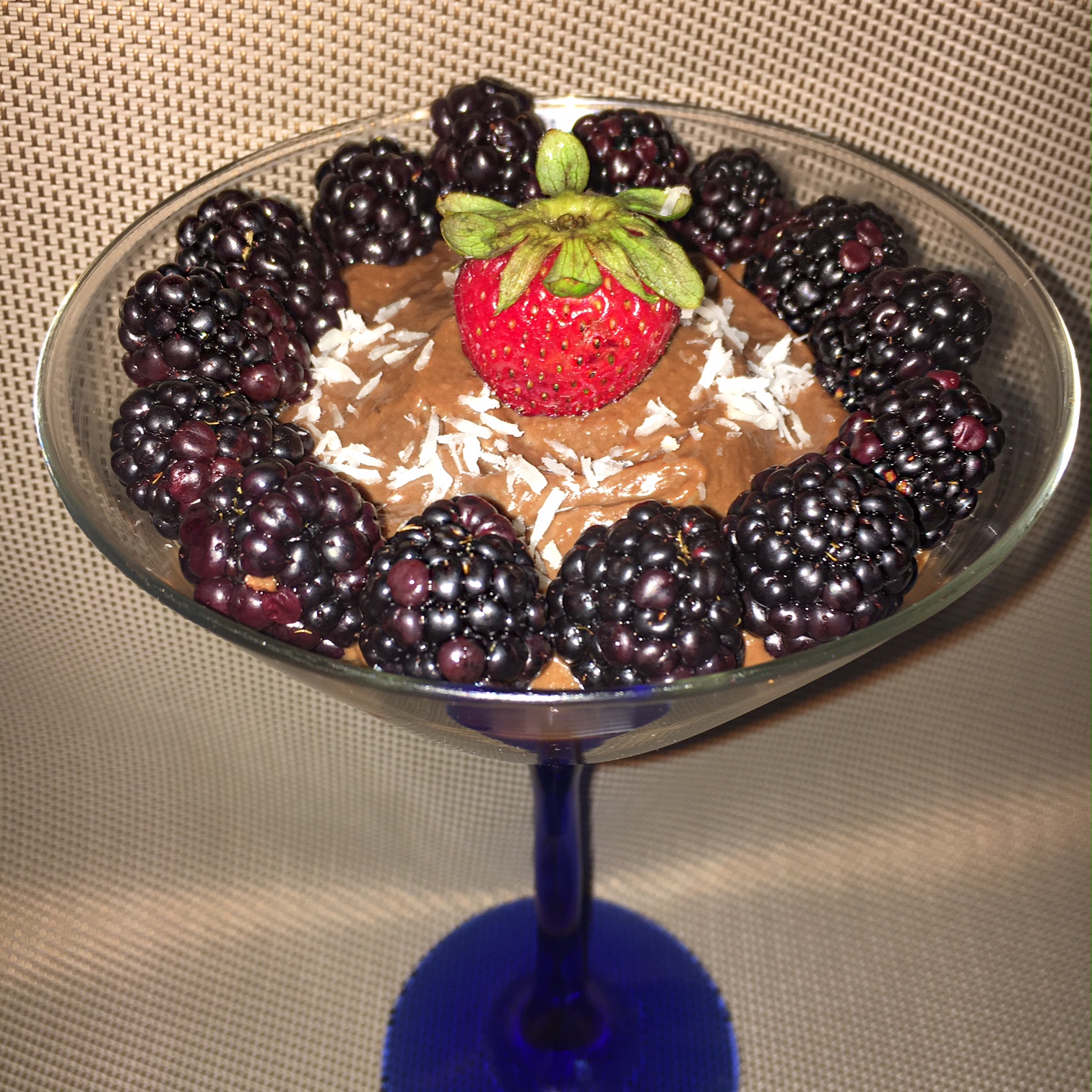 *Raw Coconut Mousse*
This raw coconut chocolate mousse is delicious and is loaded with potassium, vitamin E,K,C, fiber and more! Eating healthy becomes a much easier process when you learn what to eat. I pray that Be A Health Nut Too makes your plant-based eating journey simple and fun! Enjoy friends ♥  
*Coconut Chocolate Mousse*
Yields: 1 Serving
Ingredients: (all organic)
2 Medium size avocado
1 Small ripe banana
1 + 1/2 Tbs Raw Cacao Powder
2 Tbs of Coconut cream (I used the brand Thai Kitchen)
1 Tbs Coconut Water (Use the liquid at the bottom thats left from the coconut cream)
2 Tbs Maple Syrup (add more to taste if you prefer a really sweet mousse)
Toppings: Fresh Blackberries + Strawberries + Coconut Shreds 
Directions:
1. Place your Thai Coconut Milk in the refrigerator overnight
2. Open your coconut milk + scoop 2 tbs of the cream only into the food processor
3. Place your avocado + banana + all other ingredients inside food processor
4. Allow to process until you have a smooth mousse texture
5. Pour inside serving dish+ top with fresh fruit + consume right away 
6. If storing consume within 1-2 days and store in an airtight container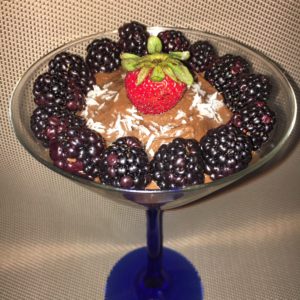 Thanks so much for checking out this raw coconut mousse recipe. I hope you all love it. Comment below and let me know your thoughts! Don't forget to share the website with your friends and family♡
ANNOUNCEMENTS📢📢:
** VEGAN BATH BOMBS JUST LAUNCHED INSIDE OUR ONLINE STORE! HOW EXCITING! Get ready to take your bathing experience to a new level.Snag yours NOW>>  HEALTH STORE
** OUR BEST-SELLING VEGAN BEAUTY SOAPS ARE ALMOST SOLD-OUT AGAIN! Get your favorites NOW while we stile have some left in stock >> HEALTH STORE

** Our third batch of Vegan Deodorants SOLD-OUT in two weeks again! OMG! Thanks SO much guys for your continued love and sweet support! I adore each of you! PS. THE NEW BATCH WILL BE BACK IN STOCK VERY SOON! YOU CAN PRE-ORDER NOW! Visit the store to choose your favorites.
** You can also now watch inspirational videos + raw food tutorials on my Youtube channel. The Youtube page link is at the top of the website!
Hugs & Happy Raw Mousse Eating,
LaShana Nicole❤