*Antioxidant Glow Smoothie*
This antioxidant glow smoothie is the perfect cool off treat for the soon to come hot summer months. I LOVE a good smoothie recipe, and this combo is bursting with flavor and full of nutrition. Enjoy my friends

♥
*Antioxidant Glow Smoothie*
Serving Size: 1 Serving
Ingredients: (all organic)
1 Cup Frozen Blackberries (freeze fresh fruit overnight)
1 +1/2 Cup Frozen Blueberries (freeze fresh fruit overnight)
1 +1/2 Cup Fresh Pineapple Chunks (Rough chop a fresh pineapple)
1/2 Cup Alkaline Water
1/2 Tbs Date Syrup, Coconut Nectar, or Agave Nectar (add more to taste)
Toppings: Hemp Seeds + Blueberries + Goji Berries + Blackberries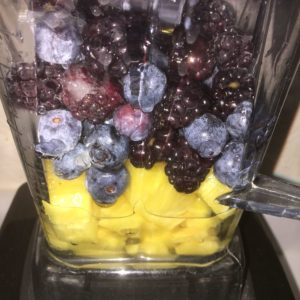 Directions:
1. Rinse + clean + freeze your fruit (exclude pineapples)
2. Chop up pineapples + add pineapples to blender + frozen fruit on top + water
3. Blend your smoothie on high speed until smooth
4. Pour into glass + add fresh fruit toppings
5. Drink right away!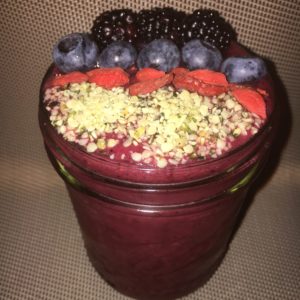 Thanks so much for checking out this antioxidant smoothie recipe. I hope you all love it. Comment below and let me know your thoughts! Don't forget to share the website with your friends and family♡
ANNOUNCEMENTS📢📢:
** Our forth batch of Vegan Deodorants are BACK IN STOCK and already selling SO fast! The last three batches SOLD-OUT in just two weeks again! These won't last long! Don't wait, snag your favorites NOW>> HEALTH STORE
** OUR BEST-SELLING VEGAN BEAUTY SOAPS ARE ALMOST SOLD-OUT AGAIN! Get your favorites NOW while we still have some left in stock >> HEALTH STORE
** VEGAN BATH BOMBS JUST LAUNCHED INSIDE OUR ONLINE STORE! HOW EXCITING! Get ready to take your bathing experience to a new level. Check them out inside of the health store!
** You can also now watch inspirational videos + raw food tutorials on my Youtube channel. The Youtube page link is at the top of the website!
Hugs & Happy Antioxidant Glow Smoothie Drinking,
LaShana Nicole❤