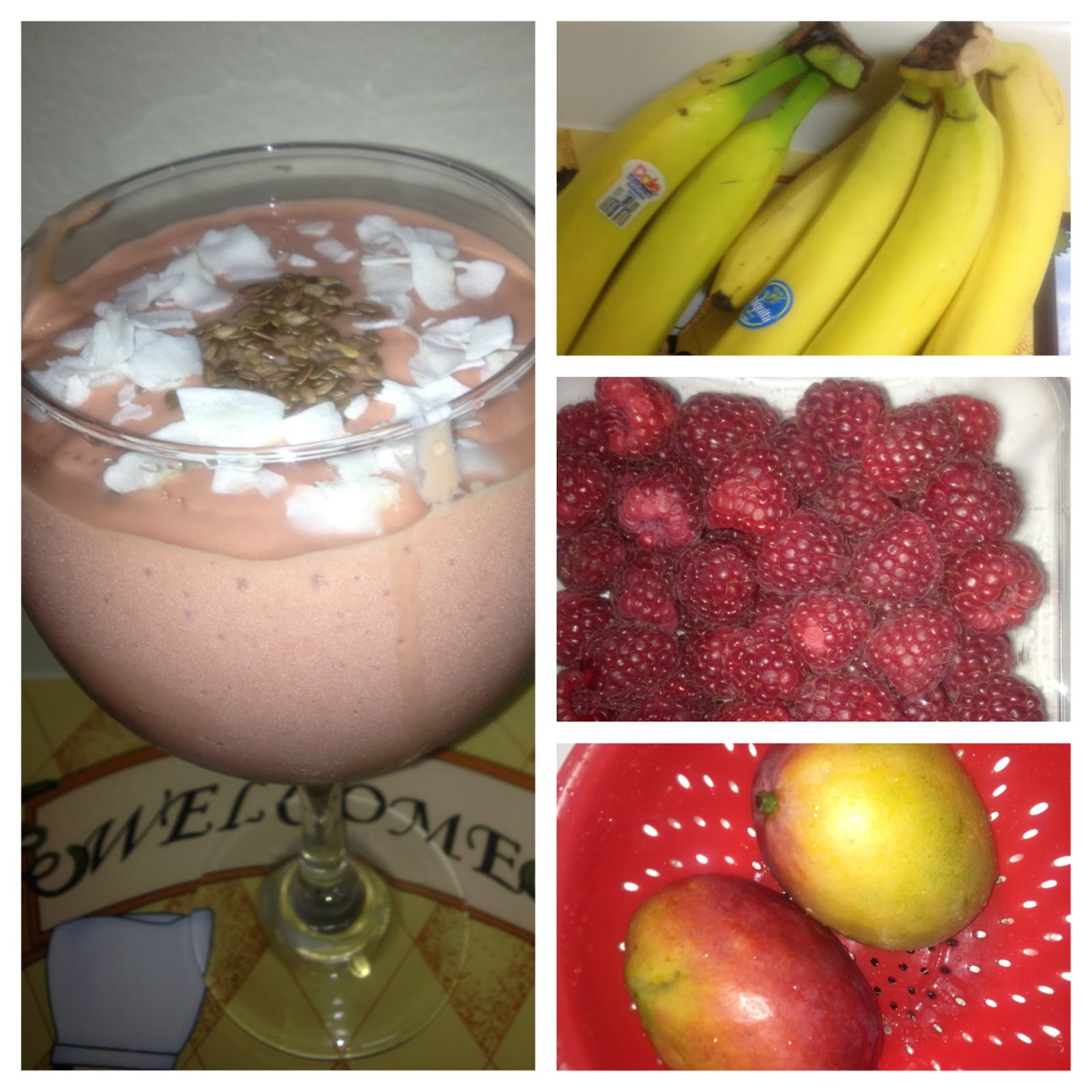 *Raspberry Mango Banana Smoothie*
Mango's- Are yummy and packed with powerful nutrients to fuel your body. They are known to be at the top of the list for providing the greatest source of vitamin A& C, plus potassium, and calcium. Mango's help with fighting Cancer, keeping your body alkaline (illness has a hard time surviving in a alkaline body), and boosting your immune system. How can you not eat them LOL Read More Here
Banana's- For the athletes out there eat 2 or 3 banana's before a workout and they will provide you with energy. Much better for you than toxic filled energy drinks (Sorry energy drink lovers but those things are terrible for you and super acidic). Banana's are high in antioxidants, and are packed with vitamins. (Lil secret Bananas are more than just a fruit, rub the inside of a banana peel on the inside of your teeth for natural teeth whitening)It really works Click Here.
Lets Get you Started on making the: RASPBERRY MANGO BANANA SMOOTHIE
Add 2-3 tablespoons of your favorite sweetener. I used 100% organic Maple Syrup Purchase here
Pour into a glass and top with flax seeds. ( Yes in addition to the blended hemp seeds) Your body will love you. SO healthy! They are on sale woohoo Purchase Here
Ok one more topping I promise hahaha! I am all about sneaking as much nutrition into one drink as possible. SO DELISH. Sprinkle some Coconut Shreds on top and drink up. Buy Here
Happy Smoothie Drinking! I truly believe I have become addicted to smoothie's haha.


I am so happy that many people are reaching out to me about changing their diets.Stay encouraged and keep the questions coming.
Find me on all social media @loveshananicole
Heart all of you!
LaShana Nicole