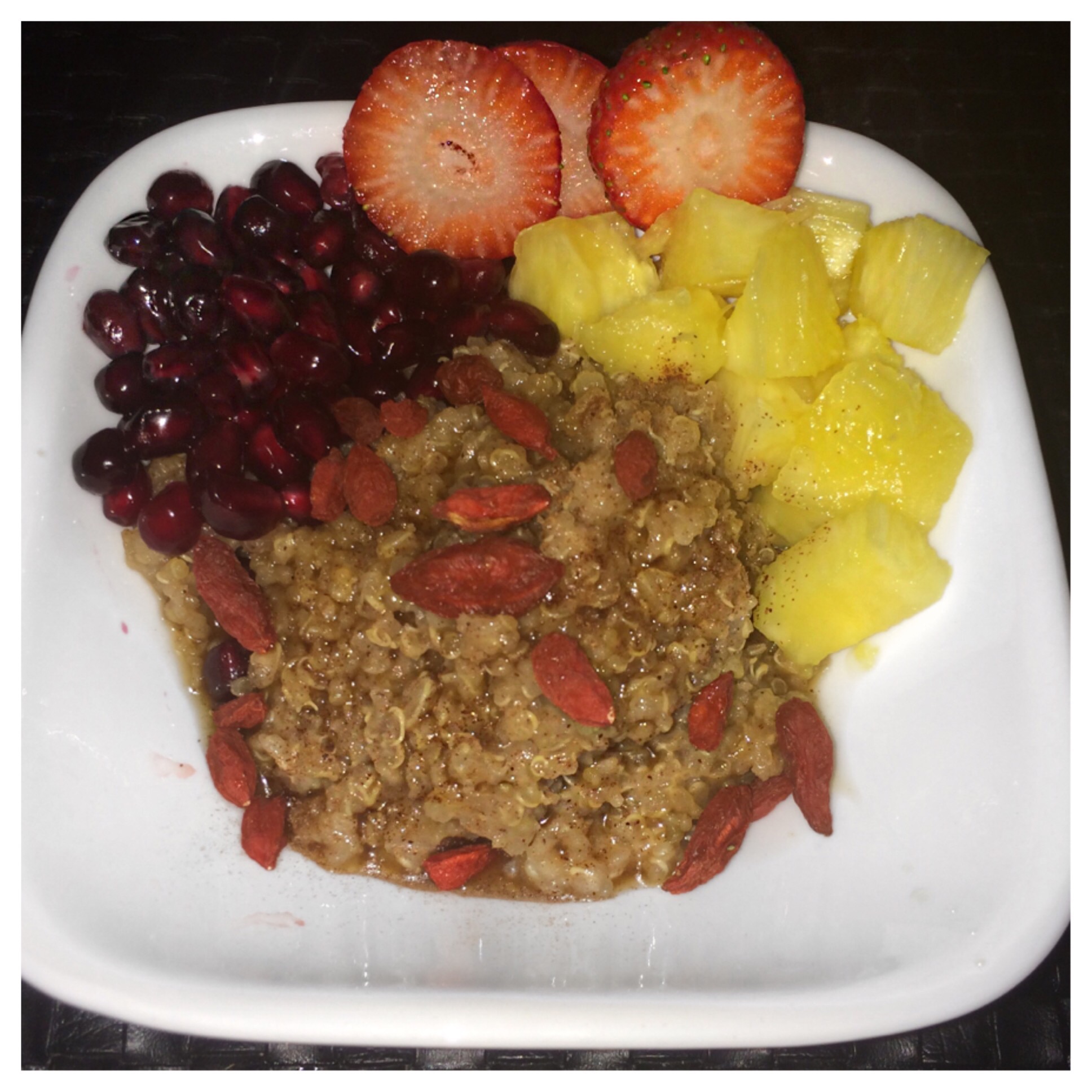 *Quinoa Morning Bowl*
Quinoa is a superfood and is a great substitute for rice. It is gluten free and is packed with fiber. Quinoa contains all the essential amino acids which makes it a complete protein source. It is also loaded with minerals including magnesium, zinc, iron, potassium, and more. I am finding more ways to include this super grain into my diet and this recipe just happens to be one of them. Enjoy 🙂
*Quinoa Morning Bowl*
Ingredients: 1 serving
1/2 Cup of Quinoa (Feel free to add 1 cup of quinoa for a two portion serving)
2 Cups of Alkaline Water
1/3 Cup of Almond Milk or Coconut Milk(add more if needed)
2 Tbs Coconut Oil
3-4 Tbs of Raw Agave Nectar of Organic Grade B Maple Syrup
1 Tsp Ground Cinnamon
Toppings: Fresh Pomegranate Seeds + Goji Berries + Fresh Strawberries +Pineapples
Directions:
1. Rinse your quinoa + add to pot + add water + allow to boil on med heat for 10-12 mins 
2. Once your quinoa is almost finish (you should see little ringlets) and a fluffy texture
3. Rinse your quinoa under warm water for 15 seconds+ pour any left over water out of pot
4. Place your quinoa back inside pot + add almond milk + coconut oil + syrup+ cinnamon
5. Stir all ingredients + allow to heat for an additional 5-7 mins until you have a desired texture 
6. Taste and add more sweetener if needed. Once finish place your quinoa in serving bowl
7. Add fruit toppings of choice + Eat up! It's yummy♥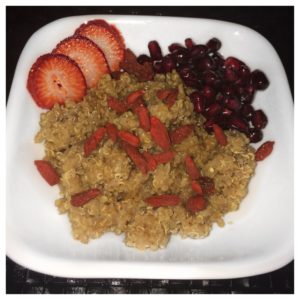 Thanks so much for checking out this recipe. If you found this blog helpful leave a comment and be sure to share it with friends and family♡
A Few Announcements:
** BeAHealthNutToo now has it's very own completely ☆Vegan☆All Natural☆Toxin-free☆ beauty soaps. No more using chemicals on your skin. To snag yours today click here>> Order Mine NOW
** Don't miss the monthly encouragement newsletters, health tips and more. Subscribe today!
** The online Raw Food Classes are going amazing! Thank you everyone for all of your positive feedback. I can't wait for the next one💕I'll announce the date soon. Check out details on the "Shop" page!
** You can now watch weekly inspirational videos + raw food tutorials on my youtube channel. Link is at the top of website.

Hugs & Happy Quinoa Morning Bowl Eating,
LaShana Nicole ❤