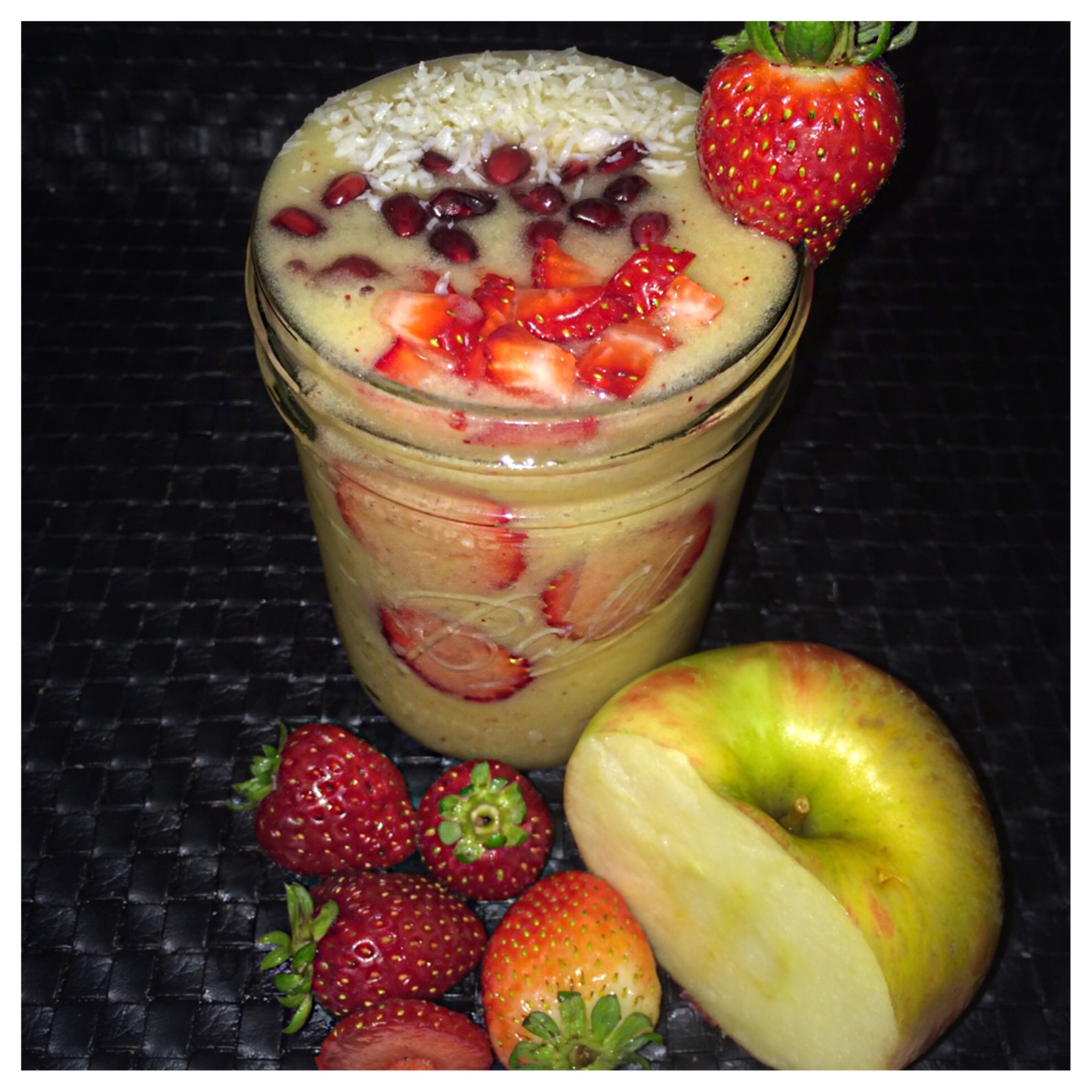 *Melon Madness Smoothie*
Oh hey y'all here's another delicious smoothie recipe. Smoothies are a great way to get a bunch of good nutrition into your system at one time. Perfect breakfast if you're rushing out the door. Quick, healthy, and full of vitamin's and mineral's. 
* Melon Madness Smoothie* 1 serving
Ingredients: (All organic)
2 Cups Frozen Chopped Up Melon ( I freeze overnight and use the next day)
1 Fresh Apple
1/2 Lime Juice ( use the juice from a fresh lime)
1+ 1/2 Fresh Peach
1 Tbs Raw Agave Nectar (add more if needed for a sweeter tasting smoothie)
1 + 1/2 Cup of Alkaline Water (Add more if needed)
Toppings: Pomegranate seeds + Coconut Shreds + Strawberries
Directions:
1. Place your smoothie ingredients inside high speed blender + blend until smooth
2. Pour inside of glass + add your fruit toppings 
3. I sliced strawberries up and placed them on the inside of glass to make it pretty 🙂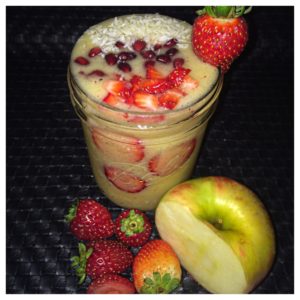 Thanks so much for checking out this recipe. If you found this blog helpful leave a comment and be sure to share it with friends and family♡
A Few Announcements:
** Don't miss the monthly encouragement newsletters, health tips, freebies and more. Subscribe today!
** BeAHealthNutToo now has it's very own completely ☆Vegan☆All Natural☆Toxin-free☆ beauty soaps. No more using chemicals on your skin. To snag yours today click here>> Order Mine NOW
** The online Raw Food Classes are going amazing! Thank you everyone for all of your positive feedback. I can't wait for the next one💕I'll announce the date soon. Check out details on the "Shop" page!
** You can now watch weekly inspirational videos + raw food tutorials on my youtube channel. Link is at the top of website.
Hugs & Happy Melon Madness Smoothie Drinking,
LaShana Nicole ❤