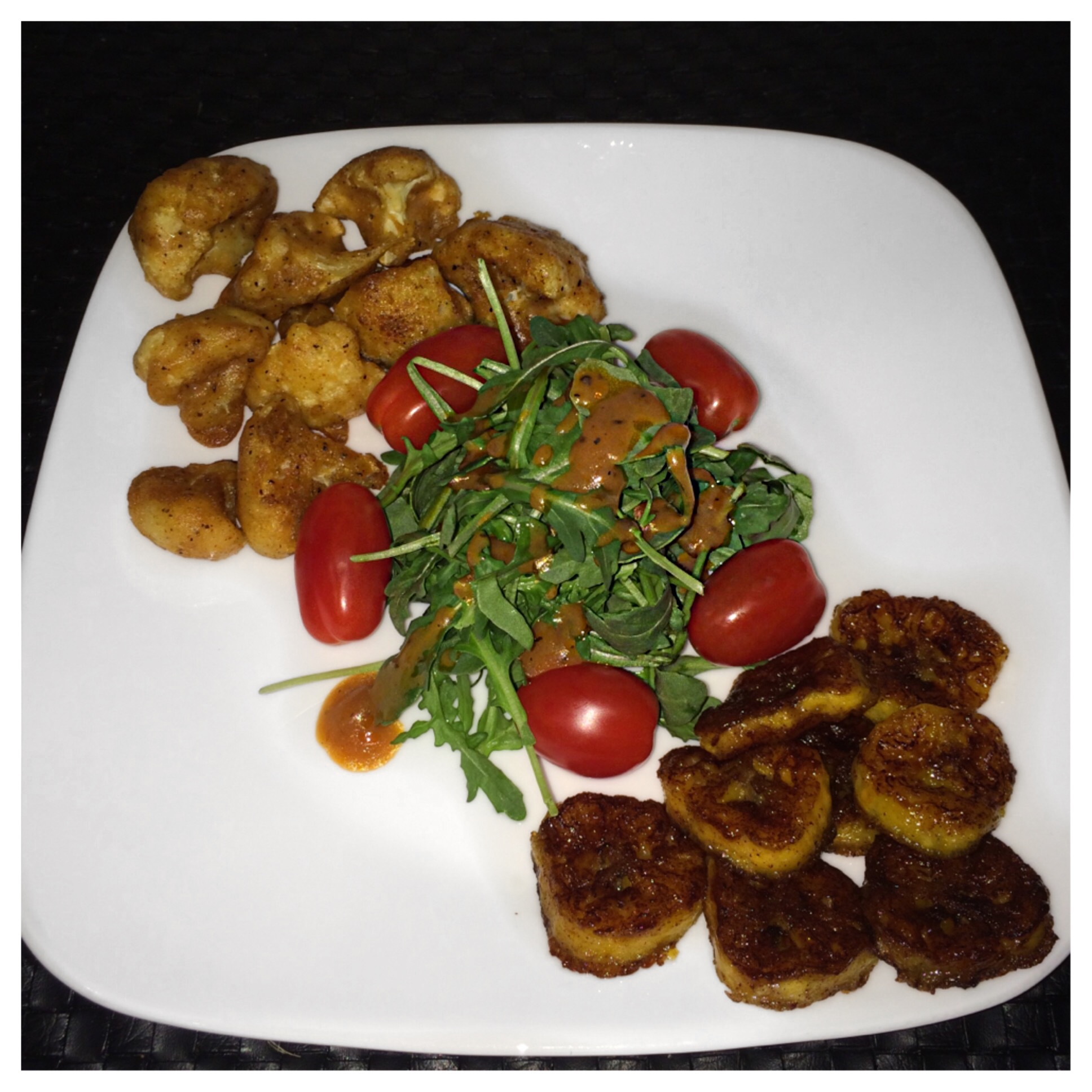 *Cinnamon Roasted Plantains*
Oh my goodness  this meal was delicious and so filling. I never really eat plantains but will absolutely add them to my must have list. They are sooo good! Plantains are a member of the banana family but unlike banana's they shouldn't be eaten raw. You have to cook them and its so worth it. The cauliflower wing recipe I will leave a link to the recipe at the bottom of page!
*Pan Roasted Plantains*
Ingredients:
1 Very ripe Plantain (I wait until the skin is almost all black)
5 Tbs Coconut Oil
1 Tsp Ground Cinnamon
1/2 Tbs Coconut Palm Sugar
*Arugula Salad*
1 Cup Arugula
5-6 Cherry Tomatoes
Sesame Ginger Dressing (I used the Brand Annie's from Sprouts)
Directions:
1. Chop your plantain up into 1 inch pieces (similar to picture)
2. Pre heat 2-3 tbs on coconut oil on low 
3. Add 3 Tbs of coconut oil to a mixing bowl + add cinnamon + coconut sugar + mix them
4. Dip your chopped up plantains inside the coconut cinnamon mix (evenly coat on each side)
5. Place your plantains inside preheated oil + turn heat to med
6. Allow to cook on each side around 5-7min until brown & crisp(depends the heat temp of your oven)
7. Note they are sticky when you take them out so place on a non stick plate
8. Cook your buffalo wings before and when they are almost finish start your plantains
Here is the cauliflower buffalo wing recipe blog here>>Buffalo Recipe
9. Plate your arugula salad and Enjoy 😉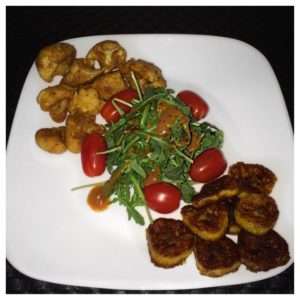 Thanks so much for checking out this recipe. If you found this blog helpful leave a comment and be sure to share it with friends and family♡
A Few Announcements:
** BeAHealthNutToo now has it's very own completely ☆Vegan☆All Natural☆Toxin-free☆ beauty soaps. No more using chemicals on your skin. To snag yours today click here>> Order Mine NOW
** Don't miss the monthly encouragement newsletters, health tips, freebies and more. Subscribe today!
** The online Raw Food Classes are going amazing! Thank you everyone for all of your positive feedback. I can't wait for the next one💕I'll announce the date soon. Check out details on the "Shop" page!
** You can now watch weekly inspirational videos + raw food tutorials on my youtube channel. Link is at the top of website.
 Hugs & Happy Cinnamon Plantain Eating,
LaShana Nicole ❤