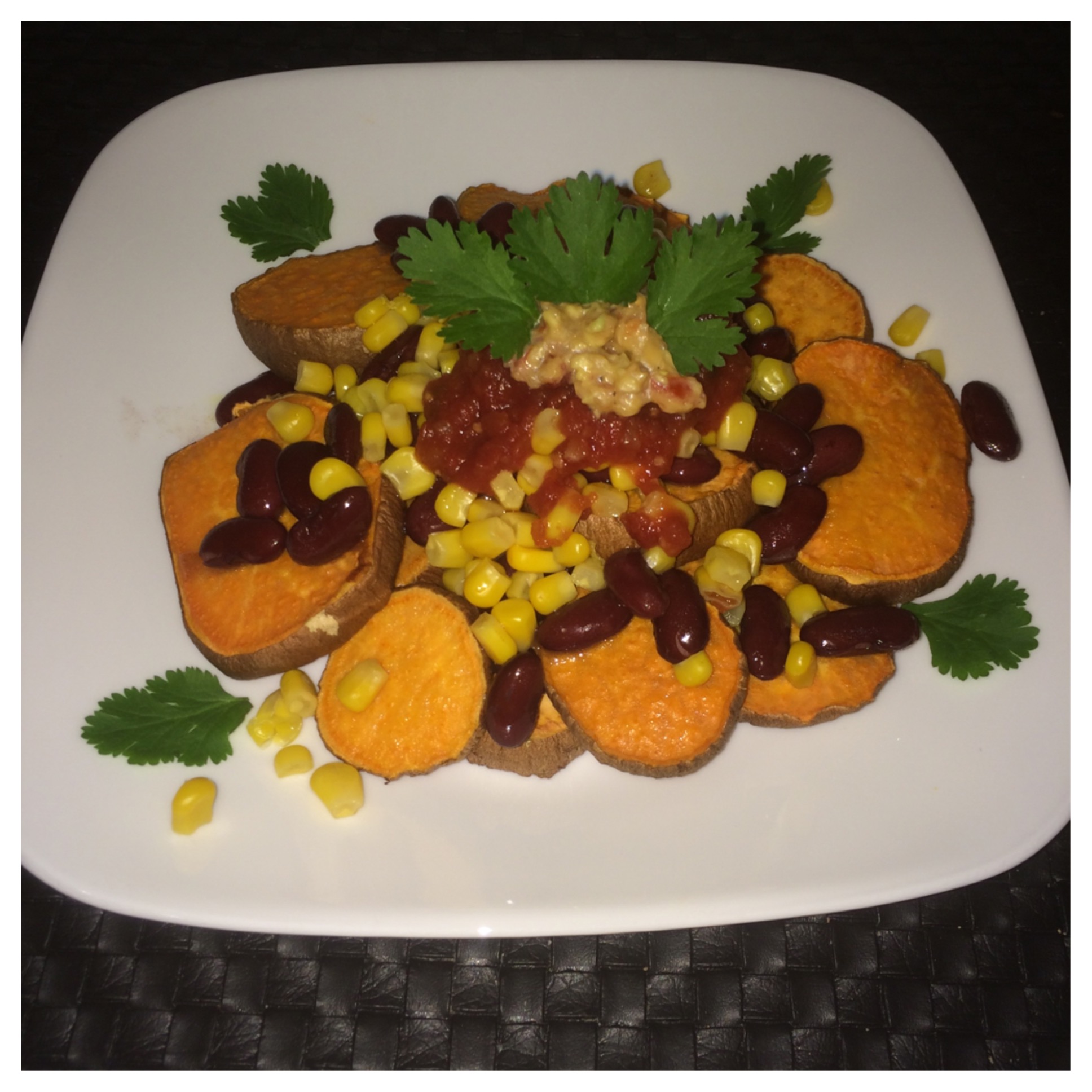 *Sweet Potato Vegan Nachos*
What a tasty combo of flavors! I had a taste for vegan nachos and had sweet potatoes on my counter. I thought hey why not combine the two. Hahaha. Im so happy I did because this dish turned out very good.
*Sweet Potato Nachos*
Ingredients:
2 Large Sweet Potatoes (washed & sliced with knife into small thin rounds 1/4 inch thick)
2-3 Tbs Coconut Oil (Note: Feel Free to use olive oil instead)
1/8 Tsp Himalayan Pink SeaSalt
1/2-1 Cup Black Beans (Rinsed & Drained)
1/4 Cup Rough Chopped Cilantro
2 Scallions Rough Chopped
1/4 Cup Sweet Organic Corn (Rinsed & Drained)
1 Tbs Salsa (I used organic salsa from sprouts)
Optional: 1-2 Tbs Guacamole
Optional: Pickled Jalapeños
Guacamole Recipe:
2 Avocados
3/4 Cup of Diced Onion (add more if you prefer)
1 Diced Garlic Clove
15-20 Cherry Tomatoes
1 Jelepeno Pepper  (Chop up fine, if you dont like it super spicy add half of jelepeno)
1 +1/2 Tbs of lime (or lemon) juice (I prefer lime)
1/2 Tsp Pink Himilayan SeaSalt
1/2 Tsp Black Pepper
1/2 Tsp Garlic Powder
1/2 Tsp Onion Powder
Pinch of Dill
To make: Pulse all ingredients inside food processor
Directions:
1. Chop up all your ingredients + clean + rinse
2. Pre-Heat oven to 375-400 degrees
3. Toss your sweet potato rounds inside of your coconut oil (or olive oil)+ himalayan salt
4. Place your sweet potato rounds on baking sheet (I used parchment paper don't overcrowd be sure to give space)
5. Allow to bake for 15-20mins + flip over and allow to bake for an additional 10-15mins (or until crisp)
6. While sweet potatoes are baking warm your beans + corn in a pot on medium heat on the stove
7. Once your sweet potatoes are ready top with fresh cilantro + scallions +guacamole+ salsa + pickled Jalapeños + Enjoy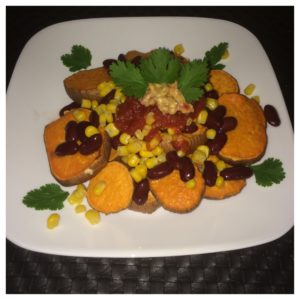 Thanks so much for checking out this recipe. If you found this blog helpful be sure to share it with friends and family♡
A Few Announcements:
** BeAHealthNutToo now has it's very own completely ☆Vegan☆All Natural☆Toxin-free☆ beauty soaps. No more using chemicals on your skin. To snag yours today click here>> Order Mine NOW
** Join the BeAHealthNutToo Get Fit Challenge. Its a 2 month challenge to go the gym at least once a week from now until the last week of August. If you're on Instagram be sure to tag your weekly gym pics to hashtag #BeAHealthNutToo.
** The online Raw Food Classes are going amazing! Thank you everyone for all of your positive feedback. I can't wait for the next one💕I'll announce the date soon. Check out details on the "Shop" page!
** You can now watch weekly inspirational videos + raw food tutorials on my youtube channel. Link is at the top of website.