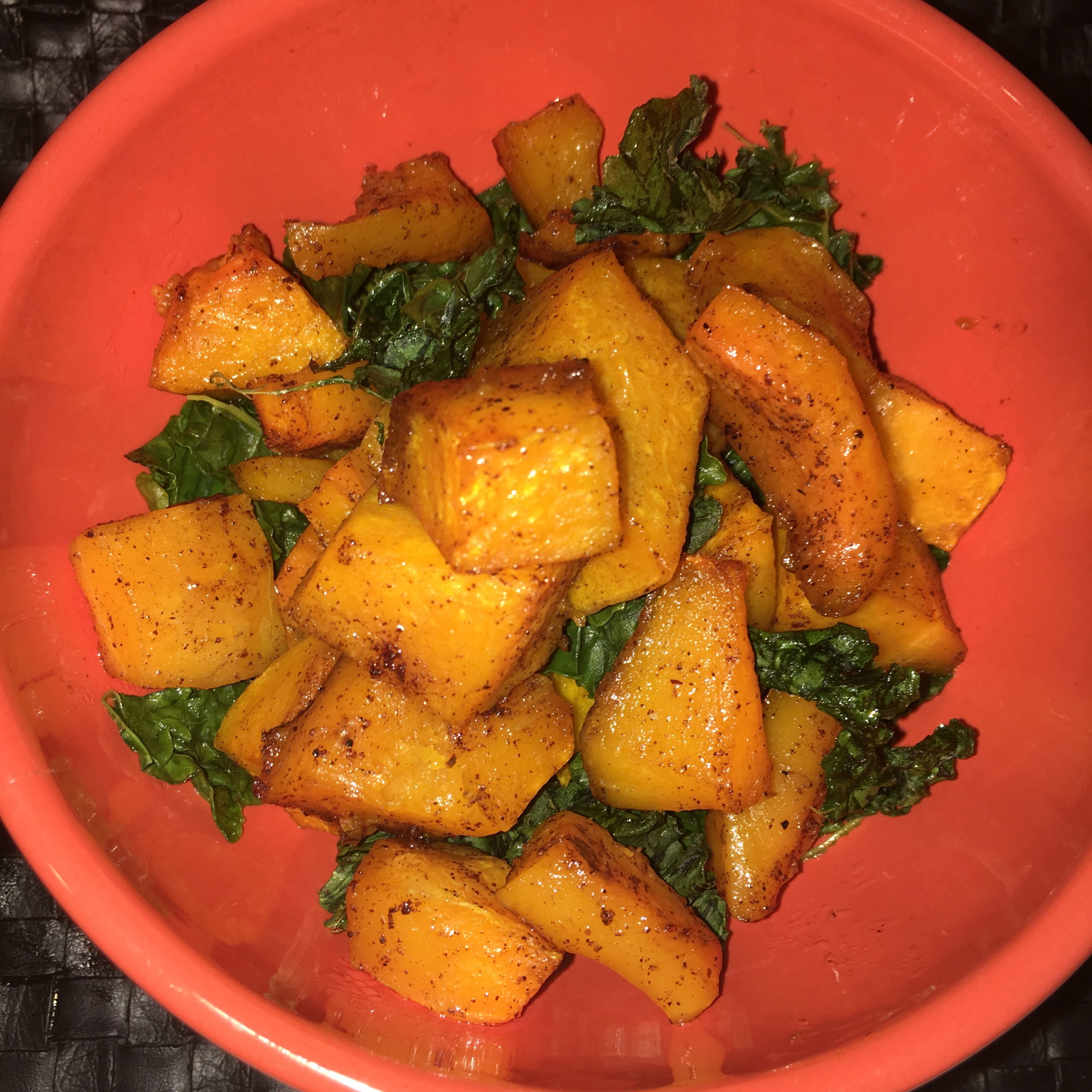 *Maple Glazed Squash & Kale*
Who would have thought sweet squash and crispy kale would actually taste amazing together? I decided to play in the kitchen with this dynamic duo and the dish came out quite yummy. I hope you guys love it too♡
*Maple Squash & Kale* Serving Size:1
Ingredients: (All Organic)
1 Small Squash (remove seeds + rough chop)
2 +1/2 Tbs Maple Syrup
1 Tsp Cinnamon
1Tsp Nutmeg
1+1/2 Tsp Coconut Oil
1 Batch of Curly Kale
1 Tsp Himalayan Pink SeaSalt
2 Tbs Olive Oil
Directions:
1. Place entire squash with skin on inside preheated over 350 degrees for 7mins
2. Take out + allow to cool a little + use sharp knife to remove +peel off skin+ scoop out seeds
3. DON'T throw away your squash seeds they taste amazing roasted 
4. Remove seeds + set aside + cut your squash into chunks 
5. On parcement paper + add squash + add coconut oil + add maple syrup + cinnamon +nutmeg
6. Mix with hand to evenly coat squash+ place inside oven
7. Bake at 375 degrees for 30-35 minutes until squash is crisp + soft but not burnt
8. While your squash is baking add wash your kale + light cut into strips + add it to pan
9. Add 2Tbs of extra virgin olive oil + himalayan pink sea salt + evenly coat kale
10. Place kale inside oven + allow to bake at 375 degrees for 20 mins or until slightly crisp(not burnt)
11. Once your kale + squash is complete combine the two in a serving dish+drizzle maple syrup on top. Enjoy!!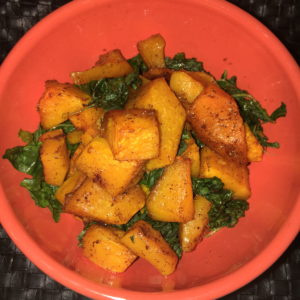 Thanks so much for checking out this yummy squash recipe. I hope you all love it! If you make it be sure to comment below and let me know your thoughts. Don't forget to share the website with your friends and family♡
ANNOUNCEMENTS📢📢:
** Great news! Our VEGAN Deodorants, Lotions, and Body-sprays are BACK IN STOCK! Snag your health goodies today while they're available! Click the link to order>> Health Store
** Our Best-Selling Beauty Soaps are also BACK IN STOCK, but are almost SOLD-OUT AGAIN! Here's your chance to grab some while we still have all blends available. Click here to order >> Beauty Soaps
** You can also now watch inspirational videos + raw food tutorials on my You tube channel. Youtube page link is at the top of the website. Enjoy!
** Thanks SO much everyone for all your love and sweet support! I appreciate each of you!
Hugs & Happy Maple Squash & Kale Eating,
LaShana Nicole❤