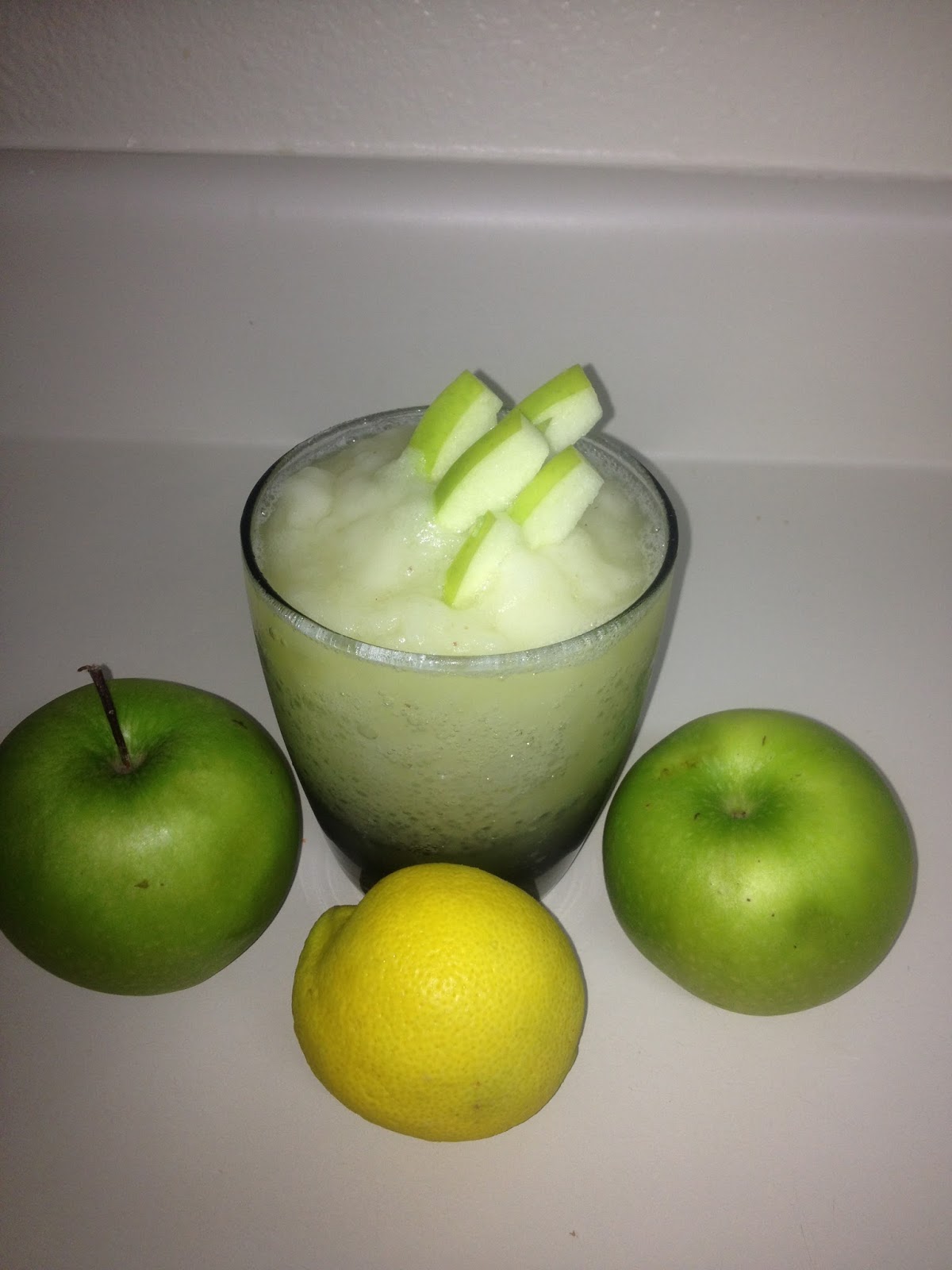 **Lemon AppleAid**
 OMGGGG I seriously love this drink its my new favorite. LemonAppleAid is a must make treat for the entire family.It is definitely my new drink to share with family and friends. WOOHOO for new treats 🙂
Ingredients per 1 serving:
3 fresh squeezed lemons (You can squeeze more for a super citrus taste)
1+1/2 chopped up fresh apples
1 cup or hand full of Ice
4 tablespoons of raw agave nectar or 100%maple syrup
Blender
Directions:
1. Place your ice inside blender + fresh lemon juice
2. Add your chopped up fresh apples + sweetener (I removed skin of apples)
3. Blend all ingredients
4. Once you have a slushy type texture pour mixture inside glass
6. So simple & the Best drink ever! ha! DRINK UP!
**Lemon health benefits- Lemons are great for fighting wrinkles and helping to clear skin, digestion, and they help create a alkaline environment inside your body. Lemons contain vitamin C which will boost your immune system and help fight illness/disease and promote healing. The juice from lemons can help heal scars & fade dark spots. Yup lemons are pretty amazing!
**Apple health benefits- We all heave heard the saying "A apple a day keeps the doctor away" well there is a reason behind it. Apples are so good for the human body and are loaded with a ton of vitamins including vitamins A, C, potassium which promote heart health, and small amounts of phosphorus, iron and calcium. Apples contain 5% protein and have fiber which helps cleanse and detoxify the body pushing out heavy metals & toxins.
Now you can enjoy these two powerhouse super foods together all in one super yummy drink!
Happy LemonAppleAid Making 😉
LaShana Nicole