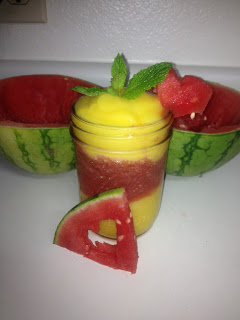 **Watermelon Mint Infused Smoothie**
 **Watermelon Mint Infused Mango Smoothie**
What you need:
*Top and Bottom layer*
1 frozen mango
1/2 cup water or nut milk
Extra cup
Blender
*Middle layer*
1 Cup Fresh Watermelon
2 mint Leaves
1/2 cup of Ice
1/3 Cup water
3-4 tablespoons of raw agave
Directions:
Make bottom and top layer first
1. Place Mango & liquid inside blender and blend until you have a nice thick consistency
2. Pour mango bottom layer inside glass and set half of the mango aside to make top layer
3. Rinse blender and add watermelon, ice, mint leaves, and sweetener + a (a tiny bit of water half of 1/4 cup you dont need much water because watermelon naturally has alot of water)
4. Blend then pour watermelon mix on top of bottom layer
5. Pour your left over Mango mixture on top
6. Top with Mint leaf and Viola!
Thank you everyone for sharing & supporting Beahealthnuttoo, and for all of your encouraging text & emails. I appreciate all of you and I am very inspired by so many of you that are changing your eating habits and becoming a better you! Hugs 🙂
LaShana Nicole,