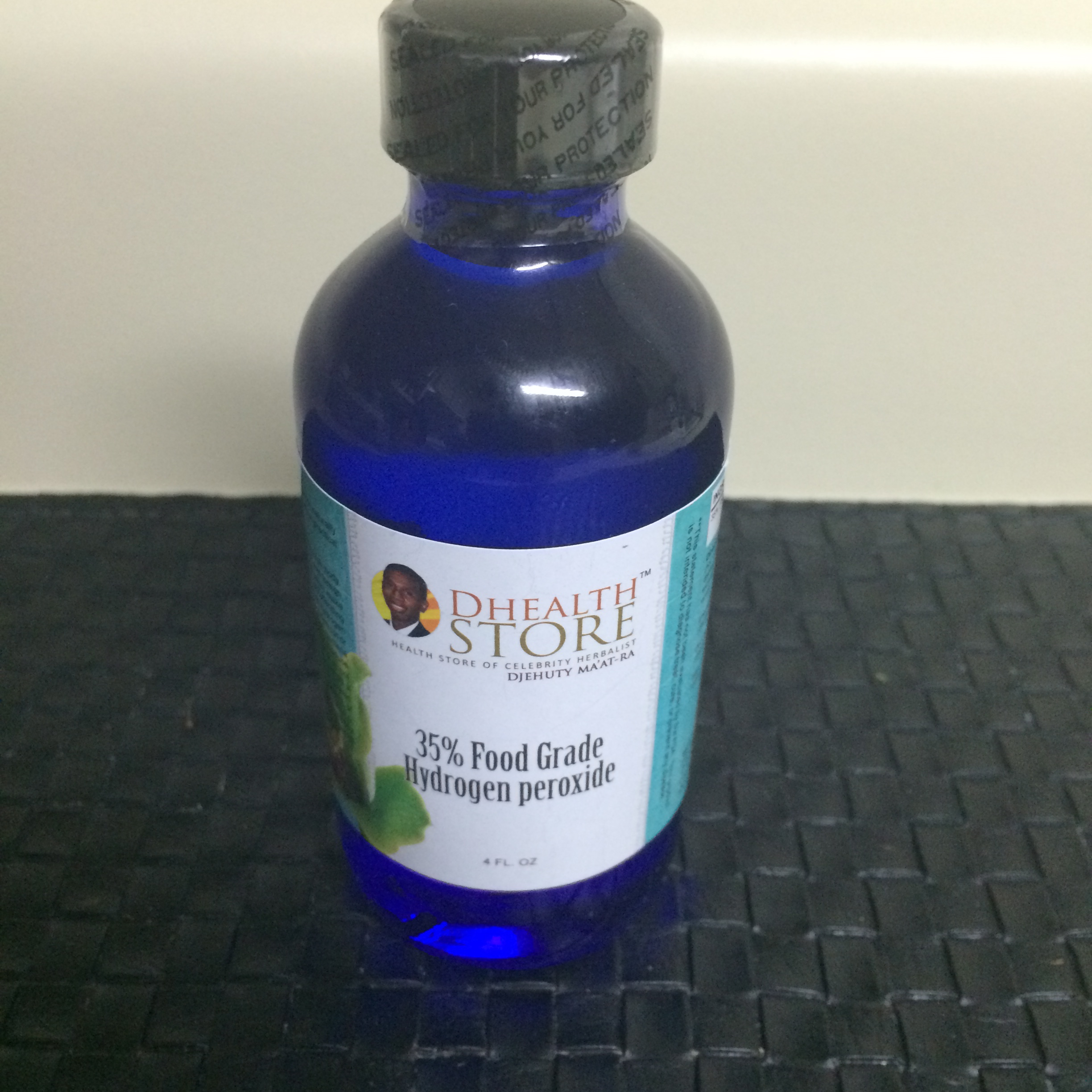 *Hydrogen Peroxide 35% Food Grade Benefits*
Hydrogen Peroxide 35% food grade is some powerful stuff. Many households have the 3% peroxide used for scrapes and burns etc which is a diluted version of this powerful clear substance. I've used it for years for many things. Before I discuss some of the wonderful benefits of using 35% food grade hydrogen peroxide I first want to NOTE: Food Grade Hydrogen peroxide can cause burns, be extremely dangerous, and even fatal if  it is not diluted properly. Be sure to dilute with water, use proper doses, and not just use alone. 

Lets discuss all the amazing ways hydrogen peroxide can be used.
* Water purifier-
If you don't have a alkaline or distilled water filter add 3 drops to a 8oz glass of water, stir, and wait 3-5 mins before drinking. NOTE: Only 35% food grade is recommend for internal use (It has a strong taste if you add to much so dont yes I have and learned my lesson haha)
*Helps fight bacteria on your skin that cause acne-
(Needs to be diluted to 3% so mix 1 ounce part 35% hydrogen peroxide added to 11 ounces water = 3% hydrogen peroxide, or you can use the already premixed 3% that you purchase from store) Where ever there is bacteria or fungus on your skin surface and below when you apply the hydrogen peroxide it turns white. Don't be alarmed as long as it is diluted properly the white will fade away. This is actually a great sign means its cleaning and bringing oxygen to the skin helping to fight off acne, blackheads, pimples, micro-organisms etc. I usually apply this right after I wash my face, I let it sit for 3-5 mins then apply a toner and moisturizer. If you have really bad acne feel free to add this to your daily routine at least once a day. 
*Purify Your Bath Water- 
Add 1-2 ounces to help kill bacteria and purify your water.

*Fruit and Veggie Wash- 
Add 1 ounce to a quart of distilled water and spray on your produce (Fruits &Veggies) You can make your own pesticide by making this solution. So easy yet very effective. It works

*Disinfectant/Sanitizing – 
You could literally swap bleach which is filled with very toxic chlorine to this all natural very potent solution. Add 1 ounce of peroxide to a quart of distilled water. Use to clean your counter tops, bath tub, sink etc. ( Note: Add vinegar to the solution to kill germs such as  salmonella, E-coli etc. 
*Makeup Brush Sanitizer- 
So anything that you place on your skin constantly will house germs and bacteria. Be sure to soak your makeup brushes (after you wash them) in the 3% solution once a week.
*Phone Cleaner-
Yes your phone is filled with a ton of germs from daily use and from constantly talking and placing it up to your ear. Take the 3% solution and clean everyday if not a few times a week.

*Toothpaste- 
Yes it works and will leave your teeth/ mouth feeling extra clean. Use baking soda and 3% peroxide mix until it forms a tooth paste texture and use. I actually use the 3% diluted version directly on my tooth brush and use. Your mouth will be foamy haha just rinse after you finish. My teeth always feel super plaque-free ahhhh! Also soak your tooth brush after which will help keep it free of nasty germs.
*Mouthwash-  
This stuff is seriously amazing so many uses. Mix 20 drops to a 4 oz. glass of water. Or use 3% ,Gargle and DON'T swallow.
*Decontaminate Meat/Fish-  
For those who eat meat it is very smart to clean your poultry before consumption. Add 1 ounce to quart of distilled water. Spray and let sit for 3-5 mins and rinse.
 
* Purify your Pets water-  
Add 2-3 drops per quart of drinking water. Its important to make sure your pets are nice and healthy too.

*Athletes foot- 
 Having a foot problem yup this will help solve that too. Amazing stuff simply add 1 ounce to a quart of distilled water, spray your feet and the inside of your shoes constantly!
*Whiten Clothes- (use instead of bleach)-  
You can pour directly on a blood stain let sit then rinse. Add 1 cup to  washer.
*Natural Douche- 
For those who choose to douche this is a much healthier alternative/formula than the vinegar filled douche solutions out on the market today(the chemical filled douche solutions actually do more harm than good to the vagina). If you have regular yeast infections try using 2 capfuls of 3% hydrogen peroxide mixed with distilled water once a week.  (note: I am not a doctor just giving information so please be sure to check with your health care provider and also do your own research)

*Glass Cleaner- 
Spray 3% peroxide on your mirrors/ glass tables for streak free no smear surface.

*Wound Care- 
Soak infections for 5 minutes in 3% to help clean and help stop bleeding quicker
Grades of Hydrogen Peroxide
* 3.5% Pharmaceutical Grade:

This is the grade that can be found at your local drugstore Walgreens, Walmart etc and contains stabilizer so it is not recommended for internal use. This is usually what you use on minor cuts, scrapes, or burns etc. Purchase Here

* 6% Beautician Grade: This grade is used by hairstylist to color hair and is not recommended for internal use.
* 30% Reagent Grade:

This grade is used for many scientific experiments and contains stabilizers. It is not for internal use.
* 30% to 32% Electronic Grade: This grade is used to clean electronic parts. Also not for internal use.

* 35% Technical Grade: This grade is a more concentrated product than Reagent Grade it differs slightly. The phosphorus is added in this grade to help neutralize any chlorine from the water used to dilute it.

* 35% Food Grade: This grade is used in food production. IT IS THE ONLY GRADE RECOMMENDED FOR INTERNAL USE. It is available in several different sizes.
* 90% Hydrogen Peroxide: This is used as an oxygen source for rocket fuel. So ya definitely not for internal use.
(Note: If the pure food grade hydrogen peroxide gets on your skin it can cause burns so rinse and flush with water and rub with aloe vera gel immediately)
As you can see having Food Grade 35% Hydrogen Peroxide in your home can save you a ton of money that would otherwise be used to purchase many other chemical filled products.  Its inexpensive and this stuff is amaaazziinnggggg when used properly! Just remember to dilute and do your own research♥.

DISCLAIMER * The above statements have not been approved by the FDA and the product is not intended to treat, cure, prevent, or mitigate any disease.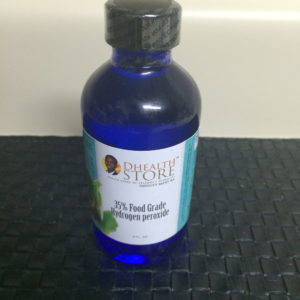 Thanks so much for checking out this food grade hydrogen peroxide blog. Don't forget to share the website with your friends and family♡
ANNOUNCEMENTS📢📢:
** Our Unisex Vegan Deodorants are BACK IN STOCK and selling SO fast! Grab yours now before we sell out again>> HEALTH STORE
** OUR BEST-SELLING VEGAN Beauty Soaps are also BACK IN STOCK, but almost sold out again! Don't miss out! Snag your favorites NOW >> HEALTH STORE

** VEGAN BATH BOMBS JUST LAUNCHED INSIDE OUR ONLINE STORE! HOW EXCITING! Get ready to take your bathing experience to a new level. Check them out inside the store!
** You can also now watch inspirational videos + raw food tutorials on my Youtube channel. The Youtube page link is at the top of the website!
** THANK YOU so much lovelies for your love and continued support! I'm working on some amazing NEW products for you guys and can't wait to share soon. I adore each and every one of you! Stay tuned!
** Note: Some links above may be affilate links which means I may make a small commission, which will be used to reinvest back into our company to continue bringing amazing health products and information to all of you:)
Hugs & Happy Health,
LaShana Nicole❤