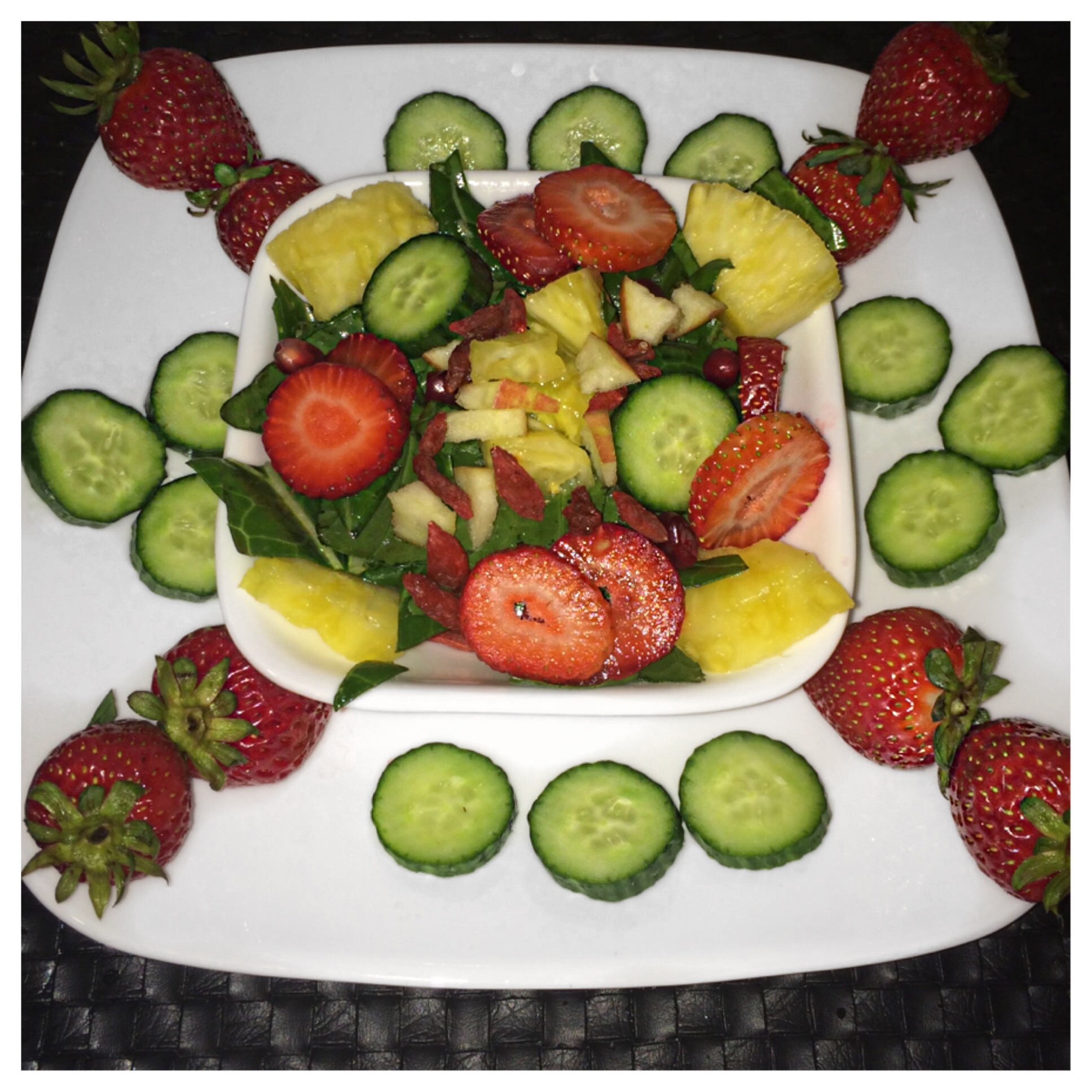 *Collard Green Clean Salad*
Who would ever think that eating raw collard greens would actually taste good? I use to think in order to eat collard greens you had to boil them until they were brown and no longer had any nutritional value. Boy was I wrong. Since deciding to transition to mainly raw, I have found so many yummy ways to eat greens and make them taste good. This salad is bursting with flavor. I hope you enjoy this recipe as much as I do 😉
*Collard Green Clean*
Ingredients: (all organic)
1 Batch of Fresh Collard Greens
15 Strawberries
1/2 Cup Fresh Pineapple (Rough Chopped)
1 Apple (Rough Chopped)
1-2 Cucumber
15-20 Goji Berries
1/2 Tsp Hemp Seeds
Dressing Ingredients:
1 Thumb Size Piece Of Grated Ginger ( I used half of the ginger pictured below)
3 Tbs Olive Oil or (liquid coconut oil)
1 Lime (juiced)
3-4 Tbs Raw Agave Nectar ( You can add 4 if you need it a bit more sweet)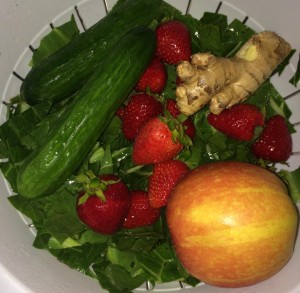 Directions:
1. Clean + rinse all of your salad and dressing ingredients
2. Cut your collard greens into strips ( I left the stem on) +  set salad to the side
3. Grate your ginger +add all of your dressing ingredients into a mixing bowl +whisk together
(add more ginger or sweetener to your taste preference)
4. Place your collard greens inside mixing bowl with dressing + chop up your strawberries + apples + pineapple
5. Add all salad ingredients to mixing bowl + cover with lid + shake until all salad is fully coated + Eat up!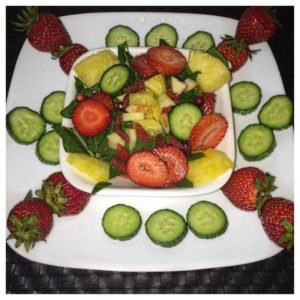 Thanks so much for checking out this recipe. If you found this blog helpful be sure to share it with friends and family♡
A Few Announcements:
** BeAHealthNutToo now has it's very own completely ☆Vegan☆All Natural☆Toxin-free☆ beauty soaps. No more using chemicals on your skin. To snag yours today click here► Order Mine NOW
** The online Raw Food Classes are going amazing! Thank you everyone for all of your positive feedback. I can't wait for the next one💕I'll announce the date soon. Check out details on the "Shop" page!

** You can now watch weekly inspirational videos + raw food tutorials on my youtube channel. Link is at the top of website.
Hugs & Happy Collard Green Clean Eating,
LaShana Nicole ❤