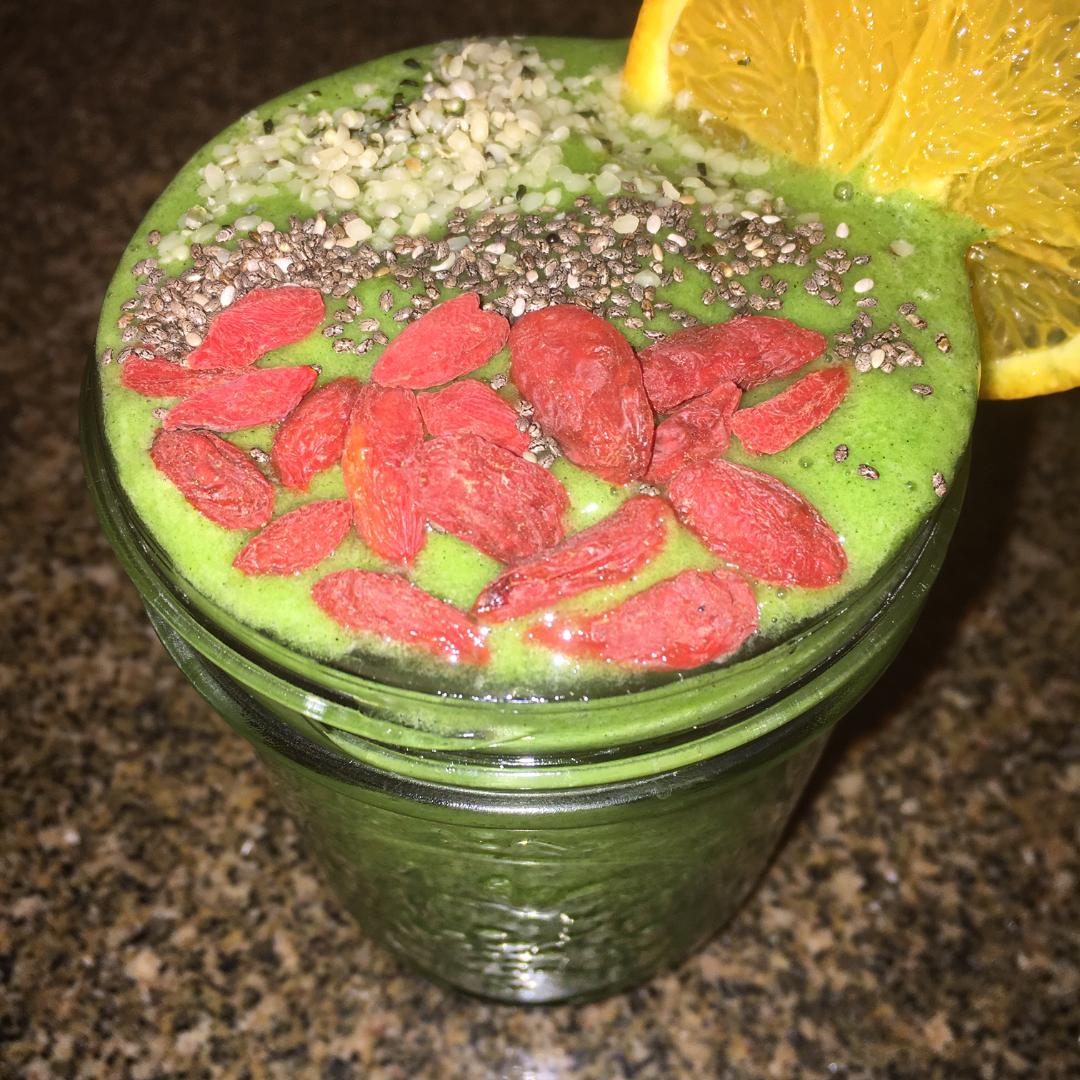 *Chlorella Green Smoothie*
Chlorella is an amazing nutrient dense food. It helps to detox the body by removing heavy metals and unwanted toxins from your system. Chlorella helps to boost your immune system, promotes healthy digestion, lowers blood pressure, and is a good source of  vitamins and minerals including Vitamin A, B2, B3, B6, Iron, Magnesium, Zinc and more! Chlorella is also a great source of protein. I love adding the powder to smoothies. It's the perfect way to sneak your greens into your diet. 
*Chlorella Green Smoothie*
Serving Size: 2
Ingredients:
3 Cups of Frozen Pineapples (chop up fresh and freeze overnight)
1/2 Fresh Orange (Remove skin)
Juice from 1/2 an Orange (squeeze other half of orange juice inside)
1 Cup of Fresh Kale (Remove Stems)
1/2 Packet of Chlorella Powder ( I used the brand sun chlorella usa)Find here>Sunchlorella packets
1/2 Cup Spring Water (add more if needed)
Toppings: Goji berries + Chia Seeds + Hemp Seeds + Orange Slice
Directions:
1. Place all of your ingredients inside of a high speed blender
2. Blend on high until all ingredients are mixed together
3. Pour inside glass + add toppings of choice
4. Drink right away!
Thanks so much for checking out this recipe. I hope you all love it. Comment below and let me know your thoughts! Don't forget to share the website with your friends and family♡
ANNOUNCEMENTS📢📢:
** The Be A Health Nut Too Hair Growth Oil is FINALLY available. If you're dealing with damaged hair, balding, or looking to restore the health of your hair, GRAB yours now> HEALTH STORE
** Our Best Selling Beauty Soaps and Deodorants are all BACK IN STOCK! Snag yours now before we sell out again>> HEALTH STORE
** Get ready to take your bathing experience to a new level with our VEGAN BATH BOMBS! Check them out inside the store!
** You can also now watch inspirational videos + raw food tutorials on my Youtube channel. The Youtube page link is at the top of the website!
** THANK YOU so much lovelies for your love and continued support! I adore each and every one of you!
Hugs & Happy Green Smoothie Drinking,
LaShana Nicole❤