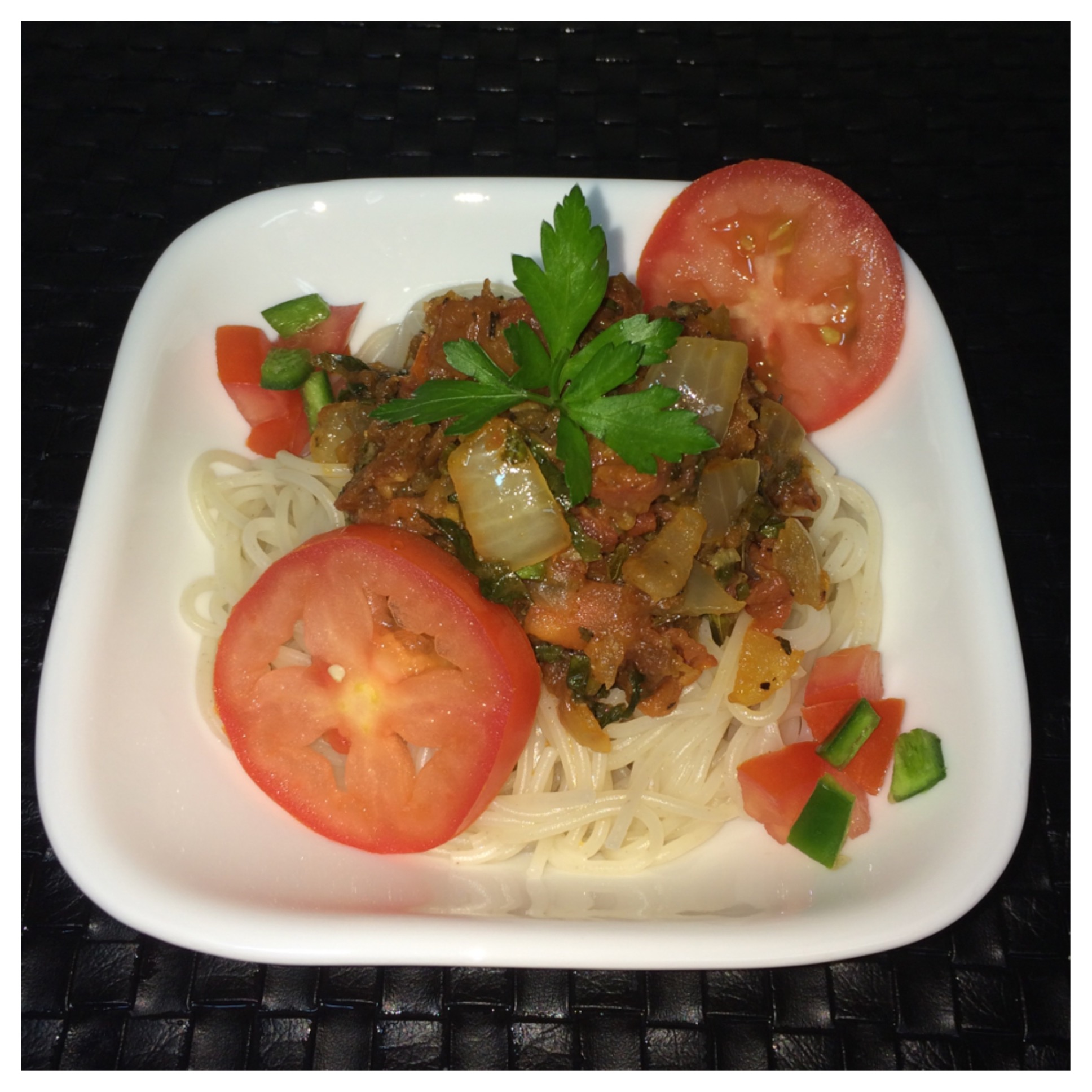 *Vegan Spaghetti*
This vegan spaghetti with the homemade pasta sauce was really tasty, easy to make, and filling. I love finding healthy alternatives to popular dishes. If you are feeling the need for a cooked warm healthy meal, this pasta will definitely fulfill your appetite.
*Vegan Spaghetti*
(all organic) makes 1 serving
Noodles:
2 Hand fulls of "Vita Spelt Angel Hair Pasta" ( I break my pasta in half)
Optional: Raw Zucchini Noodles or Organic Wheat Noodles

Sauce Ingredients:
1.5 Tbs Extra Virgin Olive Oil
1/4 Cup Fresh Parley (Minced)
1/4 Cup Fresh Basil (Minced)
3.5 Roma Tomatoes (Diced)
1 Cup of Yellow Onion (Minced)
3-4 Small Garlic Cloves (Grated)
5 Oil Soaked Sun Dried Tomatoes
1/2 Tsp Dried Basil
1/2 Tsp Dried Parsley
1/2 Tsp Dried Oregano (feel free to add 1 tsp to taste)
1/2 Tsp Himalayan Pink Sea Salt
1/2 Tsp Black Pepper
Pinch of Garlic Powder
Pinch of Onion Powder
Directions:
1. Place your olive oil + pepper + salt + garlic + onions inside pot + allow to saute for 4-5 mins on med heat
2. Add your diced tomatoes and increase heat to a low boil for 1-2 mins
3. Once mixture starts to boil reduce heat to med and allow to marinate for 10-15mins
4. While allow sauce to marinate add your sun-dried tomatoes + a Tbs of your sauce to food processor
5. Process the sun-dried tomatoes + sauce until smooth + combine this mixture back to tomato sauce pan
6. Add your parsley, basil, dried oregano,dried basil,dried parsley, garlic & onion powder
7. Allow to cook 4-5 mins (or until you have a thick texture that you prefer)
8. When your pasta sauce is almost finish add your pasta to a pot of boiling water + add a sprinkle of olive oil
9. Cook for 7mins. Don't over cook pasta it will turn into paste if you over cook. Monitor + when finish strain + rinse pasta
10. Place pasta in serving dish + add sauce on top + add fresh parsley + basil +tomatoes on top
11. Top spaghetti with a pinch or two of Himalayan pink sea salt + black pepper (to taste) Enjoy♥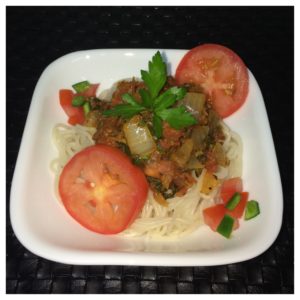 Thanks so much for checking out this spaghetti recipe. I hope you all love it. Comment below and let me know your thoughts! Don't forget to share the website with your friends and family♡
ANNOUNCEMENTS📢📢:
** We ONLY have 7 of our BEST-SELLING VEGAN Beauty Soaps left. 1 Peppermint Love + 1 Grapefruit Bliss + 5 Sage Me. If you've been wanting to try our soaps, grab them now. >> HEALTH STORE
** Our Unisex Vegan Deodorants are BACK IN STOCK and selling SO fast! Grab yours now before we sell out again>> HEALTH STORE
** VEGAN BATH BOMBS JUST LAUNCHED INSIDE OUR ONLINE STORE! HOW EXCITING! Get ready to take your bathing experience to a new level. Check them out inside the store!
** You can also now watch inspirational videos + raw food tutorials on my Youtube channel. The Youtube page link is at the top of the website!
** THANK YOU so much lovelies for your love and continued support! I'm working on some amazing NEW products for you guys and can't wait to share soon. I adore each and every one of you! Stay tuned!
Hugs & Happy Spaghetti Eating
LaShana Nicole♡