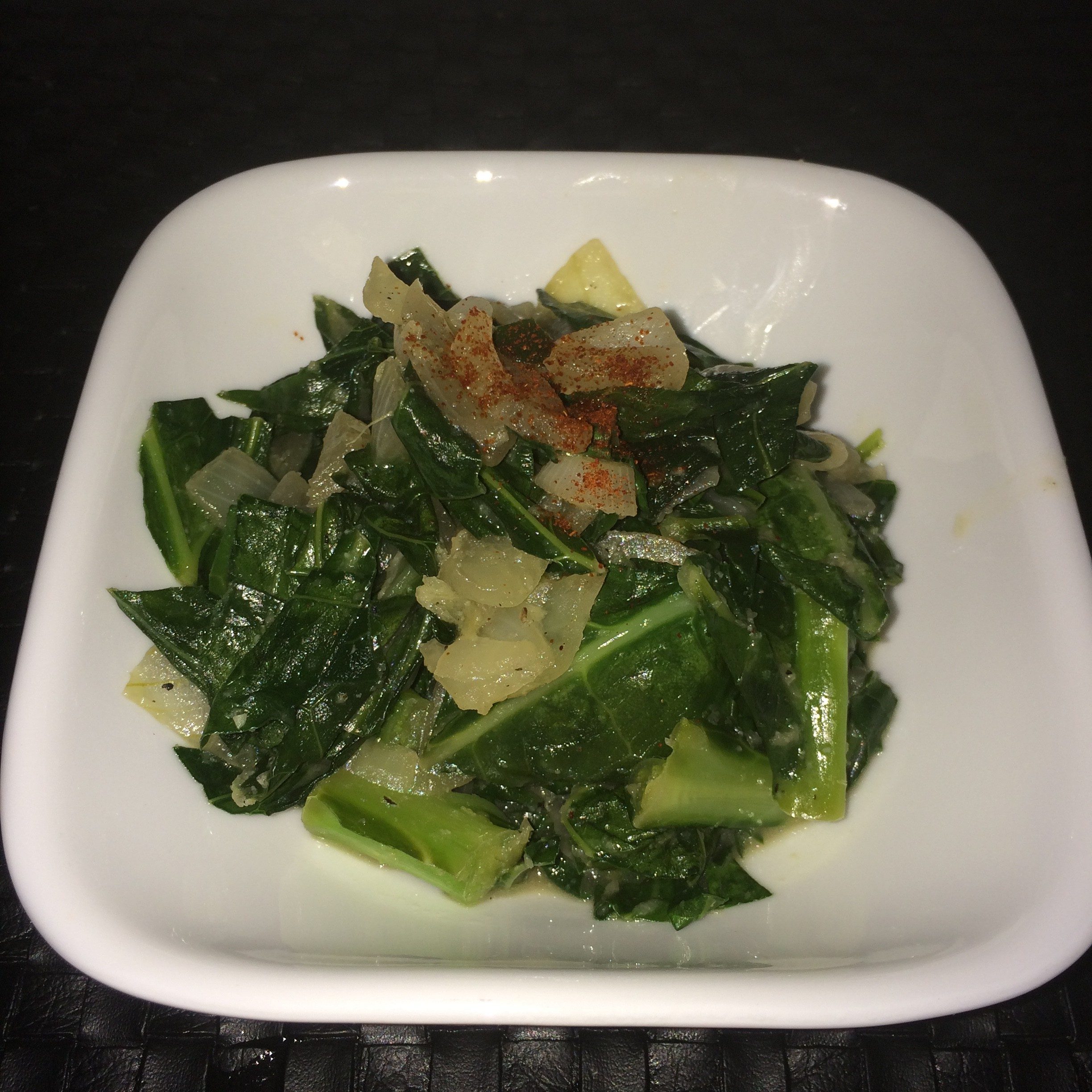 *Vegan Laing*
What a delicious way to eat collard greens! Yum Yum!
*Vegan Laing*
Ingredients (all organic)
1 Batch Chopped Up Collard Greens
1 Medium Size Yellow Onion (diced/rough chop)
1 Tbs Coconut Oil
2 Garlic Cloves (1 grated/1 minced (small chop)
1 Tbs Fresh Grated Ginger
1/2 Cup of Vegetable Broth (You can also use water)
3/4 Cup Coconut Milk (I used the brand So Delicious)
1 Tbs Tamari 
1/2 Tsp Garlic Powder
1/2 Tsp Onion Powder
1/2 Tsp Black Pepper
1/2 Tsp Himalayan pink sea salt (add more to taste if needed)
Pinch of Red Pepper Flakes
Directions:
1. Allow your coconut oil to warm inside of a large skillet on medium heat + add your diced onions 
2. Allow onions to sauté until they are clear & soft about 5mins 
3. While onions are sautéing grate your 1 garlic clove + mince 1 garlic clove (to mince chop really small)
4. Grate your ginger. I use a vegetable peeler to remove skin. 1 tbs equaled about 1 fresh ginger stick
5. Add your garlic + ginger to onions + stir + allow to sauté for 2 mins
6. Add your collard greens to the mix + stir for around 3 mins until collard greens begin to soften/wilt
7. Add your coconut milk + vegetable broth + tamari + all seasonings + stir + allow to cook on low heat for 12-15mins
8. Once Collard Greens are tender/soft you can add a splash of paprika on top + season to taste if needed +serve ❤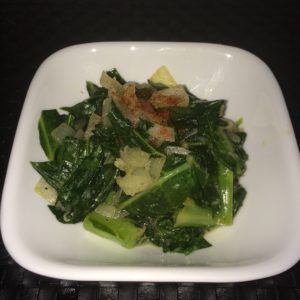 Thanks so much for checking out this recipe. I hope you all love it. Comment below and let me know your thoughts! Don't forget to share the website with your friends and family♡
ANNOUNCEMENTS📢📢:
**Our Gorgeous VEGAN✨DIP IT✨Nail Polish JUST LAUNCHED! Check them out> HEALTH STORE
** The Be A Health Nut Too Hair Growth Oil is FINALLY available and receiving amazing feedback! If you're dealing with damaged hair, balding, or looking to restore the health of your hair. SNAG some now>> HAIR OIL
** Our Beauty Soaps and Deodorants are all BACK IN STOCK!
** You can also now watch inspirational videos + raw food tutorials on my Youtube channel. The Youtube page link is at the top of the website!
** THANK YOU so much lovelies for your love and continued support! I adore each and every one of you!
Hugs & Happy Vegan Laing Eating,
LaShana Nicole ❤