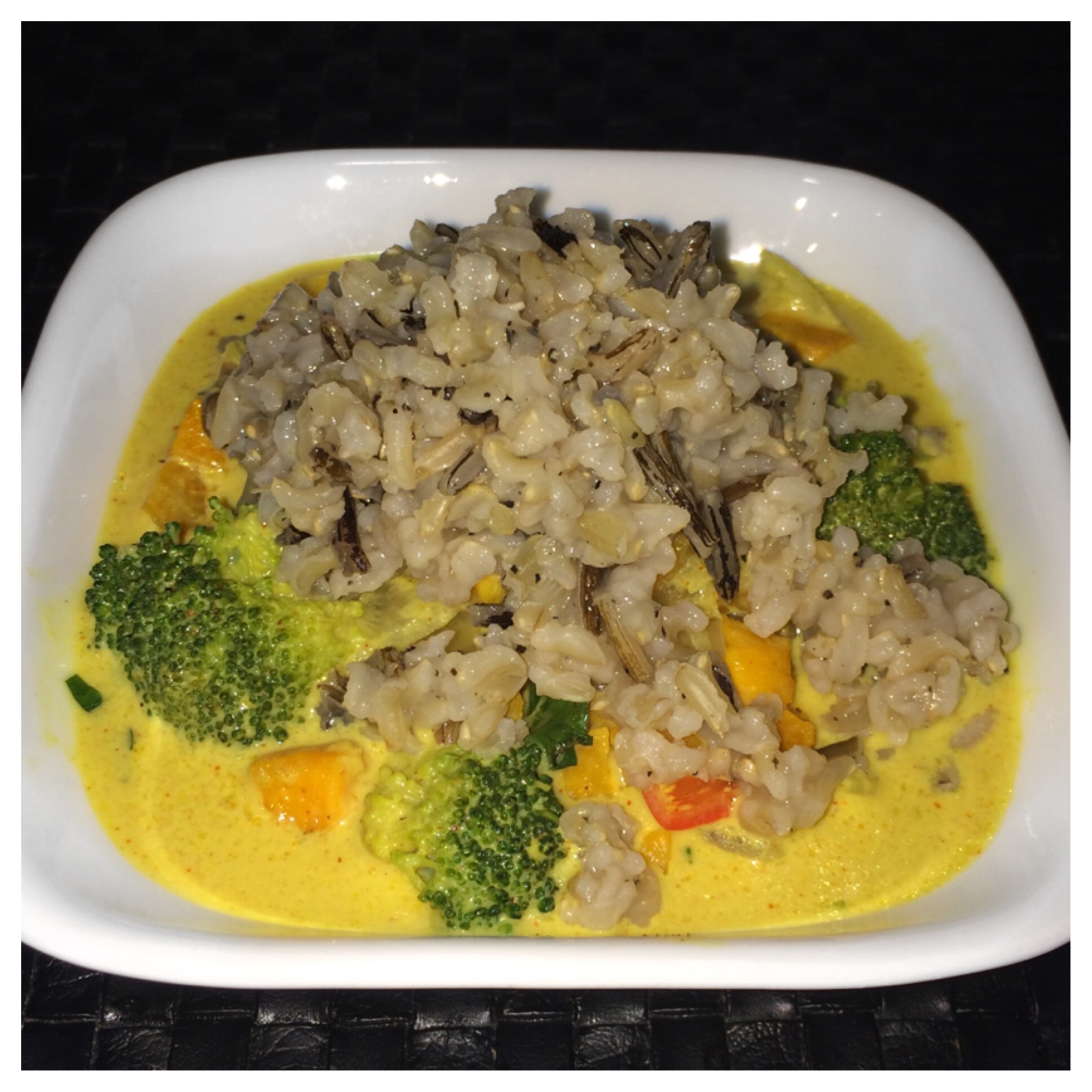 *Spicy Coconut Curry*
I loveeee coconut curries! Yum! I have been determined to make my own so that I can save some cash and stop paying 12$-14$ each time I have a taste for this lovely dish. I finally figured out the recipe and it's so bomb! I hope all of you love this dish and add it to your must have list. It has absolutely been added to mine.
*Spicy Coconut Curry* (Makes 2-3 servings)
Ingredients:
Curry Sauce:
1 (13 oz) Can of Coconut Milk (I used the brand THAI Kitchen)
1 Tbs of Curry Powder (Add more to taste depending on which curry brand you use)
1/4 Tsp Smoked Paprika
1/4 Tsp Garlic Powder
1/4 Tsp Onion Powder
1/4 Tsp Cayenne Powder ( OMIT or add less if you don't like spicy)
2 Dashes Himalayan Pink Sea Salt
2 Dashes of Chili Powder
1 Cup Fresh Basil (Rough Chopped)
1 Tbs Coconut Oil
Note: (A quicker way to make the curry sauce is buy the red curry paste + add 2 big Tbs to coconut milk + mix all ingredients below to sauce)
Additional Ingredients:
3 Crimini Mushrooms (Rough Chopped)
3/4 Cups Yellow Onion (Rough Chopped)
1 Small Shallot (Rough Chopped)
2-3 Garlic Cloves (Grated)
2 Red Fresno Peppers (Rough Chopped) OMIT or add 1 if you don't like spicy
1 Small Organic Squash
1.5 Cups Wild Rice Mix or Black Rice (My mix was wild rice/basmati rice 365 Brand from whole foods)
1 Small Thumb Size Piece Of Fresh Ginger
8-10 Broccoli Florets
1/4 Cup Green or Red Peppers (Capsicum)
1.5 Tbs Coconut Oil
Optional: 3/4 Cup Chick Peas
Directions:
1. Place entire squash with skin on inside preheated over 350 degrees for 7mins
2. Take out + allow to cool a little + use sharp knife to remove +peel off skin+ scoop out seeds
3. Cut your squash into chunks +on parcement paper add 1 Tbs coconut oil + spread out + add squash 
4. Pour 1/2 Tbs of oil on top of squash+ mix with hand to evenly coat squash
5. Bake at 375 degrees for 30-35 minutes until squash is crisp + soft but not burnt
6. Add your rice of choice to 2.5 Cups water + boil while squash is cooking (stir often don't overcook)
6. When squash has 20mins left add 1.5 Tbs coconut oil to pan + allow to preheat med heat (40 secs)
7. Add your onions + garlic + ginger+ broccoli+mushrooms+shallot+capsicum+fresno peppers
8. Allow ingredients to sauté in oil for 8-10 mins (until broccoli looks lightly dark green) + stir often
9. Add Coconut Milk + all seasonings + oil+ basil + stir + allow to cook 12 mins + stir often
10. Once curry sauce is light bubbling + all veggies looked lightly steamed add your cooked squash
11. Cook+ stir for 1 additional min + season to taste+ add curry to serving dish + add your rice on top
BON APPETIT! This dish is delightful.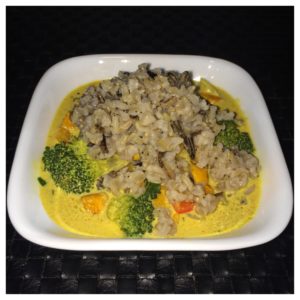 Thanks so much for checking out this recipe. I hope you all love this curry as much as I do. Comment below and let me know your thoughts! Don't forget to share the website with your friends and family♡
ANNOUNCEMENTS📢📢:
** Great News the BeAHealthNutToo Beauty Soaps are BACK IN STOCK and selling so FAST!!! In just a month its almost time to make batch #4. We are already SOLD OUT of the Grapefruit Bliss+ Lemongrass sensation + Citrus Splash and only have a few of the others left in stock. Don't wait GRAB YOUR SOAPS NOW before they're gone!! Click here to order >>>YAY! I want some soaps!
** We are so excited to announce that BeAHealthNutToo is expanding into a health and wellness store. We will still feature new recipes and all the things you already love, with the addition of products. 
** You can also now watch inspirational videos + raw food tutorials on my youtube channel. Youtube page link is at the top of the website. Enjoy!
Hugs & Happy Coconut Curry Eating,
LaShana Nicole❤