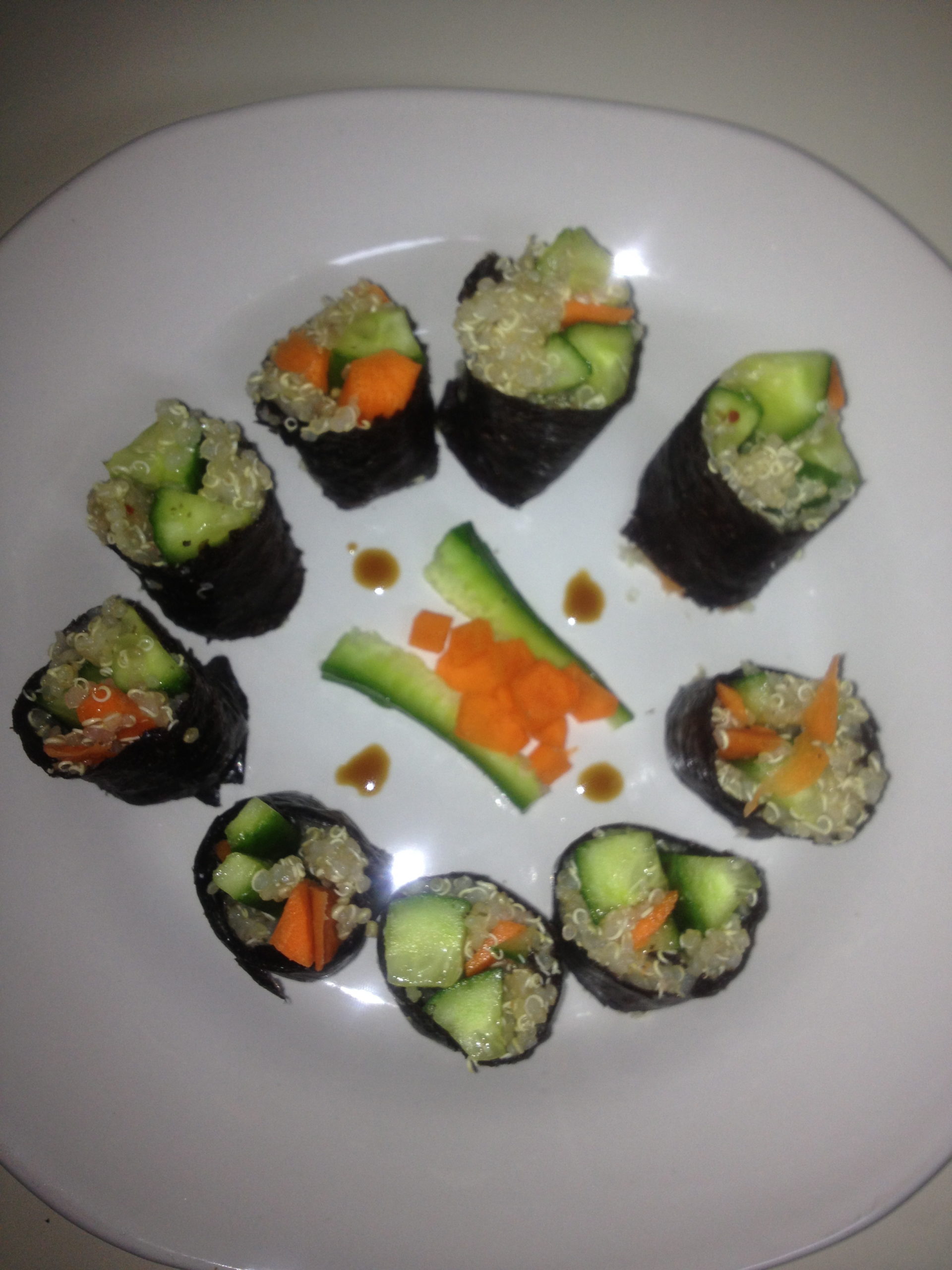 *Quinoa Sushi*
Cheers to having vegan foods that are actually tasty and filling. The quinoa filled sushi rolls are a great way to get some protein + vitamins & minerals. They are so easy to make as well.
*Quinoa Sushi*
Ingredients:
1 Nori Seaweed sheet Purchase Here
1-2 chopped up organic cucumbers
1-2 shredded or chopped organic carrots
1 chopped avocado
3/4 cups of quinoa
Tamari or Shoyu sauce Purchase Here
Sharp Knife
Optional: Sprouts
Optional: But recommend Sushi Mat to roll Purchase Here
Directions:
1. Rinse + Boil your quinoa
2. Chop your veggies up if making raw sushi
3. After veggies are ready lay out 1 Nori Sheet on sushi mat if you have one
(note: 1 nori sheet makes 6 rolls)
4. Place your chopped veggies of choice + avocado + quinoa on edge of nori sheet
Note: (I premix my quinoa in about 1 tbs of tamari sauce before rolling)
5. Sprinkle Himalayan Salt, Black Pepper, Onion, Garlic Powder or any seasonings you prefer
6. Now its time to roll. If you have a mat it easier but I dont have my mat yet so I used my hands which worked perfect. You want to roll as tight as possible.
7. Once you get to the end  of roll spinkle water on the edge to seal wrap in place.
8. Next step is to cut them. You need a sharp knife for this step. I actually pointed my knife down to slice. It may feel a little difficult to slice through at first just rub roll with a tiny bit of water which will help guide your knife.
9. Slice and place your rolls on plate. If any veggies come out  while cutting, simply place it back inside roll
10. Put some tamari sauce in a dipping tray on side + feel free to add some edamame + dip your quinoa sushi rolls and enjoy this tasty dish!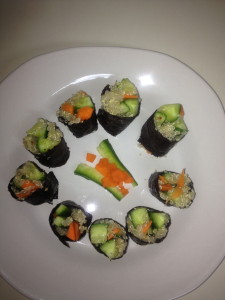 Thanks so much for checking out this recipe. I hope you all love this sushi. Comment below and let me know your thoughts! Don't forget to share the website with your friends and family♡
ANNOUNCEMENTS📢📢:
** THE WAIT IS OVER! The BeAHealthNutToo store FINALLY has VEGAN Deodorants, Lotions, Body Sprays, Shampoo and Conditioner.  They're already selling so fast. In just a few days we are already almost SOLD OUT of the Deodorants and Lotions. How Exciting!! GRAB YOUR vegan goodies now before they're gone!! Click the link to order>>  Health Store
** We are currently making batch #5 in our beauty soaps. We only have 2 Bergamot Dreams +1 Grapefruit Bliss +5 Oatmeal Spicy Joys +4 Sage Me left in stock. All other blends are currently Sold-Out and will be back in stock soon! If you want to snag some beauty soaps here's the link >> Beauty Soaps.

** You can also now watch inspirational videos + raw food tutorials on my youtube channel. Youtube page link is at the top of the website. Enjoy!
Hugs & Happy Quinoa Sushi Making ♥
LaShana Nicole