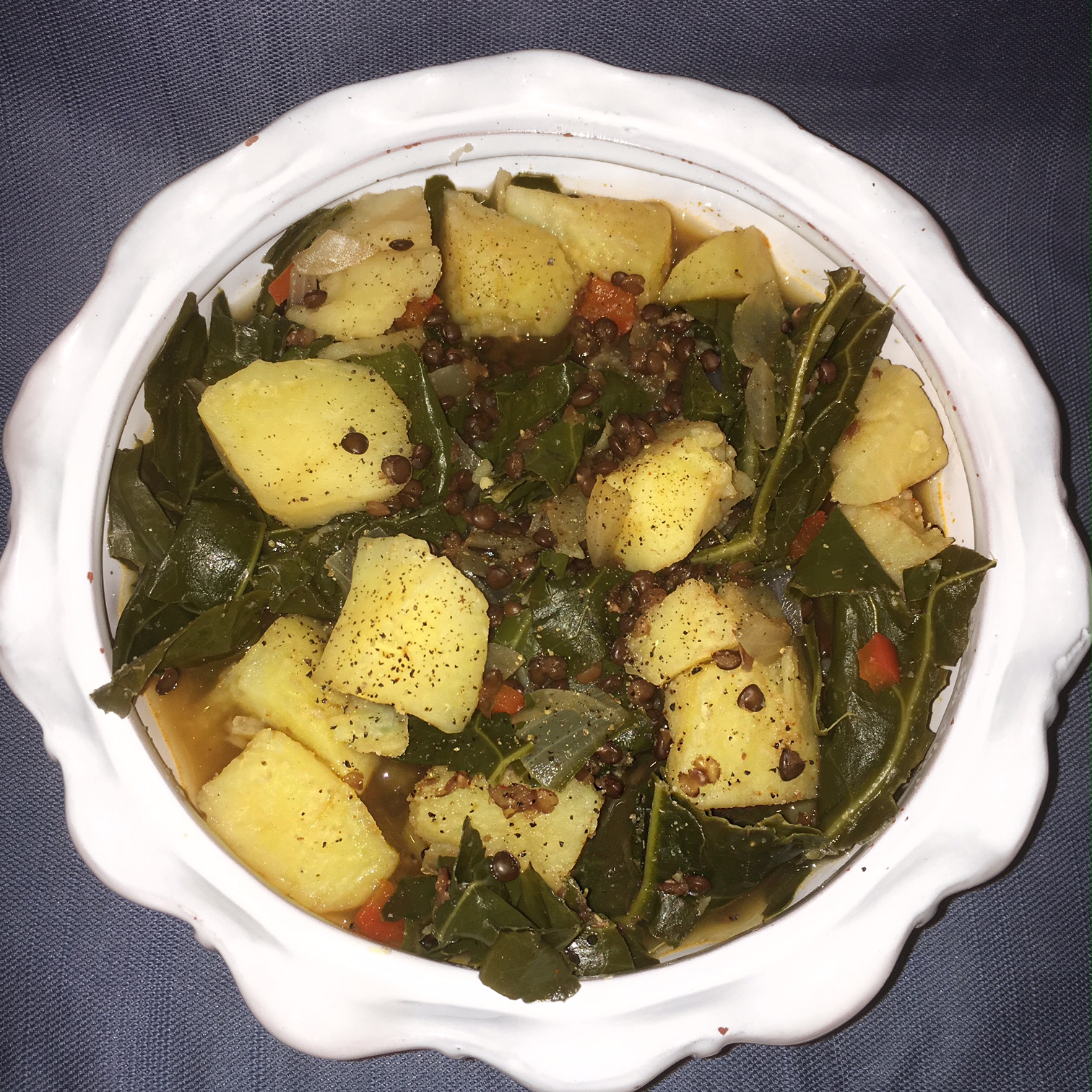 *Collard Green Lentil Hash*
This collard green lentil hash is oh SO good! It's very filling and simple to make! I hope you all love it!
*Collard Green Lentil Hash* 
Serving Size: 2
Ingredients (All Organic):
1 Batch of  Fresh Collard Greens (Rough Chopped)
2-3 Medium Yukon Potatoes
1/2 Cup Black Lentils
1 Yellow Onion
1/2 Cup Red Peppers (Rough Chopped)
4 Small Garlic Cloves (Rough Chopped)
5 Cups of Veggie Broth (32.oz Box)
1/2 Tbs of Olive Oil
1/2 Tsp Salt (Add more to taste)
1/2 Tsp Black Pepper (Add more to taste)
1/2 Tsp Smoked Paprika, Onion Powder, Garlic Powder
1+1/2 Tbs Braggs Apple Cider Vinegar
Optional: 1/2 Cup of Fresh Sweet Corn
Directions:
1. Rinse + clean your collard greens, onions, lentils, and red peppers + rough chop
2. Boil your lentils + potatoes for 35-40 minutes until cooked thoroughly
3. When your potatoes and lentils are almost complete (15 mins prior) add olive oil to pan
4. Lightly sauté your onions + garlic + red peppers + allow to simmer for 5 mins
5. Add your vegetable broth to sauté + add your collard greens + all seasonings
6. Allow collards to cook in broth for 10-12 mins until lightly wilted
7.  Strain your lentils +rinse them+ add to collard mix
8. Allow potatoes to cool (enough to touch without getting burnt) rinse under cool water
9. Remove potato skin + chop + add to collard lentil mix
10. Allow all ingredients to simmer on low for 5 minutes + season to taste! Enjoy!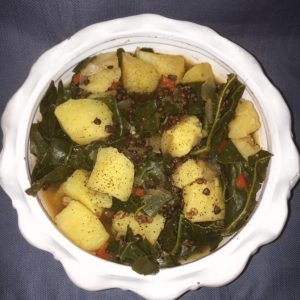 Thanks so much for checking out this lentil hash recipe. I hope you all love it. Comment below and let me know your thoughts! Don't forget to share the website with your friends and family♡
ANNOUNCEMENTS📢📢:
** Our forth batch of Vegan Deodorants are BACK IN STOCK, but we ONLY have 3 Lavender,2 Lemongrass TeaTree, and a few Triple Citrus left in stock!! Grab yours now>> HEALTH STORE
** OUR BEST-SELLING VEGAN BEAUTY SOAPS ARE ALMOST SOLD-OUT AGAIN! Get your favorites NOW while we still have some left in stock >> HEALTH STORE
** VEGAN BATH BOMBS JUST LAUNCHED INSIDE OUR ONLINE STORE! HOW EXCITING! Get ready to take your bathing experience to a new level. Check them out inside of the health store!
** You can also now watch inspirational videos + raw food tutorials on my Youtube channel. The Youtube page link is at the top of the website!
Hugs & Happy Lentil Hash Eating,
LaShana Nicole❤