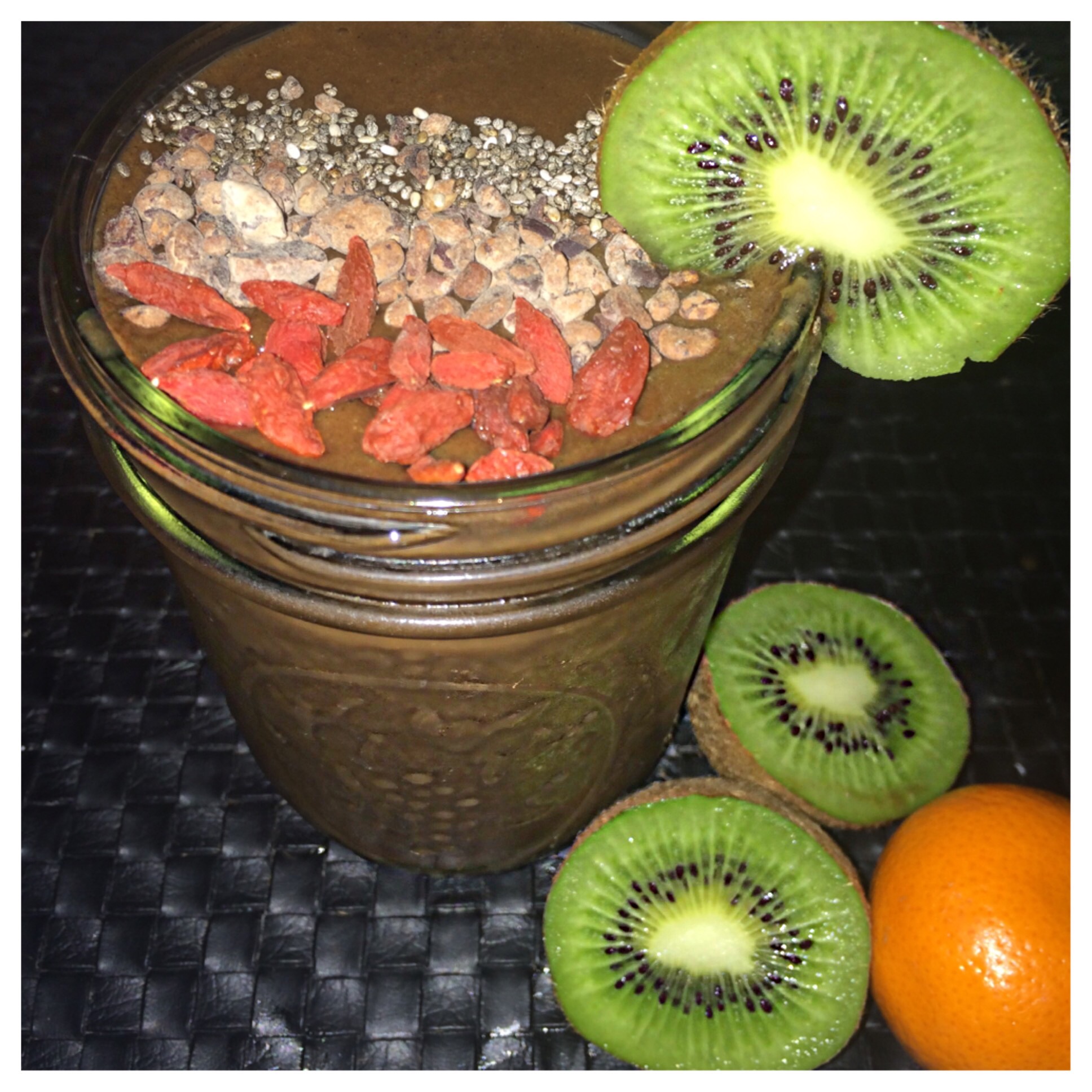 *Chocolate SuperFood Smoothie*
Super foods provide extra fuel to help keep your body healthy and strong. I've been overloading on super food powders lately. Here's a new smoothie treat! Enjoy
*Chocolate SuperFood Smoothie* Makes 1 serving
Ingredients (organic/raw)
2 Frozen Bananas
1 Fresh Orange
1 Tbs Noni Powder
1 Tbs Lucuma Powder
2 Tbs Carob Powder
1+1/2 Cup of Alkaline Water (add more if needed)
Toppings: Goji Berries + Cacao Nibs + Chia Seeds + Kiwi
Optional: 1 Tbs Raw Agave Nectar or Grabe B Maple Syrup for sweetness
Directions:
1. Place all of your ingredients inside blender + blend until smooth 
2. Pour inside glass + add your toppings + drink right away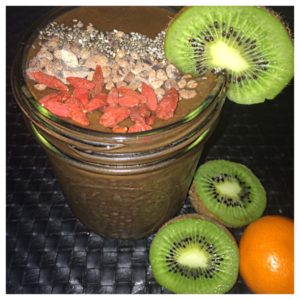 Thanks so much for checking out this recipe. If you found this blog helpful leave a comment and be sure to share it with friends and family♡
Announcements:
** In celebration of the two year release of my first recipe Ebook ✨SmoothieLuscious✨ It is ON SALE TODAY. It's only 4.95$. Get your copy for half off before the sale ends. Download here>>> Yay! I want a copy

** We are so excited to announce that BeAHealthNutToo is expanding into a health and wellness store. We will still feature new recipes and all the things you already enjoy with the addition of products. We are currently finishing up some vegan herbal supplements and I can't wait to share them with all of you.

** BeAHealthNutToo now has it's very own completely ☆Vegan☆All Natural☆Toxin-free☆ beauty soaps. No more using chemicals on your skin. We are SOLD OUT of the lavender delight beauty bar and only have a few of the others in stock. They are the perfect stocking stuffers. Snag yourself or someone a gift today click here>> Order Mine NOW
** Don't miss the monthly encouragement newsletters, health tips, freebies and more. Subscribe today!
** You can now watch weekly inspirational videos + raw food tutorials on my youtube channel. Link is at the top of website.
 Hugs & Happy Chocolate Superfood Smoothie Drinking,
LaShana Nicole ❤