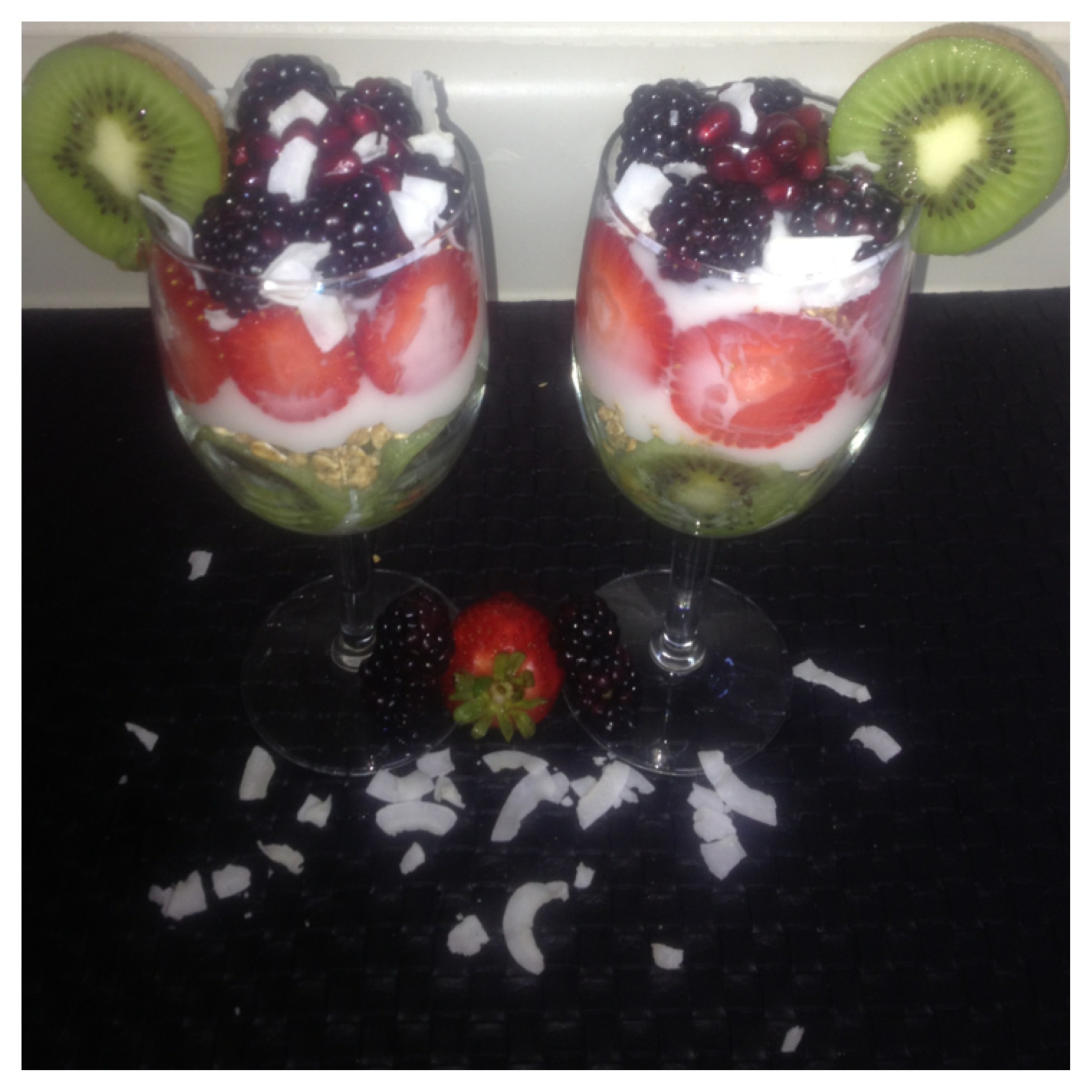 *Breaky Parfaits*
Parfaits are the perfect breakfast or snack. They are very filling and will provide you with daily nutrition, vitamins & antoxidants.
*Breaky Parfaits*
Ingredients (all organic):
2 Fresh Kiwis
8-10 Fresh Strawberries
10 Fresh Blackberries
Fresh Pomegranate Seeds
S.O Delicious Coconut Yogurt
Organic Sprouted Granola (buy in bulk at wholefoods)
Optional Toppings: Hemp Seeds, Chia Seeds, Cacao Nibs
Directions:
1. Layer the bottom of your glass or bowl with granola + add 1 tbs of coconut yogurt on top
2. Add kiwi and press to side of glass + add granola +add more coconut yogurt 
3. Add  strawberries + press strawberries to side of glass + add more granola 
4. Top with coconut yogurt + add your blackberries + pomegranate seeds + fruit of choice
5. Optional: Top with coconut shreds+ goji berries + fresh fruit of choice. Enjoy!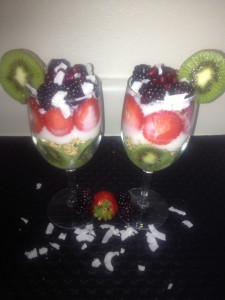 Thanks so much for checking out this recipe. I hope you all love this parfait. Comment below and let me know your thoughts! Don't forget to share the website with your friends and family♡
ANNOUNCEMENTS📢📢:
** THE WAIT IS OVER! The BeAHealthNutToo store FINALLY has VEGAN Deodorants, Lotions, Body Sprays, Shampoo and Conditioner.  They're already selling SO fast. In just a few days we are already almost SOLD OUT of the Deodorants and Lotions. How Exciting!! GRAB YOUR  vegan goodies now before they're gone!! Click the link below to order>>>  Health Store
** We are currently making batch #5 in our beauty soaps. We only have 1 Peppermint Love + 2 Bergamot Dreams + 2 Grapefruit Bliss +4 Oatmeal Spicy Joy+ 4 Sage Me left in stock. All other blends are currently Sold-Out and will be back in stock soon! If you want to snag some beauty soaps here's the link >> Beauty Soaps.

** You can also now watch inspirational videos + raw food tutorials on my youtube channel. Youtube page link is at the top of the website. Enjoy!
Hugs & Happy Breaky Parfait Making
LaShana Nicole