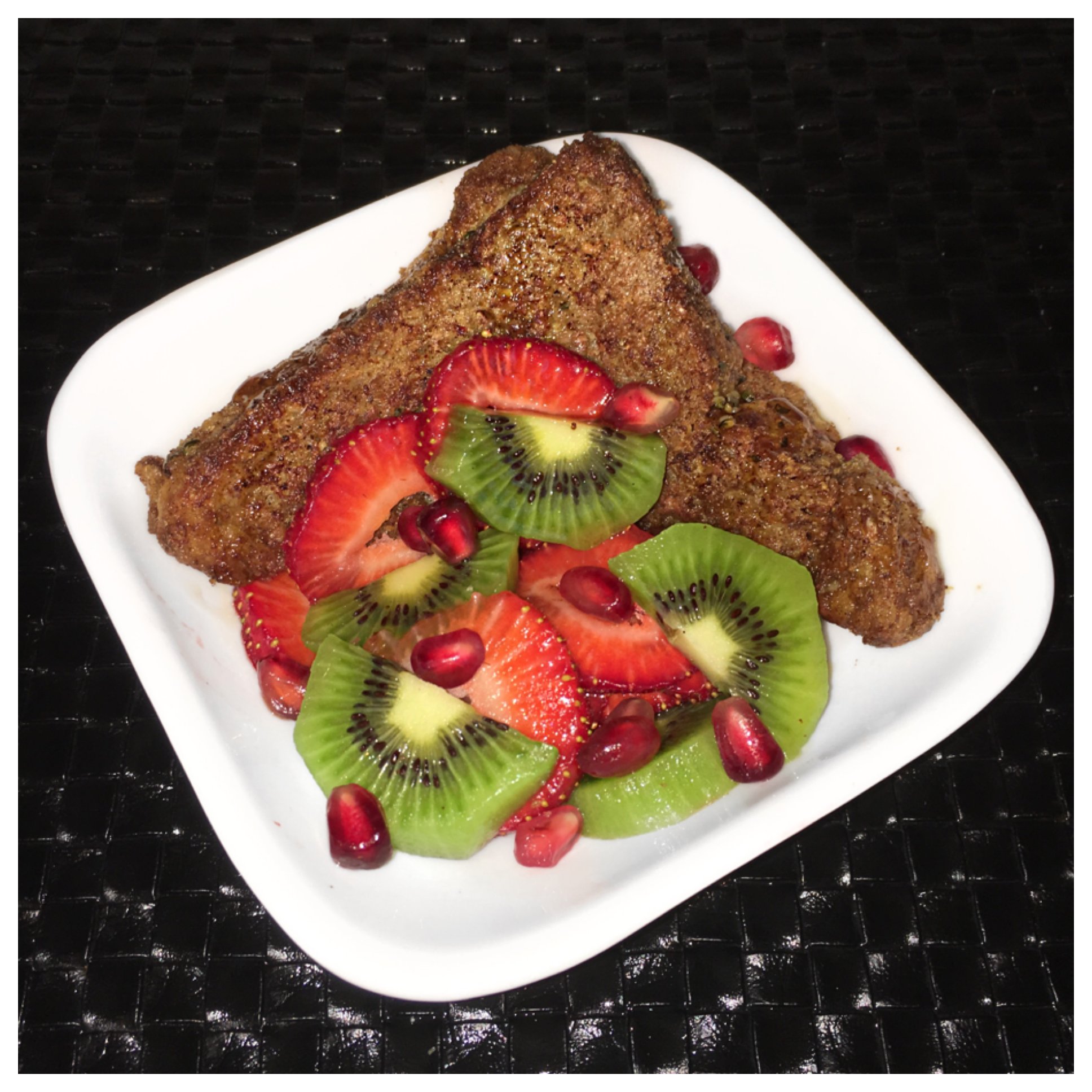 *Vegan French Toast*
 I am SUPER excited I FINALLY mastered a vegan french toast recipe!!! YUMMY! I use to loveeee french toast but once I made the decision to stop consuming dairy I had to tell one of my favorite foods goodbye. I'm so happy about this recipe because it seriously taste just like traditional french toast without any dairy. I'm going to try not to make this for the next month straight Bahahah!! I know you all will absolutely love this recipe too. Enjoy lovelies♥
*Vegan French Toast* (Serves 6-8 slices)
3-4 Pieces of Sprouted Rye or Sprouted Spelt bread (slice in half)
2 Tbs of Spelt Flour (or Teff Flour)
1 Tbs Maple Syrup
1 Tbs Raw Agave Nectar
1 Tbs Braggs Nutritional Yeast ( You need this ingredient it literally makes the recipe)
Dash of Himalayan Pink Seasalt (less than 1/4 tsp amount)
Dash of Tumeric (less than 1/4 tsp amount)
1 Tsp Cinnamon
1 Tsp Vanilla Flavoring
1/2 Tsp Nutmeg
1 Cup Coconut Almond Milk Blend (I used the brand Califia Farms. You can use almond milk)
2-3 Tbs Coconut Oil
Toppings:Fresh Kiwi, Strawberries,Goji Berries,Maple Syrup+Sprinkle Powdered Sugar(Optional)
Directions:
1.  Place all your ingredients inside mixing bowl + whisk until  batter is evenly mixed
2. Place coconut oil in pan + preheat on low + use med heat once you start your french toast
3. Take a slice of bread one by one+ dip and evenly coat both sides with batter 
4. Place one by one in pan+allow to sizzle on each side until crispy,golden brown, and not soggy
5. Add your maple syrup + toppings and gobble up!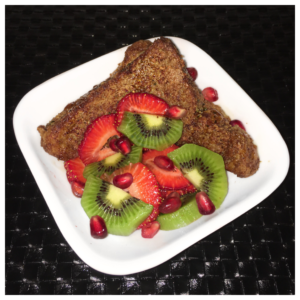 Thanks so much for checking out the website. I hope you all love this french toast recipe as much as I do. Comment and let me know your thoughts! Don't forget to share the website with your friends and family♡
ANNOUNCEMENTS📢📢:
** Our VEGAN Deodorants are SOLD-OUT and will be back in stock soon. You can make sure you get one by pre-ordering now>> Health Store
** Our Best-Selling Beauty Soaps are BACK IN STOCK, but are also almost SOLD-OUT AGAIN! Here's your chance to grab some while we still have a few blends available. Click here to order >> Beauty Soaps
** You can also now watch inspirational videos + raw food tutorials on my You tube channel. Youtube page link is at the top of the website. Enjoy!
** Thanks SO much everyone for all your love and sweet support! I appreciate each of you!
Hugs & Happy French Toast Eating,
LaShana Nicole❤