*WatermelonCream Lemon Bowls*
OK yall so this was soooooo tasty! OMG! I made this watermelon icecream a few days in a row because I just couldnt get enough. Hahaha.
*WatermelonCream*
Ingredients (all organic)
10-12 Frozen small watermelon chunks
1-2 tbs 100%maple syrup or agave nectar
5-8 tbs of canned coconut milk ( add more liquid as needed you want the thick creamy texture of the milk & canned works best)
Optional: Lemon Bowls
1. Place your ingredients inside the food processor + process until you have a rich creamy softserve icecream texture
2. Pour inside of lemon bowls or a bowl + feel free to top with fresh watermelon+ Lick the bowl clean hahaha 😉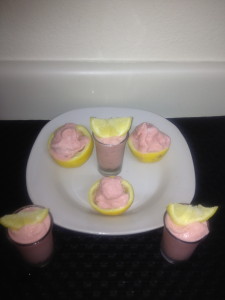 Ps. Thanks so much for checking out this blog. Be sure to share and subscribe for updates of new post. If you need smoothie recipes I have a smoothie recipe ebook available for download on the store page with ton of great recipes.
Hugs & Happy Watermelon Cream Eating 🙂
LaShana Nicole