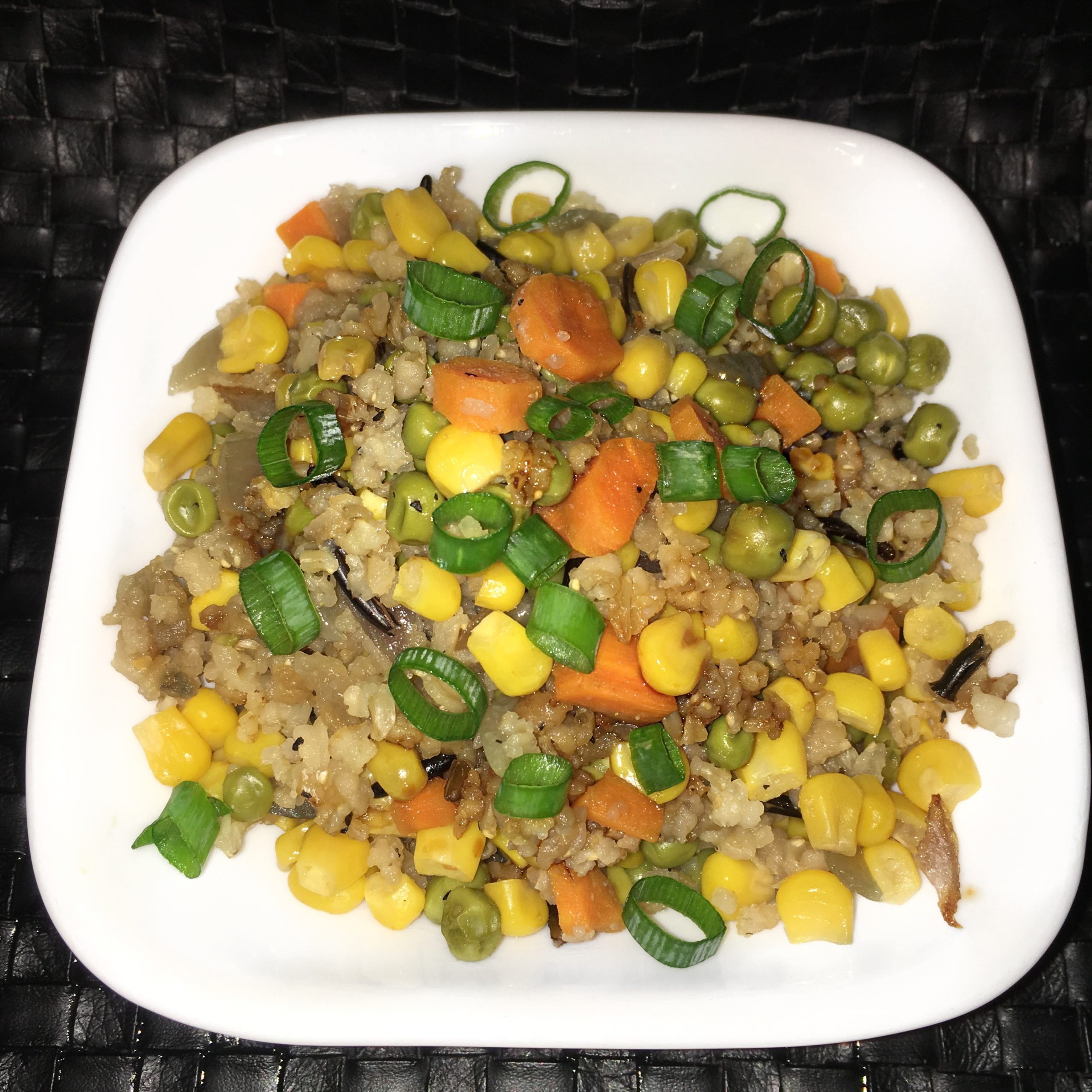 *Vegan Fried Rice*
Take your favorite dish and veganize it haha. This dish is super simple to make and it taste amazing. I hope you guys like it too.
*Vegan Fried Rice* (Serving Size: 4)
Ingredients:
1 Cup Wild Rice or Black Rice (I used the brand 365 from Whole foods)
3 Carrots (Peeled and rough chopped)
1/2 Cup of Drain + Rinsed Organic Peas ( I used canned from Whole foods)
1/2 Cup of Drain + Rinsed Organic Sweet Corn  (I used canned from Whole foods)
3 Small Garlic Cloves (Grated)
1/2 Medium Sized Purple Onion (Rough Chopped)
2 Scallions (Rough Chopped)
1/2 Tsp Black Pepper
1/2 Tsp Himalayan Pink Sea Salt
1/4 Tsp Garlic Powder
1/4 Tsp Onion Powder
2 Tbs Extra Virgin Olive Oil
3 Tbs Tamari Gluten Free Soy Sauce or Coconut Aminos or Braggs Aminos
Optional Veggie Options: Broccoli, Bok Choy 
Directions:
1. Place your rough chopped carrots inside a pot of water + boil while cooking your rice (20 mins)
2. Place your rice in water + boil until fully fluffy and cooked (follow directions on package)
3. Once your rice is completely cooked strain + set to the side
4. Add your olive oil + preheat on med + add your onions + garlic + allow to sauté for 5 mins
5. Add your carrots + rice + soy sauce of choice + stir + allow to cook an additional 5 minutes
6. Serve in dish + add fresh scallions + drizzle a tad more soy sauce on top. Bon appetite!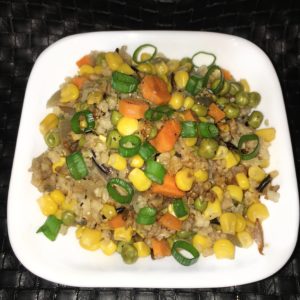 Thanks so much for checking out this recipe. I hope you all love this recipe. Comment below and let me know your thoughts! Don't forget to share the website with your friends and family♡
ANNOUNCEMENTS📢📢:
** THE WAIT IS OVER! The BeAHealthNutToo Beauty Soaps are finally BACK IN STOCK. TODAY ONLY when you buy 3 or more soaps you will receive a FREE Recipe E-Book. HURRY and GRAB YOUR SOAPS NOW before they're gone!! Click here to order >>>YES I want some soaps!
** We are so excited to announce that BeAHealthNutToo is expanding into a health and wellness store. We will still feature new recipes and all the things you already love, with the addition of many new products launching soon.
** You can also now watch inspirational videos + raw food tutorials on my youtube channel. Youtube page link is at the top of the website. Enjoy!
Hugs & Happy Vegan Fried Rice Eating,
LaShana Nicole❤