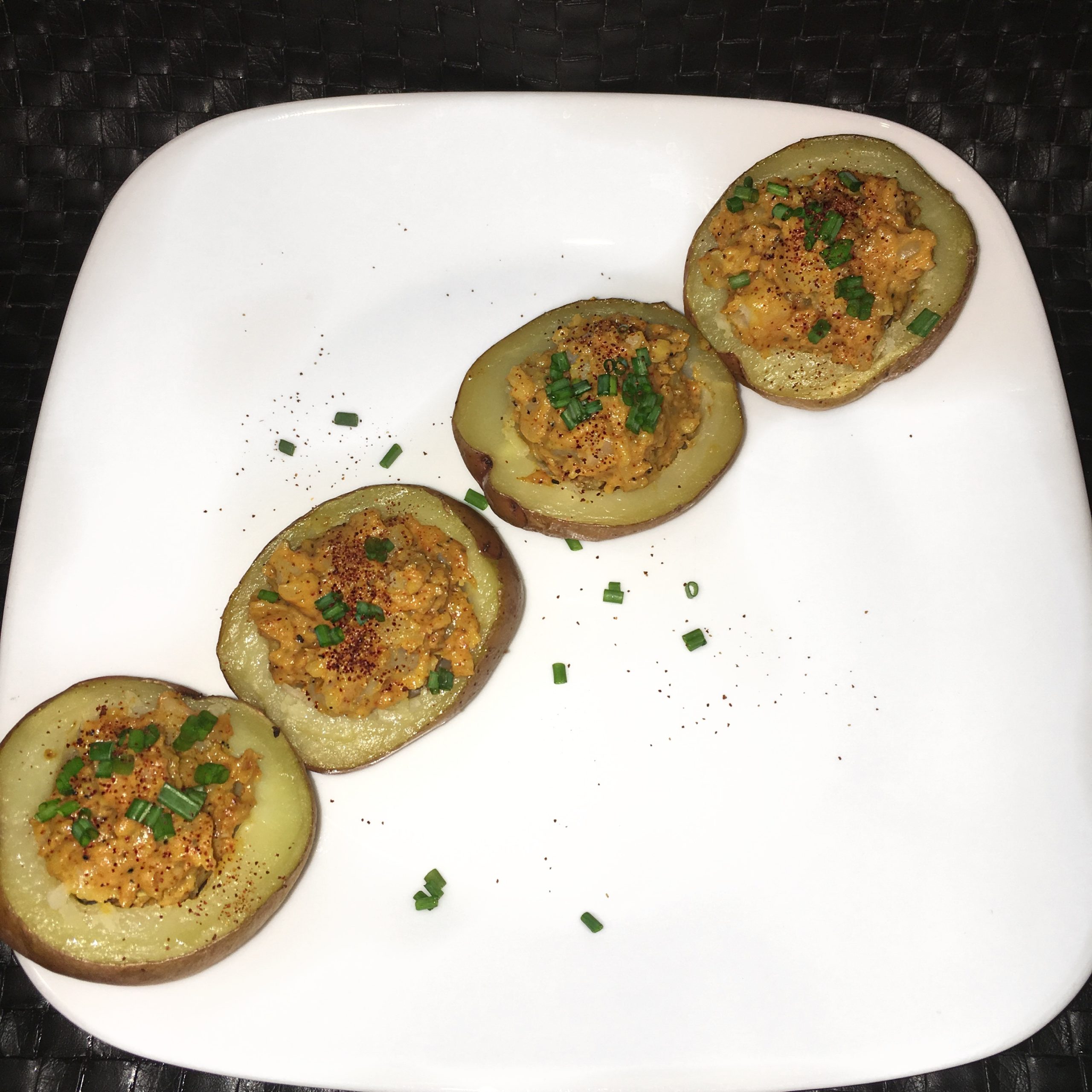 *Vegan Deviled Eggs*
These little bites were so delicious and bursting with flavor! I remember my mom making deviled eggs when I was a little girl and I loved them. I thought they taste so good. I had to of course play around in the kitchen and attempt to make my own. Well I'm so happy I did, because this mock version was simply amazing! I know y'all will love them too! 
*Vegan Deviled Eggs* (Serving Size: 8-10 deviled eggs)
Ingredients:
5 Organic Baby Red Potatoes (Rinse + Slice in half)
1 Tbs Organic Yellow Mustard
1 +1/2 Tbs Vegan Mayo (I used the brand just Mayo)
1/4 Tbs Nutritional Yeast
1/4 Tbs Paprika
Dash of Tumeric
Dash of Himalayan Pink Sea salt (to taste)
Dash of Black Pepper (to taste)
1 Tbs EVOO (Extra Virgin Olive Oil)
Toppings: Fresh Chives + Sprinkle Paprika on top
Directions:
1. After you rinse your potatoes slice them in half + preheat oven to 350 degrees
2. Place your potatoes inside pan + add a tiny bit of water at the bottom of the pan
3. Rub a tiny amount of Extra Virgin Olive oil on each potato where you sliced it open
4. Cover the pan with aluminum foil + bake for 45mins (or until your potatoes are soft)
5.Once your potatoes are fully cooked take a spoon and scoop out the middle of each potato
6. Don't scoop too deep, but enough to make your filling (picture below)
7. Place your scooped potato mix into a bowl + add your other ingredients
8. Mash all ingredients together until you achieve nice slightly chunky blended texture 
9. Scoop your mix into each potato + take a lovely bite! Enjoy my friends♡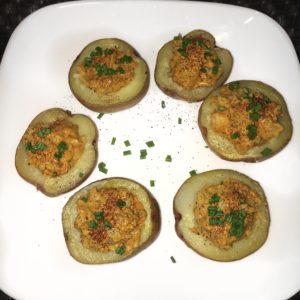 Thanks so much for checking out this recipe. I hope you all love this dish as much as I do. Comment below and let me know your thoughts! Don't forget to share the website with your friends and family♡
ANNOUNCEMENTS📢📢:
**  The "Stay Inspired" T-Shirts are BACK!! For the holiday season ONLY! You have one last chance to snag one at 50% off. After this month they are discontinued for good. Grab yourself a FAB tee or a Christmas gift for someone else!! Click the link to order>> Stay Inspired Tee

** THE WAIT IS OVER! Our Best-Selling Beauty Soaps are BACK IN STOCK. Here's your chance to grab some before they sell-out again. Click here to order >>>Beauty Soaps
** You can also now watch inspirational videos + raw food tutorials on my You tube channel. Youtube page link is at the top of the website. Enjoy!
** Thanks SO much everyone for all your love and sweet support! I appreciate each of you!

Hugs & Happy Vegan Deviled Egg Eating,
LaShana Nicole