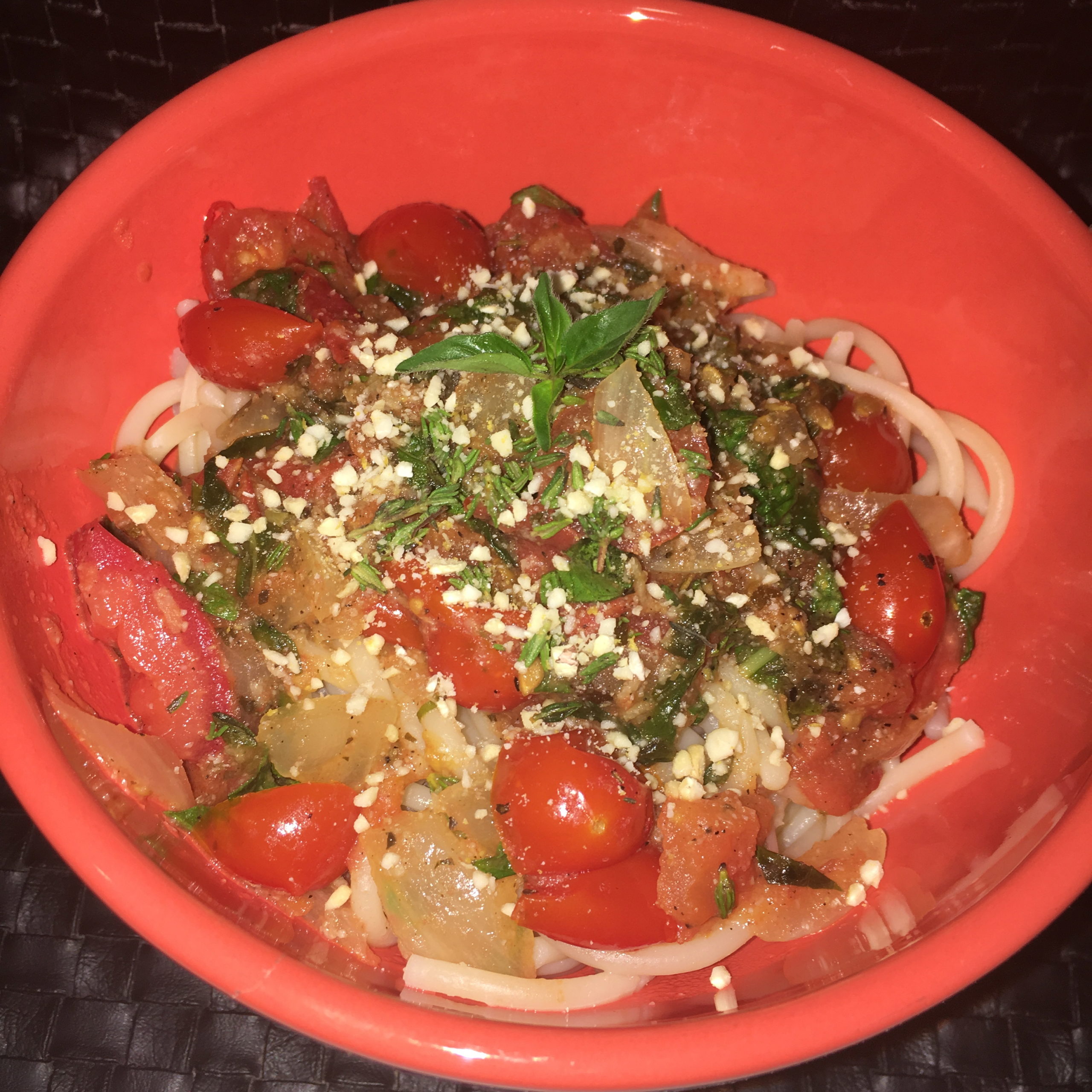 *Vegan Bolognese*
Oh my gosh this dish is delicious!! I've made it a few times because its super filling, tasty, and so easy to make. You all are going to love this vegan bolognese recipe!
*Vegan Bolognese* (Servings Size 3-4 bowls)
Ingredients:
Spelt Noodles or Organic Pasta
1 8oz Can Tomato Sauce
1 Medium Size Yellow Onion (Rough Chopped)
4 Large Garlic Cloves (Grated)
3 Organic Roma Tomatoes (Rough chopped)
1/2 Cup or Handful of Plum Tomatoes (Rough chopped)
6 Fresh Oregano Leafs (Remove Stems+Rough chopped)
7 Basil Leafs (Remove Stems+Rough Chopped)
1 Full Tbs Fresh Thyme (Remove Stems)
1/2 Tbs Dried Basil
1 Tsp Garlic Powder
1 Tsp Onion Powder
1 Tsp  Cayenne Powder (Omit if you don't like spicy)
1 Tsp Himalayan Pink Sea Salt
1 Tsp Black Pepper
2 Tbs Extra Virgin Olive Oil
1 Cup Beyond Beef (Fiesta Mock Pea Meat Crumbles)
Vegan Parmesan Crumbles:
1/4 Cup Raw Dried Cashews
1 Tbs Nutritional Yeast (I use the brand BRAGGS)
1/3 tsp Himalayan pink seasalt
1/3 tsp Black pepper
1/3 tsp garlic powder

Directions:
1. Boil your pasta on med heat(follow directions on the box)I cooked mine around 17 mins until soft
2. Preheat your olive oil in a non stick pot+ add your onions + grated garlic + allow to sauté 5 mins
3. Next add your chopped tomatoes to pan + seasonings(no herbs) +allow to boil until soft 10-12 mins
4. Once you have a light watery sauce texture add your tomato sauce + fresh herbs (basil, thyme etc)
5. Allow to cook 5-7 more minutes + add all your vegan parm crumble ingredients to food processor
6. Pulse ingredients + allow to process until cashews are blended into a powder crumble texture
7. While your sauce is cooking the last few minutes add your beyond beef to pan + 1 tbs olive oil
8. Allow beyond beef to cook until soft
9. Once everything is finish cooking, add your pasta to a bowl + pour your sauce on top
10. Add your beyond beef + fresh thyme + basil on top + sprinkle vegan parmesan crumbles+ optional feel free to add hot sauce for extra spice
ENJOY! It's yums.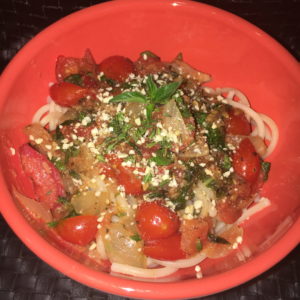 Thanks so much for checking out this bolognese recipe. I hope you all love this dish as much as I do. Comment and let me know your thoughts! Don't forget to share the website with your friends and family♡
ANNOUNCEMENTS📢📢:
** Our Unisex Vegan Deodorants are BACK IN STOCK! Grab them now before we sell out again>> HEALTH STORE
** OUR BEST-SELLING VEGAN Beauty Soaps are also BACK IN STOCK, and selling SO fast! Snag your favorites NOW >> HEALTH STORE

** VEGAN BATH BOMBS JUST LAUNCHED INSIDE OUR ONLINE STORE! HOW EXCITING! Get ready to take your bathing experience to a new level. Check them out inside the store!
** You can also now watch inspirational videos + raw food tutorials on my Youtube channel. The Youtube page link is at the top of the website!
** THANK YOU so much lovelies for your love and continued support! I'm working on some amazing NEW products for you guys and can't wait to share soon. I adore each and every one of you! Stay tuned!
Hugs & Happy Vegan Bolognese Eating,
LaShana Nicole❤