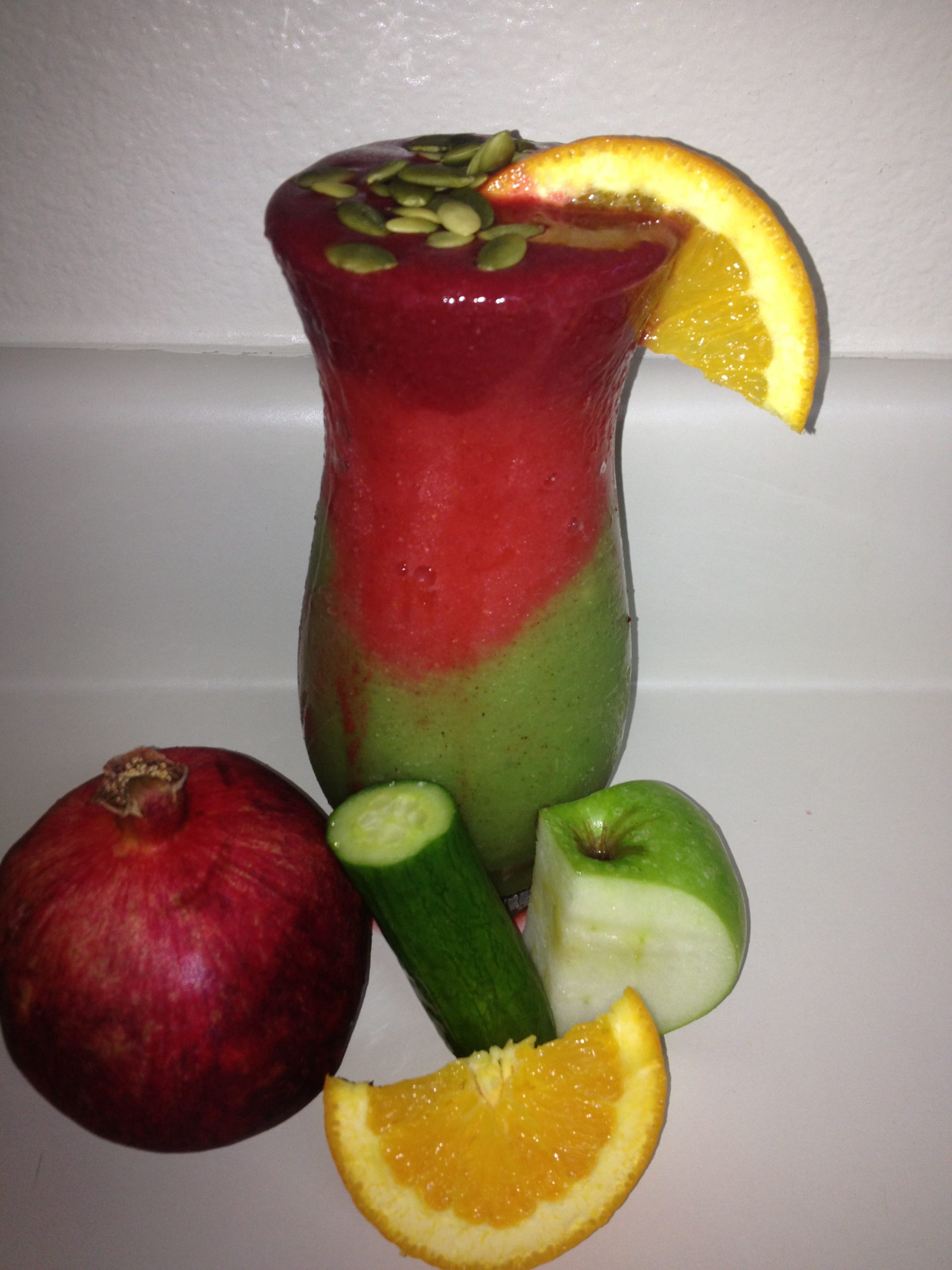 *Triple Decker Smoothie*
This smoothie was sooo good I literally have to call it a SMOOTHAYYYY LOL. It is loaded with nutrients and vitamins and a ton of good fruits and veggies. I am loving mixing fruits with vegetables for dynamic tasting smoothies. Lets get you started.
Ingredients (Per 1 Serving):
Bottom Layer:
1 fresh cucumber + 1 fresh chopped apple + 2 frozen kiwi +1/2 cup-1 cup of water + 2-3 tbs maple syrup
Middle Layer:
8-10 frozen strawberries + fresh orange juice from 1/2 of a fresh orange
Top Layer:
5-6 frozen blackberries +2-3 frozen strawberries + 1/3-1/2 cup water + 3 tbs 100% maple syrup
Optional: Activated Pumpkin Seeds ( to activate soak seeds inside water for hours or overnight)
Directions:
1. Place all your bottom layer ingredients inside blender + add liquid + sweetener+ blend + pour inside glass
2. Rinse Blender + place  your middle layer strawberries + orange juice  inside blender +blend
3. Pour strawberry orange infused layer on top of your base green bottom layer + rinse blender
4. Place your top layer ingredients inside blender + add liquid + sweetener + blend
5. Pour last layer on top + top with pumpkin seeds + orange slice + DRINKY DRINKY
So YUMMY you will love this triple decker smoothay!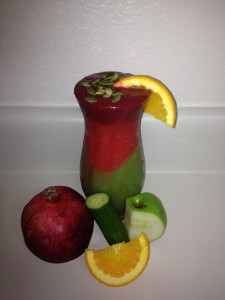 Ps. Be sure to share Beahealthnuttoo.com with your friends& family who you would love to encourage to take the healthy journey too. Thanks for the support of my Smoothie E-book " SmoothieLuscious"  Be sure to get your copy today 🙂
Hugs & Happy Health
LaShana Nicole