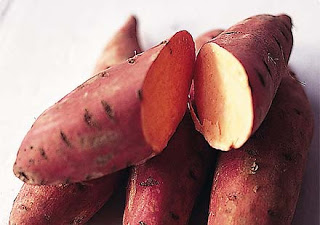 *SWEET POTATOES*
So any food that starts with sweet, I am interested in trying haha. I often times have the biggest sweet tooth on earth, and instead of buying tons of bad filled sweets, why not find good sweet's that are actually nutritious for your body. I absolutely love sweet potatoes not only are they delicious they are packed with vitamins C which will boost your immune system, vitamin D which helps build healthy bones, iron which helps provide energy, magnesium which helps with artery health and the list goes on Read More Here. I wanted to include more sweet potatoes in my diet of course for the health benefits, and to take care of my sometimes over happy sweet tooth LOL. Here are two recipes to make amazing tasting sweet potatoes.
**SWEET POTATOES FRIES**
1. Bake sweet potatoes for 30-45 mins or until soft. I usually heat oven at 400-450 degrees ( Helps cook them quicker) You can also boil as well for 30 mins or so which ever works best for you
2. Once they are soft but not mushy ( you want to be able to cut them up) take out of oven and slice into pieces.
3.You will want to add vegan butter, or grass fed butter to pan and let pre heat Purchase Vegan Butter here
4. Add cinnamon and nutmeg a teaspoon mixed half & half ( or to taste of course)
5. Drizzle with actual maple syrup and enjoy -You can sprinkle maple syrup sugar on top as well as they cook (YUMMY).
6.Top with Maple Glazed pecans to top this dish off. (Will post soon on how to make your own maple pecans)
**SWEET POTATOE APPLE FILLED PANCAKES**
Ingredients:
1 Sweet Potatoe's (Makes about 6 small pancakes)
2 table spoons of Maple Syrup (To taste add more to sweeten)
2 table spoons off Almond Milk
1 teaspoon of Cinnamon & Nutmeg
1 tablespoon of Coconut flour of unbleached organic flour
1 apples
2 pinches of baking soda (Dont add to much LITERALLY a pinch)
Directions:
1. Heat sweet potatoe in oven at 400-450 degrees and allow the potatoe to cook until mushy
2. Remove the skin and mash the potatoe then add all ingredients
3. Slice apple and add roll mixture or scoop into tiny pancake balls
4. You can either cook on stove for a more crisp pancake or bake for an additional 15-20 mins. Try both and see which one you like better. I usually cook on stove for 3 mins each side and I let them bake, it will make the pancakes burst with flavor. (dont forget to cook in vegan butter, or grassfed butter)
Buy here
5. Last Top Pancakes with apples and sprinkle cinnamon on top. Feel free to top with maple syrup and a half teaspoon of "Maca powder"  which is packed with nutrients
Read Here
Hope this helps with your sweet tooth cravings as much as it did mine. LOL