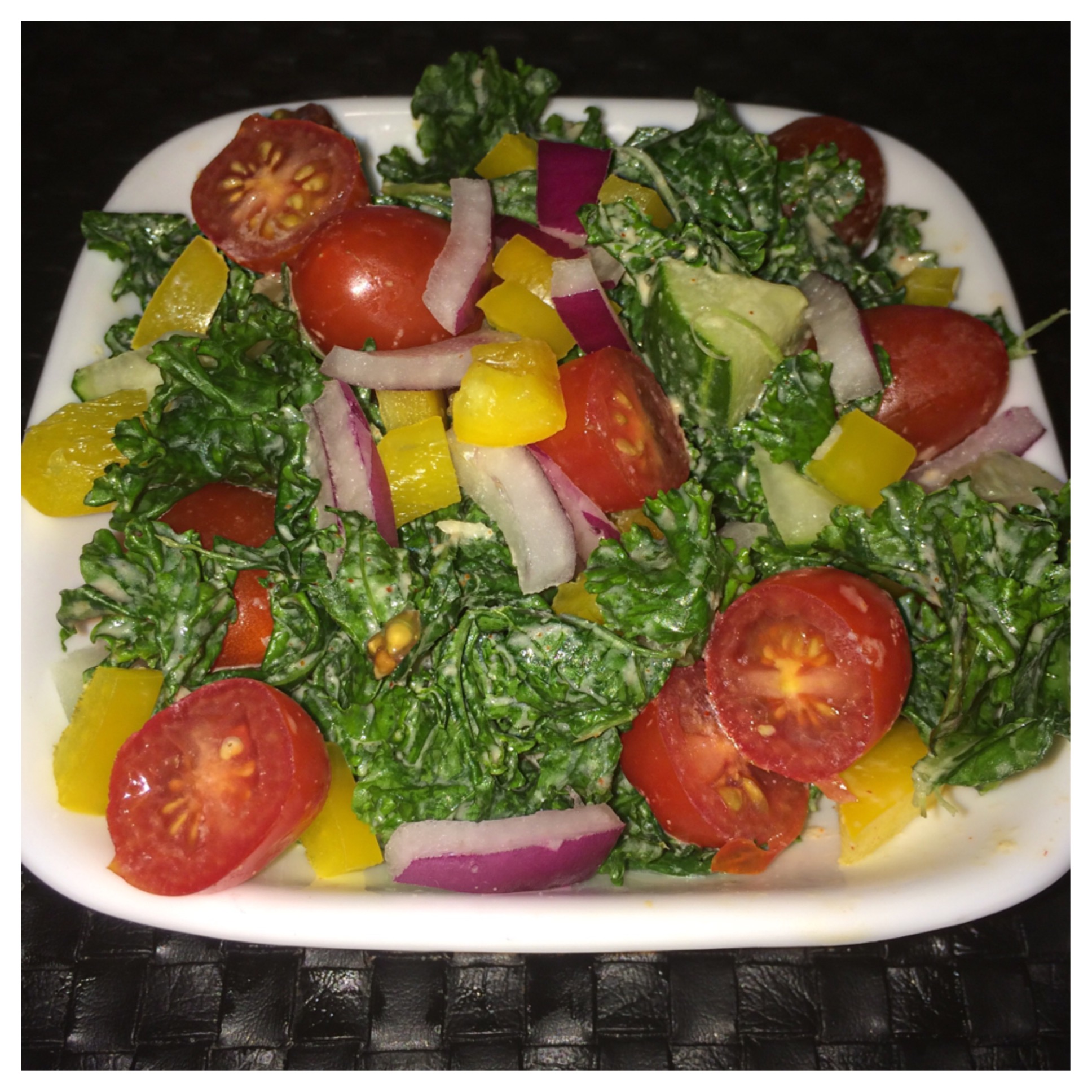 *Smoked Tahini Salad*
This dressing recipe is seriously so tasty. I think i'm going to try it on a wrap and a fruit salad. I love to mix different flavor combos together and experiment to see what taste good together. Cheers to making your own dressing and not having to purchase store-made versions.
*Smoked Tahini Salad* servings size 1
Ingredients: (all organic)
Half Batch Of Kale ( Round 3 leafs remove stem)
1/4 Yellow Capsicum ( Yellow Bell Pepper)
15 cherry Tomatoes
Optional: 1/2 of 1/4 Cup Red Onions
Smoked Tahini Dressing Ingredients:
2 Grated garlic cloves (use 1 if you're not a big garlic fan)
3 +1/2 Tbs Fresh Lemon Juice (Juice from 1 fresh lemon)
2 Tbs Alkaline Water
1/4 Tsp Smoked Paprika
1/2 of 1/4 Tsp Himalayan Pink Sea salt
2 Tbs Raw Tahini
Directions:
1. Clean + Rinse all of your salad ingredients. ( I use 1/2 Raw Apple Cider Vinegar +1/2 water inside of a spray bottle to clean)
2. Cut your kale into pieces + take kale and massage inside your hands for about 45 secs (until the color changes to a dark green this helps to break down the fibrous structure and makes it easier to digest.
3. Rinse + sit all salad ingredients to the side inside of a bowl ( I use one with a lid so that I can mix salad + dressing)
4. In a mixing bowl add all of your dressing ingredients + whisk them together until you have a silky smooth texture
5. Pour your dressing on top of salad + place lid on salad + shake until entire salad is coated + place on serving plate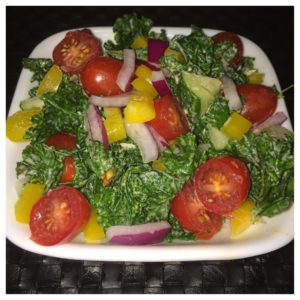 Thanks so much for checking out this recipe. If you found this blog helpful leave a comment and be sure to share it with friends and family♡
Announcements:
** We are so excited to announce that BeAHealthNutToo is expanding into a health and wellness store. We will still feature new recipes and all the things you already enjoy with the addition of products. We will announce as new products become available.
** BeAHealthNutToo now has it's very own completely ☆Vegan☆All Natural☆Toxin-free☆ beauty soaps. No more using chemicals on your skin. We are currently SOLD OUT of the Lavender Delight Bar. To snag your soap today click here>> Order Mine NOW
** Don't miss the monthly encouragement newsletters, health tips, freebies and more. Subscribe today!
** You can now watch weekly inspirational videos + raw food tutorials on my youtube channel. Link is at the top of website.
 Hugs & Happy Smoked Tahini Salad Eating,
LaShana Nicole ❤